The dream of lifting the BBL Championship may well have died last Friday night for Esh Group Eagles Newcastle after their disappointing loss. But the Eagles are not about feeling sorry for themselves as they still sit third in the table and are looking to finish the season on a good run.
So, says, veteran guard Drew Lasker who is well aware of the need to peak at the right time and have all the components running smoothly when it comes to the business end of the season. That starts this weekend for Newcastle who have two games playing at home on Friday and then on the road on Sunday.
Friday night sees Bristol Flyers return to The ECA after narrowly losing 95 – 89 just three weeks ago at the same venue before Lasker and his team-mates head down to Ellesmere Port to face Cheshire Phoenix on Sunday afternoon. Lasker started his preview by looking back at the Leicester loss.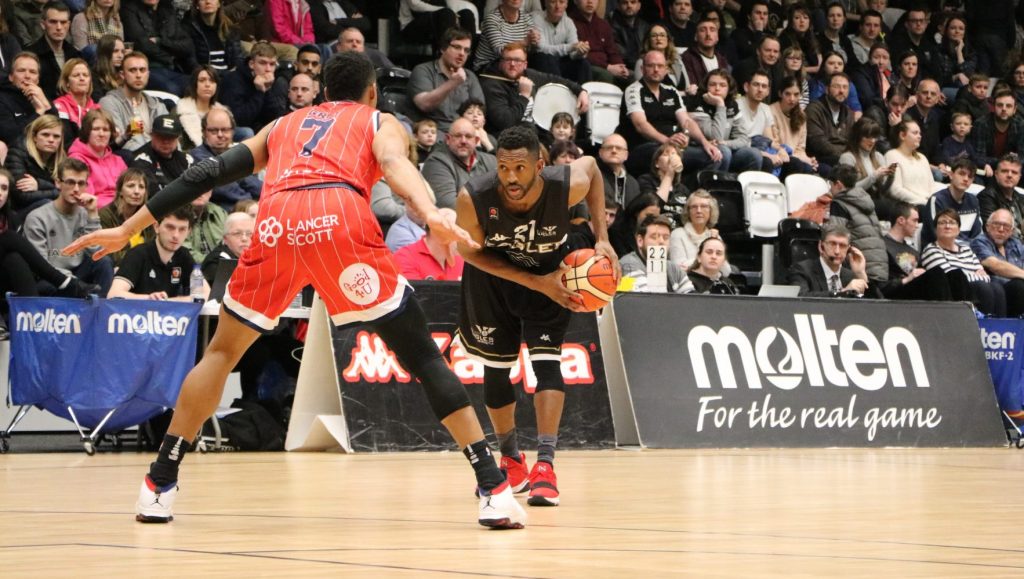 "That was a disappointing one. We were right there and looking good and then we just had a real sticky five minutes. We watched it back on Monday and we were like up 63 – 58 and then there were about eight possessions where we just didn't make a shot."
"Our defence had held up pretty well up to then but it couldn't be sustained especially when we weren't scoring. They started to hit a few big shots and the momentum swing their way and we couldn't stop it. It was definitely a game we lost which we could have had but for those few minutes."
"We've assessed what we could have done better and what we need to do going forward. This league is tough and you don't really have a lot of time to dwell on things before you're back in to it and we know we've got two games this weekend to deal with."
On paper they are two very winnable games for Newcastle but, the converse of that is that they are still both very tough games and if Lasker and his team-mates aren't ready for them, they could easily swing the other way.
"We know what we have to do. We're focused and we know we have to be ready. We've just played Bristol so we know what to expect from them. They play with a huge amount of energy and are probably one of the youngest and most athletic teams in the league."
"You have to match their energy and then out do it so they can't get a real foothold in the game. They've also been at the new Arena now so know what to expect. We're getting more comfortable in those surroundings and need to repeat what we did last time there when we beat Rocks."
"Then Sunday will be tough. Cheshire are playing well at the moment and always play well at home. They're totally different too as they are long and strong so I'm expecting that game to be more about strategy and planning."
"It's hard to play back-to-backs especially when the second one is on the road and you have to travel. I think all but a couple of our losses this season have come in the second game of a back-to-back weekend. That's something we have to realise and see if we can find the right formula to reverse."
The Eagles have ten games left in the regular season and currently sit with a 15 – 8 record. If they are to secure a top four finish, they can't afford to let too many more games slip away. A fact that Lasker is aware of.
"We aren't going to change. We have to continue to work hard and see if we can find some consistency. The Play-Offs are usually won by a side that goes in to them in good form and being able to string results together. That's what we need to do to get that momentum going."
"Although to be honest we've not really talked about it that much. What we have talked about is how we can be better and come together and find more cohesiveness. Hopefully, that starts this weekend and it would be great to put things together and come out with two wins."
Tickets are on sale now: