Jamal Williams insisted the jolt of defeat against title rivals Leicester Riders has forced Newcastle to question their match-night consistency.
The experienced forward heads into the Christmas mini-break desperate to move on from a disjointed display against the new league leaders that asked more questions than it answered.
And Williams admitted the Eagles are still struggling to string together the 40-minute game required to impose their trademark dominance on the BBL.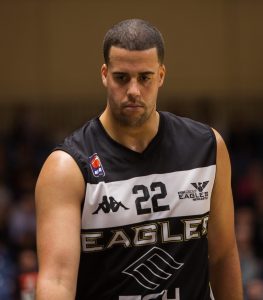 "I do like our chances moving forward," said Newcastle's close-season signing. "We started the game against Leicester pretty well and that's been one of the things we needed to do better.
"But the biggest challenge we face right now is putting together a 40-minute game of basketball. We've proved we can finish well and we can start well but we don't always do both in the same game.
"We're getting better but as the season goes on that's something we really have to remedy.
"We need to build on what we did well against Leicester and do the good things for longer stretches."
The Eagles have been slow starters at Sport Central all season.
But a series of nailbiting back-from-the-dead final quarters had kept the club at the BBL summit – until the Riders came to town.
Newcastle flew out of the blocks against Leicester and finished strongly against Rob Paternostro's men in their final clash before Christmas.
But it was the middle 20 minutes of another unconvincing performance that handed the visitors a vital victory.
And the Eagles have 10 days to work out how they can go full throttle for four quarters with a trip to third-placed Sheffield Sharks next up on December 29.
"Losing the way we did against Leicester is disappointing," added Williams. "It's a few days after the game and there are still some clutch plays that I'm replaying in my head.
"But we have to give credit to Leicester as they made some big and important moves towards the end of the match.
"They grabbed some big boards and made some big shots.
"The defeat still hurts. But we've got to use that hurt as the incentive to change a few things."
That change looks certain to come from within the current group of players with Fabulous Flournoy loathe to shake things up just yet.
His side may be out of the BBL Cup and looking to arrest a three-game losing streak in the league but Newcastle still sit second in the Championship table and have a homecourt BBL Trophy quarter-final to come in the New Year.
And for any other British franchise that would represent a strong return from the first four months of a transitional campaign.
The Eagles, of course, have far loftier ambitions built on a decade of domestic dominance.
And putting themselves in a position to reel in the Riders remains a priority.
"Do Leicester look like the team to beat in 2018," asked Williams. "Based on one win at our place I'm not so sure. We've known they were a tough team all season and I don't think one result changes that.
"We had a great week of practice going into what was always going to be a big game and we were prepared for them."
Newcastle have four weeks to prepare for Leicester's return to Tyneside on January 12 but another huge BBL clash is already shaping up to be a season-defining fixture for both teams.