One of the country's fastest-growing sports is experiencing a post-lockdown boost thanks to a committed community of like-minded businesses.
Women's basketball is taking the UK by storm following the return of top-flight action to Sky Sports and the progress of the GB national team.
And hopes are high that the home nations' participation in next summer's Commonwealth Games in Birmingham – featuring a fast-paced 3×3 tournament – will further elevate the sport's profile.
Newcastle Eagles boast some of the most exciting homegrown talents and overseas stars in the Women's British Basketball League (WBBL).
And a slew of early adopters from the local business community is backing a new-look roster following last season's run to the Play-Offs final — the pinnacle of the domestic basketball season.
"Last season was an historic one for our club as the women's team reached its first final as Newcastle Eagles WBBL," said Dan Black, Newcastle Eagles Sales and Communications Manager.
"The talent, spirit and determination that underpinned a fantastic run to the final showcased everything that's positive about women's basketball in the UK.
"Going into the 2021-22 season with an extended and increased level of support from the North East business community is a massive boost.
"This weekend top-flight action returns to the Vertu Motors Arena for the first time since spring 2020 and we're welcoming a record number of season ticket holders.
"In fact, we're on course to hit a club record WBBL attendance.
"Our sponsors play a huge part in what we are able to achieve and what we can plan to achieve and we're so grateful for their support.
"They share the same ambition and the same drive as our players do and everyone's moving in the same direction to grow the women's game in the North East and beyond.
"And it's not too late to get on board this season if you or your business wants to be a part of something special."
Main kit sponsors GiveToLocal have been joined by returning sponsors WL Distillery, Enigma Tap, the Talented Athlete Scholarship Scheme (TASS) and The Kitchen and Bedroom Company in supporting Newcastle Eagles WBBL this season.
In addition, Newcastle based @basketmedia365 which provides women's basketball content and expertise globally, most recently at the Tokyo 2020 Olympics, has shown its support again for a second campaign.
The club is also delighted to have the added support of the city's fast-growing independent food brand Dot Bagels alongside its partnership with the BBL team this season.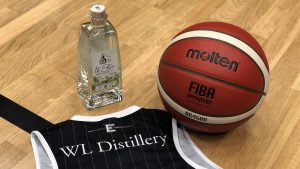 Scott Wilson-Laing, Founder & Managing Director, WL Distillery said: "I'm absolutely delighted to continue our support of the Newcastle Eagles WBBL team.
"Having watched the team grow and develop over the last season — culminating in the nailbiting Play-Off final — I have no doubt they'll be delivering more exciting games and showcasing the very best the sport has to offer.
"This season will be even more exciting as we see the return of crowds and I would encourage everyone to head down to the Vertu Motors Arena and watch the team in action."
Abbie and Luke Orwin, owners of Enigma Tap in North Shields, added: "Building on the success and huge challenges of last season we wanted to strengthen our commitment to supporting and developing women's sport.
"Sponsoring the Eagles' shorts is a great opportunity for us to increase our brand awareness and support of the club.
"The success of last season was a huge privilege to be a part of. As a supporting organisation and to be personally involved with the team was amazing!
"The coverage that the team received from that historic Play-Offs run was incredible. We saw the positives of that in the pub with so many people asking about it and about our involvement in the team.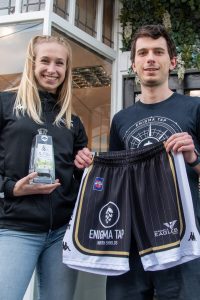 "We can't wait to get going again. On the business front, the return of fans means we can really push our engagement on social media too, hopefully getting more people involved and attending games."
Newcastle Eagles WBBL head coach Chris Bunten is well aware of the positive effect the support of local businesses can have on a developing sport seeking to broaden its reach and involve a greater number of women and girls as players and fans.
"I can't emphasise enough just how important these organisations are in terms of helping us build for short-term success and a long-term future," he said.
"To know that people on our doorstep are fighting our corner and giving us the confidence to achieve our aims and ambitions is huge.
"Women's basketball is a sport on the rise in this region and beyond and now's the time to get involved.
"I can promise that my coaching team and our players are doing everything in our power to repay the faith shown in us by our fans and our sponsors."
Newcastle tipped off the 2021-22 season in fine style last weekend with huge back-to-back wins against Caledonia Pride and Durham Palatinates.
And the Eagles host Oaklands Wolves at the Vertu Motors Arena on Saturday at 7pm as they seek to make a winning start to the WBBL Championship season.
For ticket details for this Saturday's first home tip-off visit the box office and to discuss sponsorship opportunities email [email protected]