It was Andy Warhol who supposedly coined the phrase, "In the future, everyone will be world-famous for 15 minutes." Esh Group Eagles Newcastle Head Coach Fab Flournoy has his own version, writes Jeff King.
It's not quite as cut and dried as Warhol's but it goes along the lines of what he often says to the ten players under his command this basketball season and that is that at some stage in some way all and everyone on the roster will have his moment and play his part.
For back-up point guard, A J Basi, that moment may well have come in Friday's crucial BBL Trophy 1st Round 87 – 76 win over Surrey Scorchers. It won't show up as great statistics but the 1 rebound, 1 assist in the 3 minutes 8 seconds he played during the game may be the most important he's played so far in his short Eagles and professional career.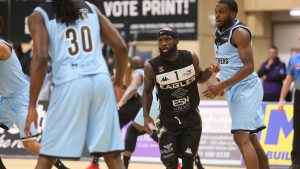 Down by nine points as they entered the final quarter, The Eagles weren't down and out but were searching for answers and inspiration to turn a game around in which they had floundered and looked out of sorts. Surrey were on the verge of a massive upset and Eagles were looking at a third successive defeat.
Enter for the first time, Basi to give Saah Nimley a break and when he left those 3+ minutes later, The Eagles hadn't conceded a point, had got back to within 4 of the visitors and the spark had been ignited that eventually led to a 26 – 6 final quarter and a stunning Eagles win. Basi was a happy young man after the game.
"It was good to get back home after a few road games and it was good to get back on the winning side and it's nice to advance in The Trophy."
"The position that I'm in I'm aware of my role and I've just got be ready at any time whether it's first half, second half. So as soon as Fab called my name I just got out there and contributed what I could to the team."
How does Basi explain the way the came turned around with The Eagles putting in that astonishing final ten minutes?
"We started playing the way that we're supposed to be playing. We started pressuring the ball a little bit more, moving the ball around. Our offence is usually great but it's even better when it comes from our defence and we got it down well in the end."
Next up for The Eagles is a massive showdown against current BBL Champions Leicester Riders next Friday night at Sport Central. Basi is aware of how big a game that is and how his side can ill-afford to start that game in the same fashion as they started against Surrey.
"Playing against the defending Champs it's not going to be easy. We definitely can't spot them any leads. What we've got to do compared to the last couple of games is that we can't go down early and spot them easy points and we've got to punch first."
"I'm very excited for the Leicester game. Before I came in to this league all I'd been hearing is Leicester and Newcastle and I'm looking forward to getting ready for my first experience of it."