Report: Eagles vs Surrey Scorchers (BBL Trophy First Round)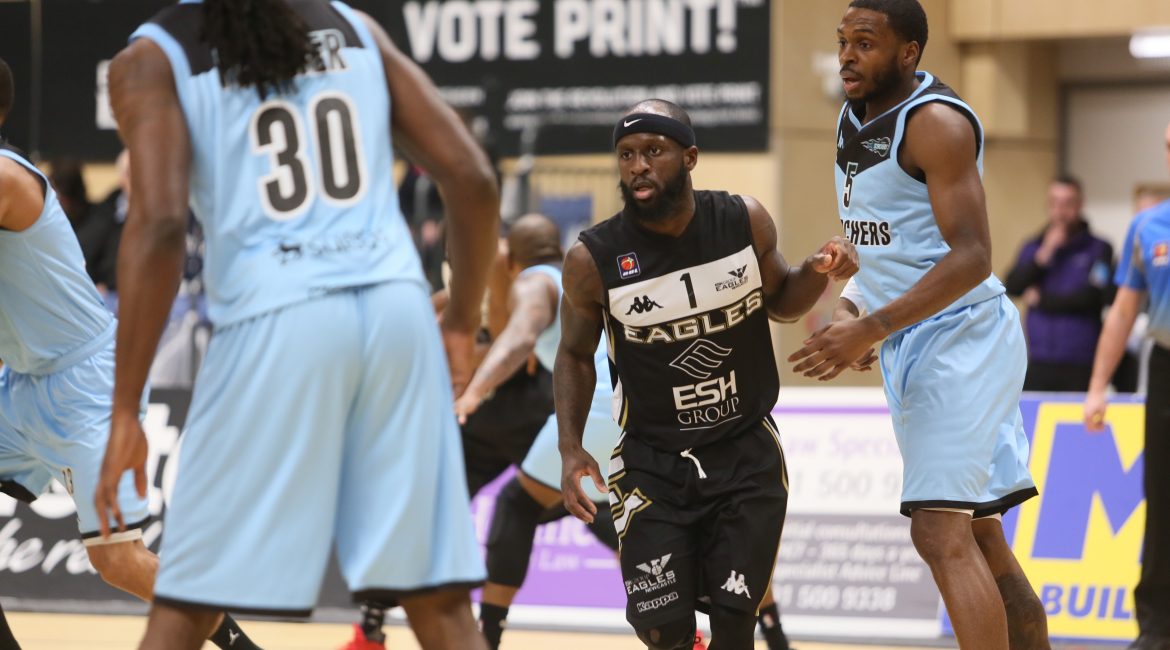 | | | | | | | |
| --- | --- | --- | --- | --- | --- | --- |
| Eagles | 21 | 24 | 16 | 26 | 87 | Win |
| Surrey Scorchers | 21 | 30 | 19 | 6 | 76 | Loss |
Fans were delirious, opponents feared the worst and even an atypically hasty exit from the BBL Cup couldn't dissuade onlookers that Newcastle had that familiar look of champions elect.
But not to everyone.
Significantly, player-coach Fabulous Flournoy kept his counsel when asked how a team with serious potential compared to the proven quality of the classes of 2006, 2012 and 2015.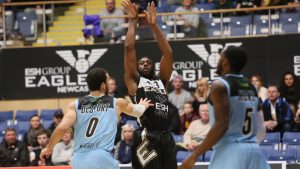 And on the back of successive away defeats, the veteran New Yorker revealed the reason behind a rather worrying pre-Christmas slump: Newcastle's new boys simply never saw it coming.
He did. He saw the over-confidence. He identified the lack of focus. And he had a gut feeling that the Eagles' collective inexperience would come back to haunt them.
Whether Surrey – having stealthily moved towards a 6-6 season record – would be the team to rub salt into the wounds was anyone's guess.
But the Scorchers clearly sensed an upset as they opened up a 9-5 first quarter lead in the face of Newcastle's strongest starting five. Jaysean Paige, Saah Nimley, Zarko Jukic, Kai Williams and Darius Defoe had looked indestructible on their way to dishing out a punishing 103-80 league defeat to Surrey just four weeks earlier. Fast forward to this increasingly significant BBL Trophy rematch and it was the visitors who dominated the early exchanges against a nervy, indecisive and far from convincing Eagles.
Flournoy – who had played just 66 seconds against Glasgow Rocks seven days earlier – stepped off the bench alongside fellow veteran Drew Lasker in a bid to add some veteran nous to Newcastle's wayward new boys. It worked, to an extent. The hosts headed into the quarter break on level terms but any second period acceleration simply failed to materialise.
The Scorchers led by five heading into the half and by as many as 12 early in the third period. Flournoy, who struck a pensive figure as he scrutinised the half-time warm-up from a seat under the basket, might have predicted his team's lightning start to the season wouldn't last but he must also have expected a more spirited response to successive losses.
Unsurprisingly the Eagles' indifference sparked criticism from the stands. It was all Newcastle deserved as a team blessed with an abundance of attacking talent struggled to hit one in every three of their two-point shots and remained dangerously static in defence.
Trailing by nine with 10 minutes to play, the most successful franchise in BBL history was on course to fall at the first hurdle in a knockout competition for the second time this season.
Could the unthinkable happen?
This Eagles' team might lack experience but even in their short time together on Tyneside the class of 2017/18 have proved themselves more than capable of coming back from the dead.
And true to this season's remarkable home form Newcastle finally found their way. With an exacerbated Flournoy barking orders from the bench, Paige went coast to coast before converting a three-point play and firing the Eagles into an unlikely 72-70 lead.
Surrey – only four deep on the bench – went from Scorchers to scorched in the blink of an eye. And whisper it quietly, but four of the players responsible for another riveting revival were BBL new boys: Paige, Nimley and Jukic joined by a bullish Terry Martin down the stretch.
Can talent trump experience? At the very least it trumps predictability.