Okay then I guess you want my take and a little bit of inside insight on Sunday's tournament. Once again, I thank Mr Blake, Mr Flournoy et al for allowing me my few words, not that it's ever few, which are strictly my opinion.
So, off we jolly well went and, there's little to report until someone, and he shall remain nameless, decided that instead of going across to The O2 on the team bus we should perhaps use the underground/train option.
Worked beautifully even if said person had to buy a few more Oyster cards than he'd originally intended. And in the spirit of "you learn something new every day," who would have thought that you could use your contactless debit card to get you through the barriers before and after journeys?
One thing is certain, players come and players go but no matter who we have, Nando's does indeed appear to be the food of the gods for professional basketball players in the UK.
Sunday morning dawned bright and inviting and after an interesting breakfast we duly boarded the coach to take us to the O2. On arrival and a look around it was obviously that those that hadn't been there before were quite impressed to be making their competitive Eagles debuts in such surroundings.
With the greatest respect to our stable sponsors Leeds, I'm not quite so sure what they're going to make of Force's home venue this coming Friday. Perhaps a little bit of "after the Lord Mayor's show comes to mind. It'll certainly be interesting to see the reaction.
Practice completed, it was to the changing rooms for a last debrief before being presented to the O2 crowd and Sky Sports TV. Not the huge crowd we'd all hoped for but sizeable and definitely noisy and the scene was set.
The guys sat courtside to watch the opening game between Riders and Scorchers and the mayhem ensued. Quite clearly the format threw a lot of teams, players and coaches in those early games and none more so than our beloved Eagles.
We got, I believe, a bit caught up with the whole format of the event and didn't exactly play that sensibly in that first game where a very organised and disciplined Bristol side creamed us much to the delight it appeared of everyone except our fans and us.
So, back in the dressing room to talk it over and you know what they say? What's said in the dressing room stays in the dressing room! But, we did feel we were ready for The Rocks and so it proved… just!
Double overtime was required but we got through that game to send The Auld Enemy back to Scotland after their long trip for 24 minutes basketball. The format was crazy and I still think there are some that still haven't worked it out but we had The Sharks next in a win or go home showdown.
This time we produced and in the end got through to the semi-finals quite comfortably where it might have been Bristol again, or the home town favoured favourites Lions but in the end, it was them there Riders and what a game it was.
We've said all pre-season long that this is an exciting team? Well, double-overtime followed by a one-point win when Mr Bernadini's rim buster didn't drop certainly, Sheffield's 5-point buzzer beater aside, saw us involved in the most exciting games.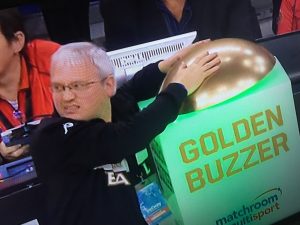 Play of the day against Leicester? Mr "Numbers" Forrester hitting the golden buzzer as Nims' five-pointer sailed through the air to be converted to a ten-pointer as it went through the basket. Also, a premature celebration when we thought the running clock had run out but Robbie P. had sneaked a time-out.
So, we're suddenly in the final to take on those home town Lions who had moved smoothly through their games to provide the showdown for The BBL's first trophy of the season, a rather lovely looking golden fruit bowl.
Sadly, that was to be where our look ran out. The difference? Probably the two powerplays where we had numerous opportunities to make ours count and didn't whilst London just took a better advantage of theirs.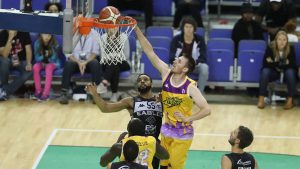 Mind you Jaysean's deposited 5-point banker did make it an anxious last play for Lions who managed to hold on for the win. Were we disappointed? You betcha we were. You don't go anywhere just to finish second but then again after the way we started it was an achievement to make the final.
Did we learn anything about any of the other eight teams? Probably not although I will give a brief, very brief synopsis of my take on the teams in a few paras' time.
It was a disappointed though far from despondent dressing room. Yes, no-one likes finishing runners-up but as a bonding session, a chance to get competitive minutes under our legs and a chance to see some old and new faces it was a very, very worthwhile exercise.
What of the competition itself? At times, it was faster than a speeding bullet and our heads seemed to be spinning faster than Jaylen Billups inside the paint but once we got the hang of it we enjoyed it and felt it was worthwhile. So much so that I think we'd all be happy to see it repeated although perhaps more centrally.
That said if the aim is to start and finish your season at The O2 then for whoever does get back then it will be a bonus I'm sure. For me personally it was great to see so many of the familiar faces that make The BBL a great institution and you know what they say about institutions, you gotta be crazy to get in to one.
So, what of the teams? Please read this next bit with tongues in cheeks and with the knowledge that 12-minute games with vastly different rules does not an accurate assessment make.
Surrey – Some individual talent for all to see but depth may be their problem. That said, Creon will work his and his players socks off and they will be competitive all season I'm sure.
Glasgow – A difficult one. They certainly haven't hit the ground running. But remember they were without Kieron and Dante Holmes who may well have picked up a season ending injury that will mean they must re-group and re-align but any one with Tony G at the helm can certainly do that. PG Martez Harrison looks decent though.
Worcester – Have many pieces that if they fit together will mean they will be there or thereabouts. Didn't look settled though as not been together long and guard position may be the Achilles heel but, we'll see and PJ usually has them in there contending.
Sheffield – Sleepers, sleepers. An awful lot of talent for me with scorers and rebounders a-plenty. This format just didn't seem to suit them though and they looked a little disjointed and not ready for it. Will be ready for the season though I'm sure.
Bristol – Kapolous and his system are the key. Always look organised, always look disciplined and certainly gave us a lesson in that first game. Retention seems their key as it means continuity but Weary and Goodwin look good additions. Big season ahead for them I think.
Leicester – Organised, efficient, strong and capable. You wouldn't expect anything else. But, are they as frightening as they looked last season? At the moment, I'd say no but you know they'll be right in the mix once again. New PG Phillip Leonard and J.R. Holder probably hold the key and Keifer Douse looks talented. Thommo, Hampton and Bernadini are all very important.
London – Well, as the signings were announced they looked to have a promising team and that promise has been cashed in early. Have some very nice players that look very team-orientated and will be run by the silky-smooth Justin Robinson who looks real quality. May well be the ones to watch this season.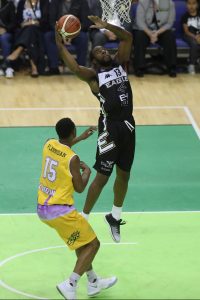 Eagles – We are exciting!
So, after all the hype, it's silver medals and a chance to add to our National title haul scuppered if only just. The quest for the next one begins this Friday with the short, derbyish, trip to Leeds. We all know what happened there last season so we need to be ready.
I think we will be!