Two things have been well documented about Esh Group Eagles Newcastle since the start of the 2017/18 British Basketball season, writes Jeff King.
Their unbeaten 5 – 0 start and the impact of their back-court duo, Saah Nimley and Jaysean Paige.
However, two players don't make a team and it does appear that this Eagles roster is one that runs deeper than in previous years and is certainly made up of different types of players, some who may even seem "uneagle" like. Step forward Zarko Jukic.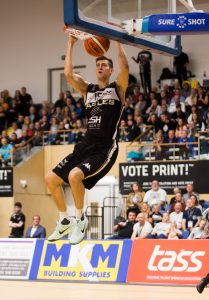 The 6' 7" Danish International has started every game so far for Newcastle and is the archetypical role/team player that every roster needs. Not sure of that? Well 7.4 points, 6 rebounds, 2.4 assists, 2.4 steals and 1.6 blocks per game should convince you of his athletic worth at both ends of the floor.
With The Eagles having a weekend off, Jukic reflected on the superb start to the season his new team have made.
"It's been a very good start. Five wins you can't ask for much better than that. Obviously the last two games we struggled a little bit, but we found a way to come back in those two games and get the wins."
"It's good for the confidence going forward and shows that edge and togetherness we have as a team to come back from those deficits. Most teams in that sort of circumstances would let their heads go down but we showed how together we are and how determined we are and got those wins."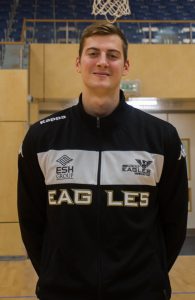 With the newness and changes to Newcastle's roster this term many were unsure of what the starting five might be like and how all would fit in to the team chemistry. Jukic has certainly showed an appetite for the fight and his work from the start allows others to set the platform.
"Last year in Spain I came off the bench so it's a little different starting. But for me, I did think I might start this year but even if I didn't I'd still play the same way. I've played different roles throughout my career so starting or coming off the bench, I don't mind, as long as I can contribute and play."
Jukic is a player that wants to play and looks forward to the challenge of game-time. A mini-break like this weekend is not always what is ordered.
"The routine is practice hard and get the rewards of a game for your practice. No game just means a little bit more practice. I love to play games, I love to have games and I would love to have a game this weekend."
"But, we do need to work on some things as a team, so I guess a break's not a bad thing especially going in to it unbeaten. We can work things out, get refreshed again and be ready for next weekend."
Next weekend sees Cheshire Phoenix arriving in Toon for a BBL Cup Quarter-Final clash. The Eagles currently are the Cup Holders and Jukic whilst being aware of that also has another reason for looking forward to the game.
NEXT BBL HOME GAME
"I get to play against Alassan Touray who plays for Cheshire. He's an international team-mate and someone I know well so it's going to be a lot of fun to see him and play against him and his team."
"We need to get that win to defend our title and then hopefully go all the way in the Cup that's the plan for us, to just keep winning and see where we end up."