Terry Martin will take his coach's criticism on the chin after quitting the melting pot that is South American basketball for the passion pit of the BBL.
The American forward faced both barrels from a typically fired-up Fab Flournoy after Newcastle Eagles' playcaller called a snap fourth quarter time-out against Team Northumbria last weekend.
But Martin responded in style and bounced back seconds later to make an impressive steal at full stretch.
And he insisted Flournoy's words will be ringing in his ears as he bids to follow in the footsteps of friend and mentor TJ Walker.
"TJ told me what to expect from Fab and that's why I wanted to sign for Newcastle," said 6ft 7in Martin.
"I knew what was coming and I'm here to learn. I think everyone saw – and heard – Fab making his point to me during that time-out. And from the outside it probably looked as if he was just screaming at me!
"In reality he's teaching me to become a better player and that's why I came here. During the heat of the game the adrenaline is pumping and the passion pours out – I wouldn't expect anything less from my coach.
"He has to make his point in a very short time and he wants me to do better.
"I'm here to soak it all up and I don't approach it from a defensive position."
Martin spent five years criss-crossing South America and making his name as one of the hottest properties in the paint across Chile, Ecuador and Argentina.
But the Cincinnati native craved a change of scene and a brand new challenge after Eagles' legend Walker relayed stories of his decorated career on Tyneside.
"I've known TJ for more than a year now and he's been mentoring me and preparing me for the move to the BBL," added Martin.
"He got my mind right and made sure I was ready mentally. He knew it would be a big move and that I'd probably find it tough. But he also told me how great the organisation is and how passionate the fans are.
"After so many seasons in South America I can relate to that!
"For five years I bounced around from country to country and just won a championship in Argentina. But I felt like it was time to wind things up down there and go in a different direction. I felt like I'd done everything I wanted to do there.
"A lot of players don't get that opportunity to change the way their career is going but I became good friends with TJ and he encouraged me to look at the BBL."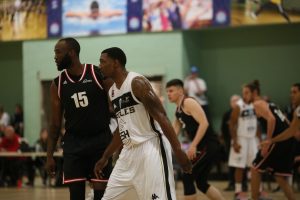 Martin featured in all three of Newcastle's pre-season matches and already looks capable of complementing 14-year Eagles veteran Darius Defoe under the boards.
The latter was quick to give his new team-mate much-needed words of encouragement in the immediate aftermath of Flournoy's verbal volley.
And evidence of that immediate bond will secretly delight Newcastle's coach as he seeks to integrate seven new faces and instil his trademark work ethic and camaraderie.
"At this stage of pre-season I feel as if we're in good shape," added Martin. "We still have a lot of things we need to improve but we're gelling as a team and we'll gel some more. We're starting to come together and it feels good."
SaveSave