| | | | | | | |
| --- | --- | --- | --- | --- | --- | --- |
| Leicester Riders Women | 14 | 21 | 19 | 21 | 75 | Win |
| Newcastle Eagles Women | 17 | 19 | 9 | 14 | 59 | Loss |
The Newcastle Eagles WBBL side will take to their home court in the Vertu Motors Arena in a huge derby day clash against Durham Palatinates this afternoon.
They will do so on the back of an encouraging although losing performance against a very strong Leicester Riders side on the road. It was always going to be a tough task for the Eagles in Leicester against a side that is considered to be the second-best in the WBBL.
Riders have been runners-up in both the WBBL Cup and Trophy Finals this season losing out to the all-conquering London Lions and had already beaten Newcastle twice previously this campaign.
Both of those games were in Newcastle. The league game went the way of the Riders by 82 – 60 and the Trophy semi-final 91 – 63. This then can be seen as a defeat yes but ultimately a much better effort from an Eagles side still operating well below full strength.
Abby Lowe did return to the roster but Katie Nolan and Zoe Willis were still out and against such a powerful outfit as Leicester that was always going to make a difference. So it proved in the final analysis.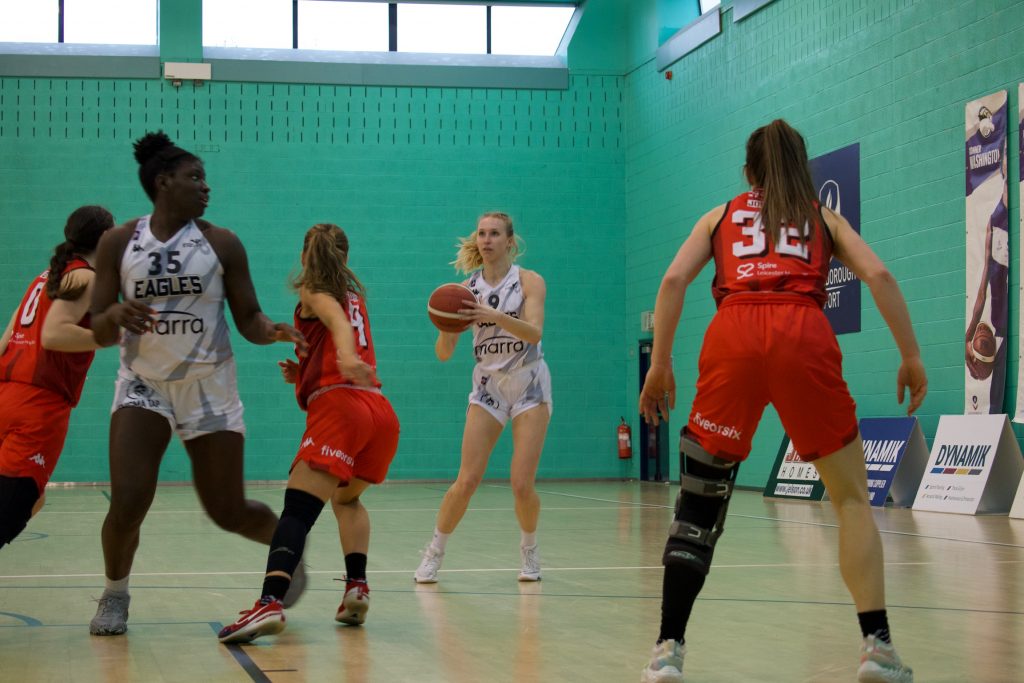 Riders were able to rotate more in the second half and give significant rests at vital times to important players. Eagles with a much shorter bench tried to do the same but whilst it worked in the first half the second saw fatigue set in.
Newcastle had a great start and with four triples shared across the side led by ten points early on and with just over half the first quarter to play. Nine unanswered points from Leicester though pegged the Eagles back.
Newcastle went scoreless for over five minutes and Leicester closed within a point until the consistent Nette Lewis scored inside the final ten seconds of the period to give Newcastle a 17 – 14 lead going to the second.
Leicester kept their momentum going and things began to look ominous for Newcastle as their hosts opened up a six-point gap. But this Eagles side has character and fight and they ended the half with an excellent 9 – 2 burst.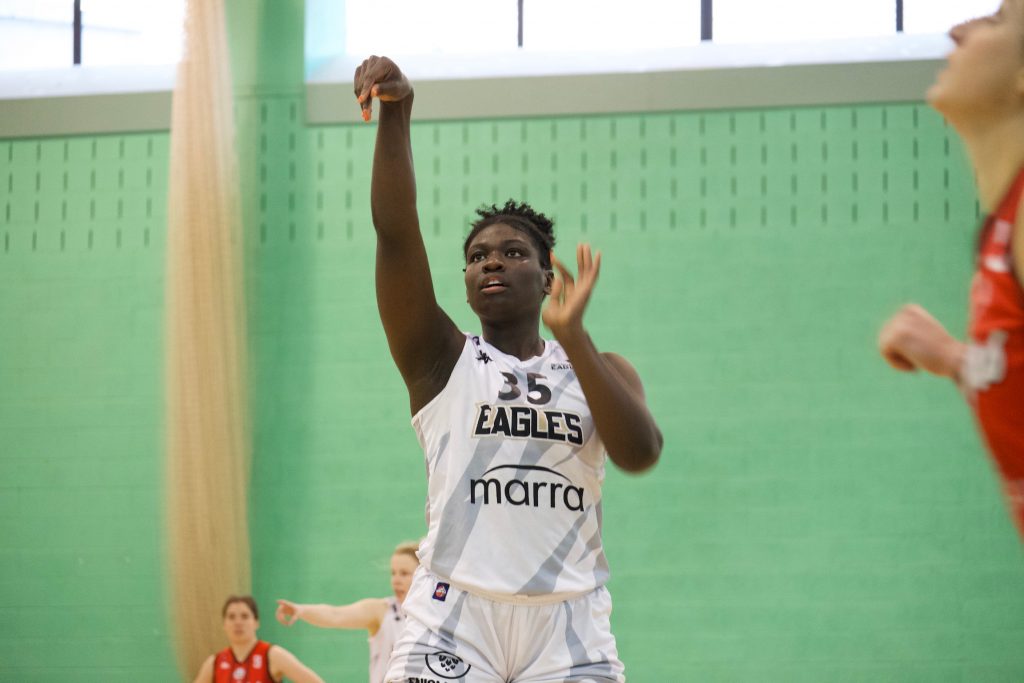 It gave them a one-point lead at 36 – 35 to take into the locker rooms at the half-time interval with everything to play for in the second half. It looked like anyone's game at that stage but the second twenty minutes showed Leicester's resolve and ability.
They cranked up their defence and that enabled a still spluttering offence to score enough to take them away from the brave Eagles effort. A 19 – 9 third period gave Riders a lead they wouldn't relinquish and even managed to stretch in the final quarter.
Newcastle will take heart from their efforts though and know that a similar type of performance against Durham this afternoon may well pay big dividends. The Palatinates themselves having a tough 75 – 73 home loss against Sheffield Hatters yesterday afternoon.
Coach Noelia Cacherio knows though it won't be easy against their derby rivals in what is a vitally important game for both sides.
"Durham are a very unpredictable team. They have moments in games when they look as if they're done but then hit back. They are a very streaky team but have great spurts of energy to bring them back."
"They have been playing well these last few months especially with Harriet Ottewill-Soulsby coming in. She has made them a completely different team and they have more tools to work with. It's going to be a tough game."
The game at the Vertu Motors Arena tips off at 4:00pm and is a much-anticipated encounter as the two sides clash for the first time this season.
Tickets for the north east derby can be purchased via the box office.