As our Eagles and fans arrived at Sport Central on Friday night for BBL Cup action the race to reach the 2018 BBL Trophy Final began with the first round draw being concluded live on the BBL's Facebook Page.
There are 16 entrants look to go al the way to the Emirates Arena in Glasgow on Sunday 4 March 2018 and pick up the Trophy, following in the footsteps of our Eagles a couple of seasons ago and current back-to-back holders Leicester Riders.
For the first time this season there will be there will be two games taking place at Sport Central as our NBL Division 1 side Team Northumbria play their rookie BBL Trophy debut at our shared home against Worcester Wolves.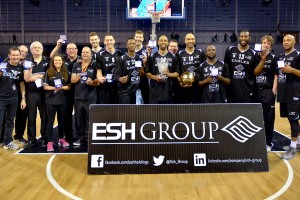 Our Eagles remain the most successful team in Trophy history as six-time winners and its Surrey Scorchers who stand between us and the quarter finals. The Scorchers are our BBL Championship opposition next Friday night.
Here's the draw in full:
Cheshire Phoenix v Glasgow Rocks
Plymouth Raiders v Bristol Flyers
Manchester Giants v London Lions
Leeds Force v Leicester Riders
Esh Group Eagles Newcastle v Surrey Scorchers
DBL Sharks Sheffield v Manchester Magic
Team Northumbria v Worcester Wolves
Falkirk Fury v Reading Rockets
The BBL Trophy first round ties are played on a one-leg basis with the winners progressing to the quarter finals. The dates and times of the games are to be confirmed in due course.
To make sure you don't miss an Eagles game automatically add our fixtures and results updates to your calendar.