Long since handed the keys to Newcastle Eagles' Hall of Fame, it's 10 years since irrepressible guard TJ Walker left Tyneside. Simon Rushworth caught up with the California-based coach and community worker in the week his two former clubs clash in the BBL Cup.
When TJ Walker takes practice at Ceres High School this week, as head coach of the Bulldogs' varsity basketball team, it's unlikely his teenage charges will be aware they're in the presence of Newcastle Eagles royalty.
In seven seasons with the men in black, the talented guard always averaged double figures in scoring, never gave less than 100% to a club that became so close to his heart and emerged as a pivotal figure at the heart of the franchise's historic first clean sweep in 2006.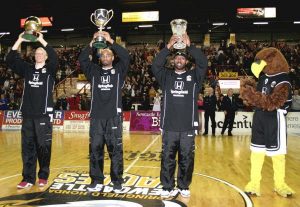 Little wonder, therefore, that he was the first player inducted to the Eagles' Hall of Fame – the 6ft playmaker's famous number five jersey retired in recognition of an individual who embodied Newcastle's rise from the nearly-men of British basketball to the game's dominant force.
"People forget that there was talk of me being sent home in the early days of my Newcastle career," admitted Walker. "It's never easy moving to a new country and a new league – just ask any of the guys the Eagles signed this summer.
"I had to adjust to the league that year. It took me a month or so to see that I needed to be more aggressive offensively and still do the other things that I like to do on the court (rebound, defend, assist or whatever it took to win)."
"I'm very impressed."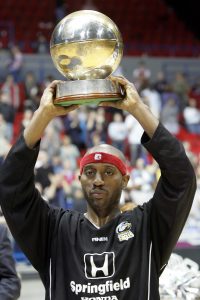 Walker is well aware of the challenges facing all seven of Newcastle's new breed this season. A player nicknamed 'The Daddy' during his time on Tyneside has also noticed that the Eagles' new backcourt pairing have taken no time at all to settle into their roles at Sport Central.
"A 5-0 start to the league season is big," he added. "With a new group coming in it usually takes a while to gel. But the new guys have been tested early and have shown late season mindsets (in terms of getting stops and closing games). I'm very impressed."
BBL rookie Saah Nimley has already been compared to Walker – the former's quick thinking and even quicker hands a thorn in the side of disorientated rivals. "I know Saah and Jaysean Paige have been the talk of the BBL this season," added Walker.
"Paige went to West Virginia and that's all I needed to know. I'm one of the biggest Bobby Huggins (Head Coach at West Virginia) fans and always wanted to play for him. If you know Huggins then you know what type of players go through his program.
"He might have one of the biggest hearts in the league"
"Saah's skill level was obviously there but what I like the most about him is what his team-mates said about him in an interview during his senior year…to a man they said he was a leader.
"I don't know the kid personally but from what I have seen, he might have one of the biggest hearts in the league and that's all that matters. As long as he stays healthy he will continue to give clubs problems while in an Eagles vest…height ain't nothing but a number!"
Walker is also keeping close tabs on Terry Martin. One of Newcastle's greatest ever players recommended the powerful forward to Flournoy earlier this summer and has high hopes for another of the Eagles' eager rookies.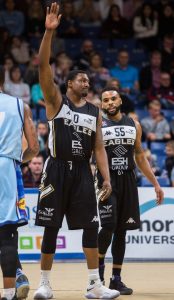 "I get a lot of players each summer asking me to help open doors for them in Europe," added Walker. "I rarely send names to Fab because I know better than most what it takes to make it in Newcastle (especially for a big fella). The majority of the kids I come across don't show me the work ethic required so I don't even bother to mention the Eagles!
"But I saw game film on Terry and right away I saw something that reminds me of Chuck – aka Charles 'I Get Buckets' Smith. Terry has that same ability to do a lot of things on the floor both offensively and defensively.
"I knew he wanted to get out of South America and I definitely felt that Fab and the club could teach him how to be a professional on and off the court. Now it's on him to soak it all up. If he does then the sky's the limit for Terry."
Walker would love to revisit his home from home but a chronic fear of flying has so far prevented what would be a celebrated return to the North East. "I want to come back but I've got to overcome that hurdle," he added. "There are plans for 2018…watch this space."
Walker's former BBL clubs, the Eagles and Cheshire Phoenix, clash in the BBL Cup quarter-final at Sport Central from 7.30pm on Friday.
NEXT BBL HOME GAME