Newcastle playcaller Marc Steutel insists his appointment as Great Britain's permanent head coach aligns perfectly with a burning ambition to build on the Eagles' proud legacy.
The highly-rated playcaller came through a rigorous interview process before national team bosses rubber-stamped his role over the weekend.
And Steutel — who led GB to landmark wins against Germany, Greece and France during a successful stint as acting head coach — is convinced a bold decision can benefit club and country.
"First and foremost I'm proud to be the Newcastle Eagles head coach," said the man responsible for leading the club back into the BBL playoffs last season.
"When you talk about British basketball you talk about the Eagles being the most successful team in BBL history and that's something I'm very conscious of.
"I'm determined to be part of a Newcastle Eagles future that delivers success and my role with the national team aligns with that vision.
"Being appointed senior men's head coach on a permanent basis provides a great platform for the club — and for me personally — to be represented on the international stage.
"I know it will continue to enrich my performance and development as a coach and that, in turn, will have a positive effect on everything I do with the Eagles' BBL team and the wider organisation.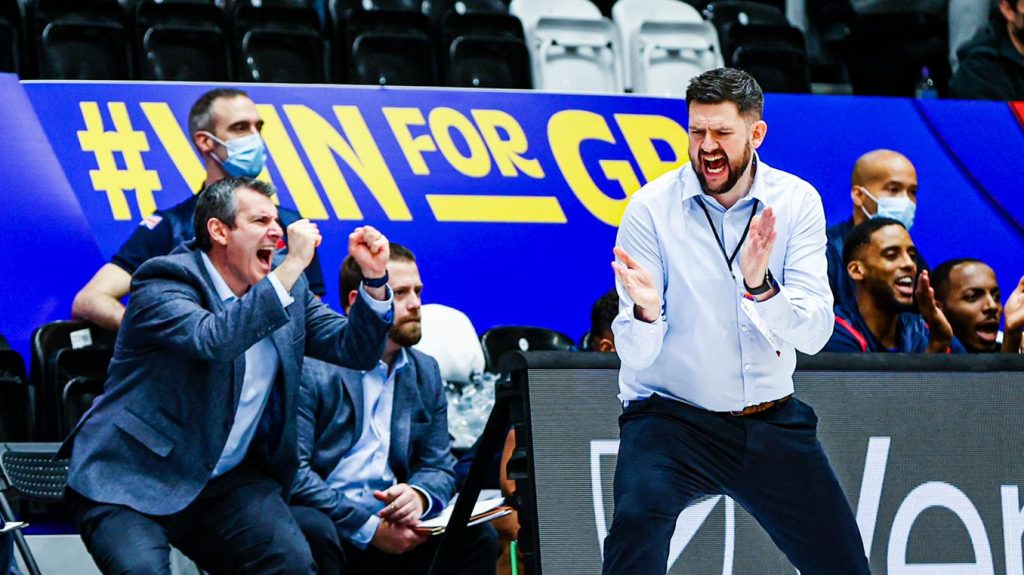 "The Newcastle head coach's role is something I have worked towards for many years and it's one I'm thankful for.
"Like the GB job, it's a huge responsibility but I intend to take a collaborative approach and I'm convinced I can be effective on the domestic and international stage.
"I'm excited and enthused by the national team role and I feel it opens up new opportunities in terms of developing the Eagles' talent pathway and the club's community programme."
Steutel's impressive audition for the GB role — after he stepped in to cover former head coach Nate Reinking on a number of occasions — was key to a forward-thinking appointment.
The popular playcaller already boasts a close relationship with an evolving group of established senior players and emerging stars.
And he will continue to work alongside new GB General Manager Dan Clark as the pair look forward to ushering in a new era of sustained success.
"Our first target is to qualify for and be successful at EuroBasket 2025," said Clark, who called time on a record-breaking international career last autumn.
"Beyond that we also want to build a culture and a structure that is sustainable and beneficial for everyone involved — from players to staff to management.
"I'm sure the next two years will bring a lot of joy and excitement to British Basketball as a whole."
Steutel and Clark already have a history of success working together with Clark an integral part of Steutel's GB rosters towards the end of his playing career.
British Basketball Federation Performance Lead, Fiona Pimblett, added: "Marc and Dan have both given a huge amount to the programme so to now formally have them in these roles is a really exciting step for the Federation.
"They share an exciting vision for the team and are committed to ensuring that we can align the senior team more closely with our Junior National Teams and Home Country Associations.
"Marc and Dan already have a strong working relationship and regular communication in place with current and future senior men's players.
"As a Federation we are now in a better place to be able to give our teams consistent planning and support.
"And with Dan and Marc at the reins the Federation is confident that great things can happen under their leadership."