Law firm Sintons is continuing its commitment to North East sport – and building further on its support of basketball – by becoming a sponsor of the Newcastle Eagles women's team.
Newcastle Eagles are the most successful club in British basketball and North East sporting history, and since 2018-19 have operated the region's top-flight Women's British Basketball League (WBBL) franchise.
Sintons is a longstanding supporter of the Eagles as a club, but is now committing its backing separately to the WBBL team, to help highlight the role the role they play in women's sport and in encouraging women and girls into sport in the North East and beyond.
"Sintons' continued sponsorship of the club over the years has been brilliant and this extension of support to our WBBL team is a big boost to what we are doing to develop the women's game", said Dan Black, Newcastle Eagles Sales and Communications Manager.
"Having the backing of such a well-know and highly regarded partner as well as being able to see so many of their colleagues and clients able to attend our games and support in person too is massive for both the BBL and WBBL franchises."
Women's sport and in particular women's basketball is growing significantly in mainstream prominence and in the region, evident from the Eagles' recent WBBL attendance record breaking game when over 1,300 packed the Vertu Motors Arena.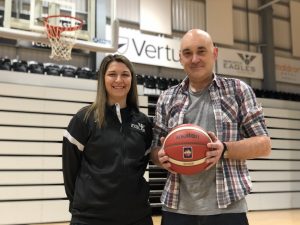 "We are very proud of our track record in supporting North East sports clubs and athletes of all levels, and are committed to investing in the future success of our region in this field," says David Pritchard, head of marketing of Sintons.
"The profile of, and participation in, women's sport is growing strongly, which is fantastic in creating a diverse and equal sporting community. Equality and diversity are values at the very centre of Sintons and how we operate, and we are committed to promoting these in any and every way possible.
"The Eagles' WBBL team has played a key role in this, and the club is a strong and vocal supporter of the need for more women and girls to participate in basketball and sport in general.
"We're absolutely delighted to lend our support to the WBBL team, in addition to our backing of the men's team, and in championing the efforts of the Eagles in promoting women's sport."
Find out more about sponsorship opportunities with Newcastle Eagles by emailing [email protected].