Esh Group Eagles Newcastle have swooped into the USA collegiate graduate ranks to pluck their sixth signing of the summer and feather their nest with their second import spot for the 2018/19 season.
Coming out of the University of North Carolina-Asheville, where he had an outstanding record-breaking career, 23-year-old Ahmad Thomas is an athletic 6' 3", 215 lb multi-purpose guard with a 7' 1" wing-span who begins his professional career with the Eagles.
In college he played across a variety of positions and as well as his scoring prowess, was also renowned for his defensive skills. He was well capable of guarding four positions, locking guards down on the perimeter and using his innate strength against bigger forwards inside.
Thomas will fill a vital role in head coach Fab Flournoy's new roster that is aiming to return Newcastle back to the top of the British basketball standings and as the Eagles' playcaller was keen to point out, was exactly what he was searching for this coming season.
"We have looked exhaustively this summer for the right player and person to fit our ethos and succeed in the BBL," said the New Yorker. "Ahmad comes off a successful college career where he has helped his team in every facet of the game. We look forward to welcoming him to Newcastle."
Thomas' four-year-stint at UNC-Asheville in the Big South Conference saw him end his tenure as the only player in the history of the Conference to have more than 1,500 (1,626) points, 700 (705) rebounds, 250 (251) steals and 250 (256) assists.
Add in the fact that he was named as Conference Defensive Player of the Year in 2016/17 and 2017/18 as well as being runner-up in the overall Player of the Year stakes in the same seasons and it's easy to see why Flournoy was attracted to Thomas' attributes.
Averaging 16.5 points, 5.8 rebounds, 2.8 assists and 1.9 steals per game in his senior season, Thomas likens his game to that of NBA defensive superstar Draymond Green of the Golden State Warriors and had this message for all at Newcastle.
"I want to bring that spark plug to make things even better."
"I am very excited and I want to first say thanks to the Eagles for giving me this opportunity," he said. "I now get to show a lot of teams why they missed a chance on a guy like me.
"I am coming from a winning college team and know Newcastle are used to winning and the fans expect that so I want to bring that spark plug to make things even better.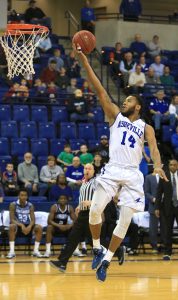 "I've heard great things about the Eagles from players who have played against the team, who wanted to be a part of the team and just hearing about the winning tradition made me smile.
"I think I bring another grit. I can guard different positions and I can score in different ways to my strengths. I'm not going to do something I have never done just because I am getting paid now. I'll stick to my formula and do it well.
"I will be something unique and I am going to keep the same energy I have had since college but times two."
The native of Danville, Virginia certainly brings a winning mentality to the Eagles' camp having been part of a team that won the 2016 Conference Tournament and were 2017 and 2018 Conference Regular Season Champions.
With more signings to be announced soon, things are certainly heating up on Tyneside as Flournoy and his charges gear up towards the season opener against Cheshire Phoenix on September 21 at Sport Central.