The club and the British Basketball community are shocked and saddened to hear of the sudden and unexpected passing of a BBL legend in Kevin Cadle.
The hugely respected and revered American coached almost 500 BBL games during his career and finished with a staggering overall record of 397 wins and 97 losses (2 ties). His 80% win record remains the best in British Basketball League history.
In total, he won each trophy five times in the BBL (plus a Cup title in the season before the inaugural BBL campaign). Cadle oversaw a jaw-dropping period of dominance at the helm of Glasgow and Kingston between 1988 and 1992, when he masterminded a stellar run which collected 14 out of the 15 pieces of silverware on offer.
During the same period, he took Kingston to the Quarter-Finals of the Champions Cup – the equivalent of the modern-day Euroleague. Cadle came up with victories against some giants of the European game including the likes of Maccabi, Aris, Scavolini, CSKA and Limoges.
As well as calling the plays at Falkirk, Manchester and London Towers during his illustrious club career, Cadle also coached the England, Scotland and Great Britain teams – as well as a number of BBL All-Star Games.
Landing the BBL Coach of the Year a stunning six times, Cadle was a colossus of basketball in the UK.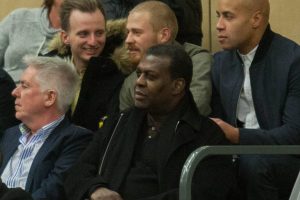 On the release of his book entitled 'The Cadle Will Rock' in November 2015, Kevin visited Sport Central to watch our Eagles in action (pictured), sign autographs and have photos with fans.
His influence and legacy will continue and as well as passing on our thoughts and prayers to his friends and family at this very difficult time, we would like to underline the outstanding contribution Kevin made to the sport in this country.
Thanks for the memories and RIP Coach.
SaveSave