Fabulous Flournoy has called on his transitional roster to control the tempo in 2018 after insisting the right timing can keep this season's title race alive.
The experienced New Yorker has seen glimpses of potential in a team preparing to welcome league leaders Leicester Riders to Sport Central on Friday.
But Flournoy wants to translate flashes of red hot form into four quarters of consistent basketball – something Newcastle have failed to achieve so far this term.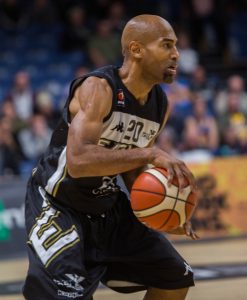 "It's all about controlling the tempo and that's all 11 guys – including myself," he said.
"As individuals and as a team we have to understand the pace and rhythm of a game – when to slow it down and when to speed things up.
"There have been times when maybe three of the five guys on court are all on the same page – occasionally four – but we've never reached the point this season when all five guys are on the same page for any length of time.
"In fact there hasn't been one game this season where we've been able to control the tempo for 40 minutes.
"Right now we have so many different moving parts. When we do get the tempo right a substitution or a different rotation can change that.
"We need to get to the point where no matter how many times we change the personnel it makes no difference to the way we control a game."
Whether the Eagles can find that magic formula in time for Friday's top-of-the-table clash remains to be seen.
But in reality a second successive homecourt defeat at the hands of the Riders will all but hand the league title to Leicester.
BBL coach of the month for December, Rob Paternostro, played last month's meeting between the league's top two to perfection.
And Newcastle must find a way of countering one of the league's master tacticians before they can focus on controlling the tempo.
It's a tall order for the men in black but back-to-back wins at Sheffield and Bristol have restored confidence after December's mid-season wobble.
And a third successive victory this weekend would provide the perfect platform for a serious tilt at the title.
Flournoy is keeping tabs on forward Jure Gunjina as the Croat looks to shake off an ankle injury in time for the Riders' clash.
And no Newcastle player will want to miss what promises to be another mouthwatering match-up between the biggest franchises in the BBL.