Ian MacLeod insists attention to detail can make the difference between success and failure as Newcastle Eagles' BBL campaign reaches crunch time.
The league's most successful franchise tackles Bristol Flyers this afternoon buoyed by yesterday's confidence boosting win at basement club Surrey Scorchers.
Watch highlights of Eagles at Scorchers:
But Newcastle now need to complete part two of their Easter weekend playoff mission by bagging a second vital victory in two days.
After watching his side slip to defeat against the Flyers on Friday, MacLeod revealed: "It's not about learning as far as Bristol's concerned.
"We know what we need to do.
"We executed our game plan against them but we didn't stick to the scouting report.
"We were in the game on Friday but we had two-minute spells where there was a lapse in concentration and it got away from us.
"The one big thing for this team is executing the scouting report. We did a much better job of that in the second and fourth quarters against Surrey.
"It's just about attention to detail when it comes to individual players."
Skipper Rahmon Fletcher returned from his Covid-enforced absence to dish up 10 assists during a 21-minute cameo at the Surrey Sport Park.
But Louis Sayers — suffering from a chest infection — missed the impressive 104-81 win that finally snapped Newcastle's painful seven-game losing streak.
And the short-handed Eagles need to go again with the minimum of recovery time as they chase back-to-back wins for the first time since mid-February.
"Rahmon's still recovering from Covid and was on strictly limited minutes against the Scorchers," added MacLeod.
"Louis is back at home and Wes [Person Jr] is still coming back from pneumonia.
"With Wes I honestly thought his season could be over but he's put in a monumental effort in the last couple of weeks.
"Some players might have taken the easy way out but I really admire what he's done for this team."
Once again Person Jr dug deep to hit 22 points in just 26 minutes against Surrey and it was the shooting guard's hot hands that broke the game wide open during a free-scoring third quarter.
The US star hit his sixth triple of the match to fire Newcastle 74-57 in front but MacLeod has seen his side implode too many times this season to believe a must-win game was over with 13 minutes on the clock.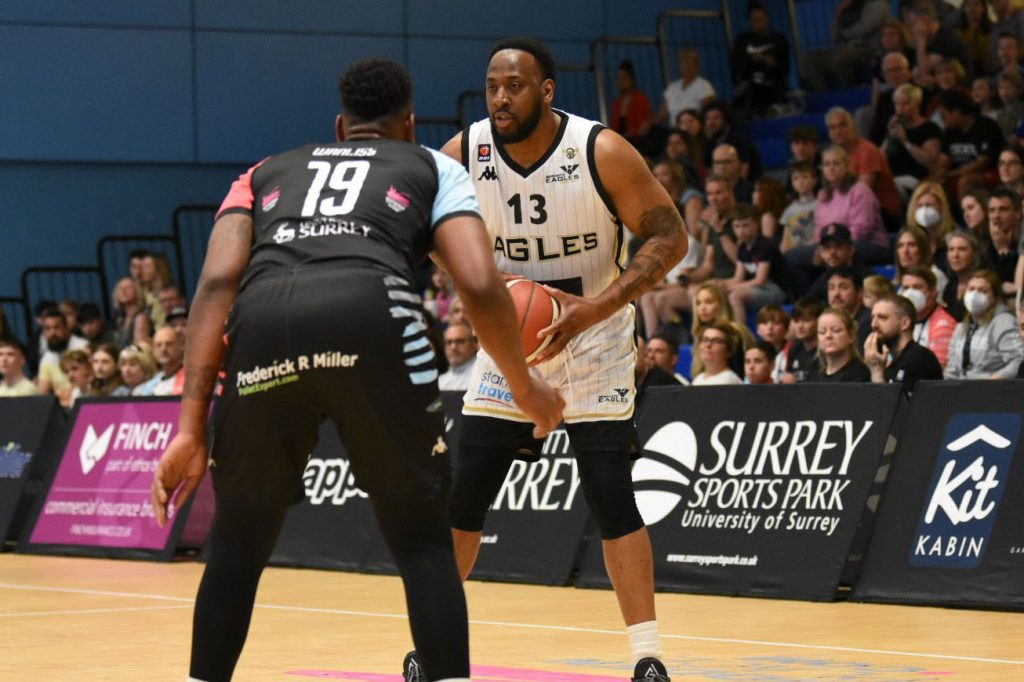 And it wasn't until Brandon Peel converted a regulation lay-up 10 minutes later that the Eagles' playcaller could start to focus on this afternoon's key Flyers' assignment.
"I don't think we're in a position where we can take any result for granted," admitted MacLeod.
"But when we opened up a 20-point lead that's when I felt we could start to look ahead to Bristol.
"I thought we showed some good and cohesive moments against the Scorchers. We made 72% of our shots in the paint and we got confident and hot.
"We lit it up from outside but both teams had success from three-point range. It became a bit of a scoring race in the third period which I wanted to avoid.
"It was important for all of us to remember what winning feels like.
"These are good guys and we've never lacked cohesion as a group all season. It's all about the players feeling good about themselves.
"It feels great to get a win under our belts but it's more relief than joy.
"And let's not forget Surrey are bottom of the league with just two wins all season.
"We have to bear that in mind.
"Ahead of the Bristol game it's about balancing realism without killing confidence."
Justin Gordon came within touching distance of a memorable triple double as he added eight assists and nine rebounds to his game high 27 points.
And Corey Johnson hit 20 points off the bench as Newcastle closed the gap on eighth-placed Plymouth City Patriots to four points with three games to play.
Glasgow's one-point win at Sheffield means the Rocks are guaranteed a top eight finish ahead of Friday's trip to the Vertu Motors poised to be a huge game in the context of the final BBL Championship table.