| | | | | | | |
| --- | --- | --- | --- | --- | --- | --- |
| Surrey Scorchers | 24 | 17 | 17 | 20 | 78 | Loss |
| Eagles | 22 | 15 | 18 | 24 | 79 | Win |
Newcastle's magnificent seven kept the Eagles' season alive with a last-gasp win at fellow strugglers Surrey Scorchers.
The short-handed visitors had veteran Jermel Kennedy to thank for the decisive three-pointer that finally killed off the battling hosts three seconds from time.
But it was Hasahn French's Herculean effort of 17 points and 18 rebounds that underpinned a tense victory on the road.
And without Great Britain star Kyle Johnson's game-high 26 — the Canadian marksman shooting 63 per cent from the field — Newcastle's stretched seven-player rotation would surely have succumbed to a sixth straight loss.
The Eagles' 79-78 win means it's still all to play for in the race for eighth place and a shot at league champions London Lions in the playoffs.
But Marc Steutel's men must build on the momentum gained from a confidence-boosting display against the Scorchers by beating old foes Sheffield Sharks at the Vertu Motors Arena on Friday.
Newcastle's play caller will hope injured duo Javion Hamlet and Ben Mockford can contribute key minutes during the club's doubleheader Easter weekend.
But both guards were missing again as the Eagles looked to bounce back from yet another dispiriting home defeat less than 48 hours earlier.
French, in particular, looked like a player possessed as he led from the front from the tip.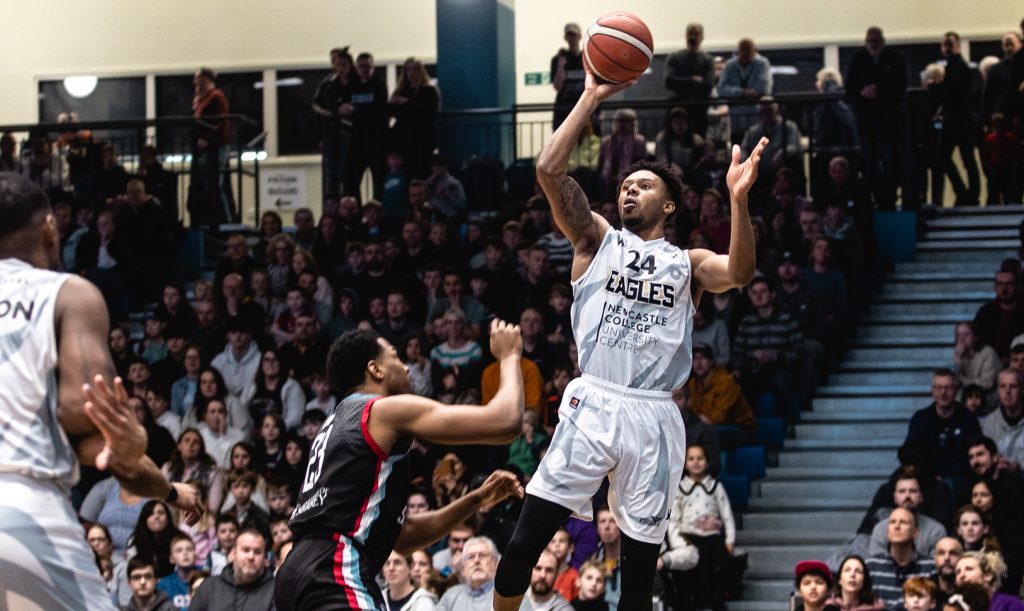 The BBL rookie had appeared strangely subdued on his return from injury against Cheshire Phoenix in Friday's Retro Series showdown.
But this was vintage French as the bouldering big man made the post position his own to rack up nine points and five boards in nine barnstorming first-quarter minutes.
Even so, Surrey edged an entertaining opening period 24-22 before Johnson began to get hot and the men in black sensed blood.
French bagged his double-double in less than 16 minutes before successive free throws from fellow forward Darius Defoe capped a 9-0 Newcastle tear.
But in a first half of runs the Scorchers blazed back in front with a 9-2 run to close the second quarter in style.
Given his limited options, Steutel had done well to guide an under-strength roster to a four-point deficit at the half.
And the only blot on the Eagles copybook 20 minutes in was the three fouls called on a clearly frustrated Justin Gordon.
Newcastle needed to manage the foul count with care after the break and — despite Gordon picking up a fourth early in the final quarter — the visitors did just that.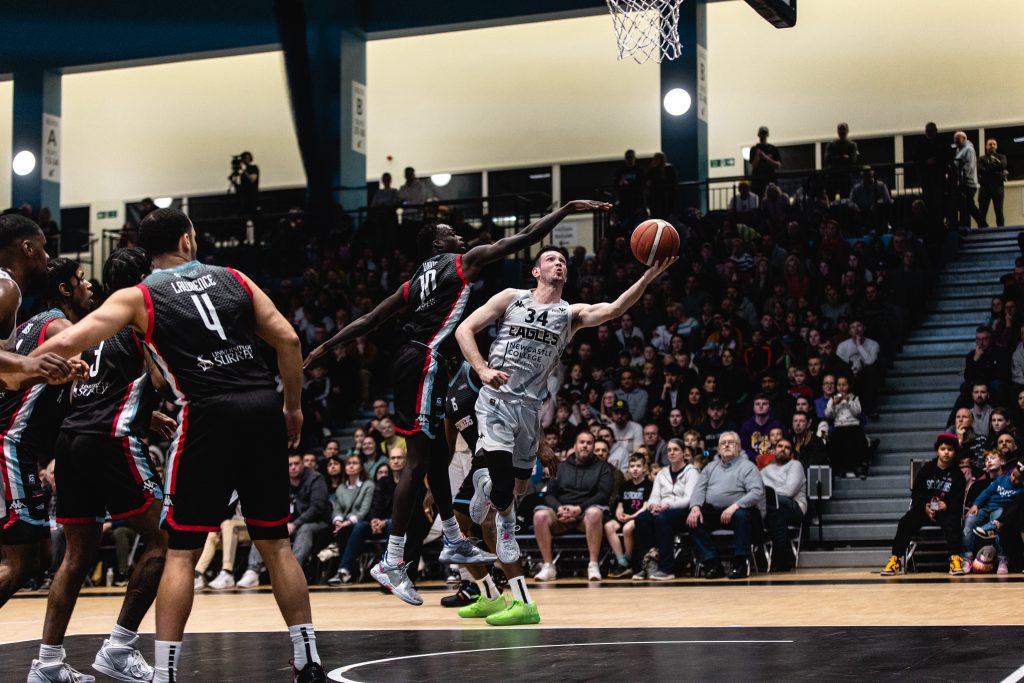 A 9-3 Surrey streak forced Steutel into an emergency timeout three minutes into the third period before French perfectly summed up his priceless contribution.
Hauling down another huge rebound under the defensive glass, the mobile big surged coast to coast before finishing a spectacular spin move in the paint.
The Eagles trailed 58-55 with 10 minutes to play but point guard David Cohn was playing an increasingly influential role at a time when Steutel's men needed to protect every possession.
Johnson hit 10 Newcastle points on the bounce as the visitors led 68-66 midway through the fourth quarter.
And suddenly the Scorchers were struggling to find the space and time to stay in contention in front of another nervy sold-out crowd.
With the Eagles in the 'Cohn zone', the clock became Newcastle's friend and Surrey trailed by seven points with three minutes to play.
Cue an entirely predictable Scorchers surge before Kennedy converted an ice-cool triple — leaving the hosts four points adrift with just three seconds on the clock.
Relive the action from Surrey Sports Park