| | | | | | | |
| --- | --- | --- | --- | --- | --- | --- |
| Sheffield Sharks | 15 | 15 | 19 | 17 | 66 | Win |
| Eagles | 15 | 16 | 10 | 18 | 59 | Loss |
Before the game Newcastle Eagles Head Coach Marc Steutel talked about how his roster was still coming together learning together and getting better every day. He talked about trying to find an Eagles side of basketball and upping their defensive intensity.
They managed to do that on the night but unfortunately huge foul trouble across the roster and an in-game injury to Ben Mockford meant, apart from Javion Hamlet, their offence spluttered and virtually dried up.
Sheffield with Bennett Koch dominant in the paint and destroying the Eagles inside and inspiring his players to play tough, tough defence they used the third quarter to move into a lead that Newcastle couldn't close down in the final period.
The first five minutes of the first quarter certainly set the tone for the rest of the half and perhaps the game. Defences well on top and neither offence really flowing. So much so that only eleven points were scored with Duke Shelton putting The Eagles in front at 5 – 6.
Sharks then looked to get going and six points unanswered gave them a five-point advantage until Hamlet lit up his side's offence with his first points of the game to level the score. He then took his tally to nine personal as the sides ended the first tied up at fifteen points all.
The second period was more of the same with defences definitely holding the key. Newcastle making the early push including a triple, the only one of the first twenty minutes, from Jermel Kennedy to give the visitor's a four-point cushion. That was when Koch really went to work.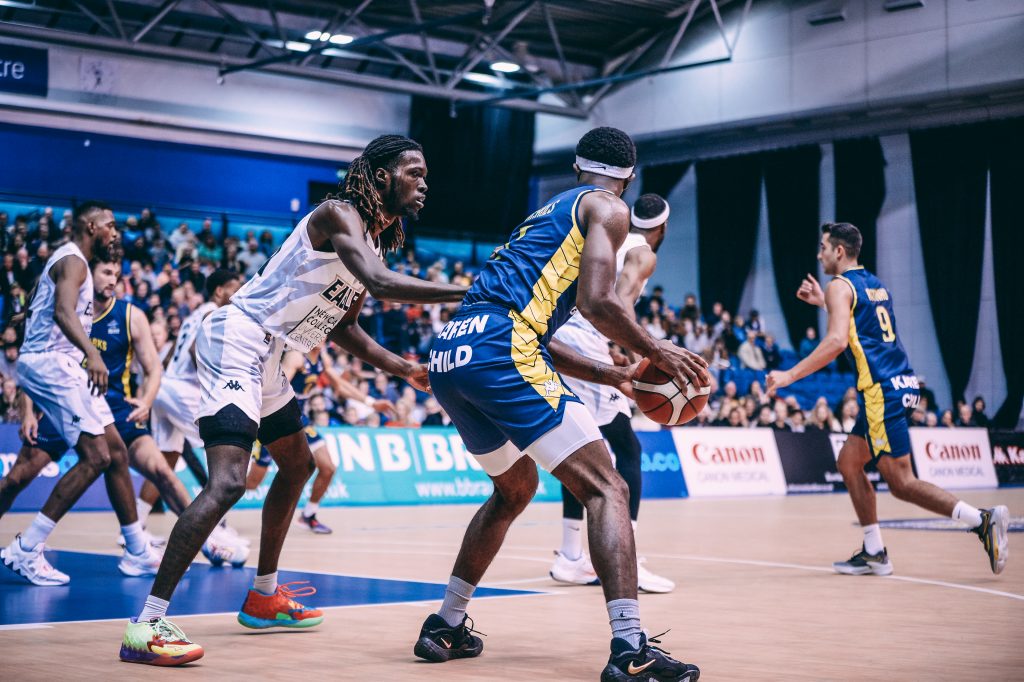 He scored every single point for the home side from that moment giving him thirteen in the quarter to keep his side well in the game as Newcastle in foul trouble just couldn't stop his progress.
Thankfully though for Steutel his side just had enough offence of their own to mix-in with their defence to nudge ahead by a single point at the break with Lesley Varner picking up six-personal to help the Eagles to their locker room lead at 30 – 31.
Eagles were caught cold as the sides came out of the locker rooms. Sharks slowed Hamlet down and started with an 8 – 3 run. When Hamlet did get going he was able to get his side back to within two points at 43 – 41.
But that's when the home side struck scoring the last six points of the third ten minutes and then the first four of the final period and suddenly they led by a dozen points at 53 – 41. That was the break Sheffield needed.
Eagles did manage to cut that back to seven but once again Sharks managed to adjust and a triple from Saeed Nelson once again got a double-digit lead and there was no going back this time for Newcastle.
The Eagles are now four games in and four losses recorded. This is now their worse start for almost thirty years in the League. Clearly the disruption to their roster and players coming in and out has affected their rhythm and they are struggling to find their way so far this season.
Back to the drawing board then for The Eagles who need to look for more consistency, stick to their game plans and increase their execution. There's talent there and plenty of potential but they need to start hitting their spots and sharing the ball if they are to move forward this season.