| | | | | | | |
| --- | --- | --- | --- | --- | --- | --- |
| Leicester Riders | 24 | 25 | 29 | 16 | 94 | Win |
| Eagles | 20 | 17 | 13 | 23 | 73 | Loss |
Newcastle Eagles season is just not improving any time soon and Coach Marc Steutel needs to address the situation very quickly otherwise despite not even reaching Christmas it's going to be a long campaign.
Last night in Leicester they went crashing out of the BBL Cup at the hands of a rampant Riders side that just got better and better as the game went on. The Riders dominated in all facets of the game shooting at a high percentage and taking advantage of numerous Eagles turnovers.
There is no doubting at all that there is talent in this Newcastle side but it appears at the moment all that talent is only effective on offensive. Defensively at times last night they looked all at sea and Leicester got all the easy looks they needed to hammer home the win.
Leicester, led by Marc Loving and Derek Thornton, just had more strength and went deeper than an Eagles side that after an encouraging opening just fell apart in one significant passage of time.
With 3:43 to play in the second period Newcastle were only down by two points at 39 – 37. Six minutes and 52 seconds later and into the third period it was 58 – 37 and the Eagles reeling by that 19 unanswered points were done.
The Eagles got off to a dream start with Donovan Johnson netting the first points and then three free-throws from Kyle Johnson and a 3-point effort from David Cohn giving them the first eight points of the game.
But Leicester hit back with some purpose as Marc Loving got going with a couple of triples that helped his side produce a 12 – 2 reply to take their first lead of the game. Leicester held sway after that but Eagles kept them close.
It was a Kimbal Mckenzie 'and-1' that closed the first period and gave Riders a four-point lead at 24 – 20 to open the second quarter. Once again Newcastle opened up first with Kyle Johnson netting five points in a row to give the visitors the lead again.
The home side came again and re-established another small lead as once again Newcastle held on with Darius Defoe coming off the bench to good effect to twice get his side back to within two.
The decisive break though in the first half was put in by Leicester as they closed out the half with a tough ten-point unanswered run. Loving again involved and a second triple of the quarter from Jubril Adekoya meant the home side went into the locker rooms ahead 49 – 37.
If the end of the second had been bad, the start of the third was not much better. Riders' Zach Johnson went off for nine points personal to complete the aforementioned nineteen point run and Newcastle had no answer.
The points continued to pour in for Leicester who were also playing enough defence to ensure that they continued to pull away from a dispirited and disjointed Eagles side that simply had no answers to the questions being asked.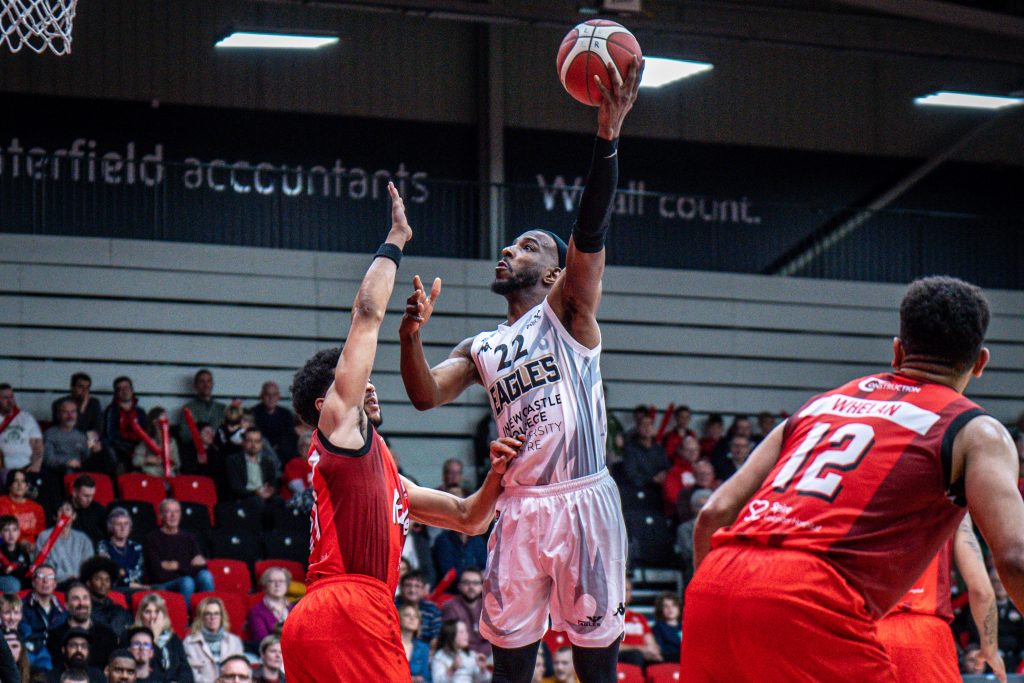 The home side went into the final period up by twenty eight and increased that to thirty-two at one stage before essentially subbing out their main scorers and protagonists and running their bench. It allowed the Eagles to take the final period and even score the last nine points of the game.
Kyle Johnson for the second game in a row netting twenty-plus points and the returning Javion Hamlet also grabbing double digits. But it was not enough for Coach Marc Steutel's men to make a significant impact.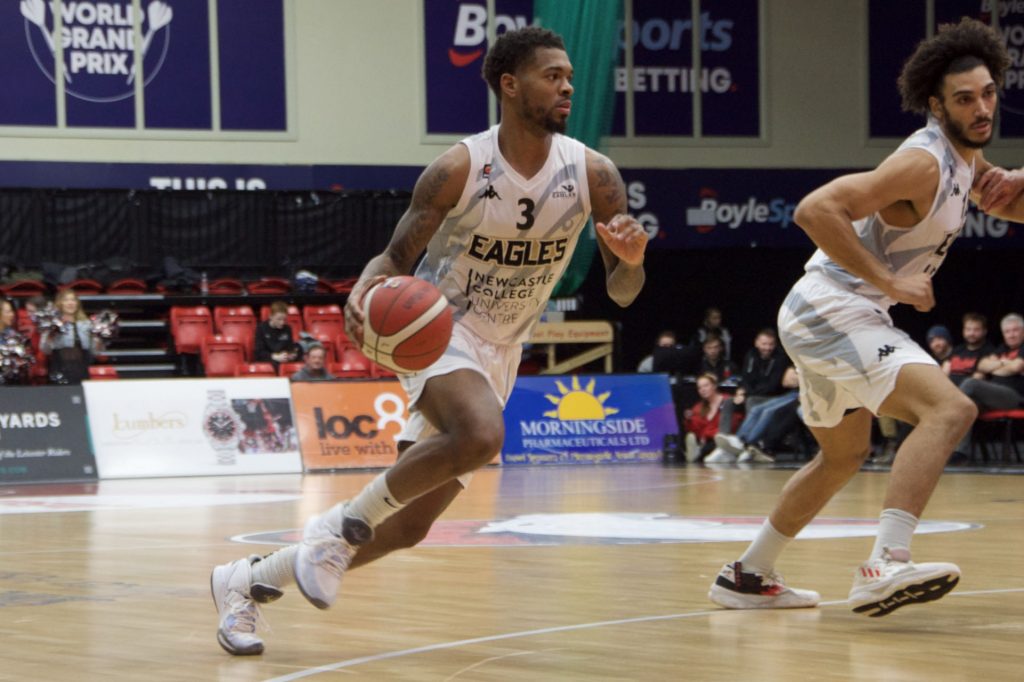 Steutel and his charges need to try and find some answers and some structure before Cheshire Phoenix come to the Vertu Motors Arena next Friday night. At this moment in time it appears to be a foundation they are struggling to build.
Tickets for our Eagles home game this coming Friday are available from the box office.