Newcastle Eagles suffered a St. Valentine's Day massacre down in Leicester last night. The Riders showed their fierce rivals no love at all as they recorded their biggest ever victory in any competition against a below-par Newcastle side.
Leicester outplayed the visitors in every facet of the game and ended a two-game winning run from the Eagles as their injury jinx hit them again. It seems that every time they look like taking a step forward, they are hit by another significant player loss.
This time it was their leading scorer and rebounder C.J. Gettys who was missing alongside Drew Lasker and Eddie Matthew and his absence was a major reason why the Eagles sustained such a huge loss.
Captain Rahmon Fletcher, forward Sade Hussein and veteran Darius Defoe battled hard throughout the forty minutes but they were without any real support and in the end Leicester's all-round team play was the difference as they swept all four quarters of the game.
Newcastle and Fletcher in particular made a great start to the contest. The Eagles point guard sandwiching a deuce between two triples as his side jumped out to an 8 – 2 start. Riders led by Namon Wright fought back immediately but Sade Hussein's triple meant Newcastle led 13 – 9.
It was then that the Riders who had started at a trot began to gallop. Former Eagle Andy Thomson came off the bench to hit two triples, Josh Ward-Hibbert got going and suddenly the Eagles were being shot down as 17 – 1 home run clipped the visitor's wings.
Darius Defoe did score the last basket of the 1st period and then followed it with the first two points of the second from the free-throw line as Newcastle battled to get back in the game. Further baskets from Hussein and Defoe threatened a comeback but Riders had other ideas.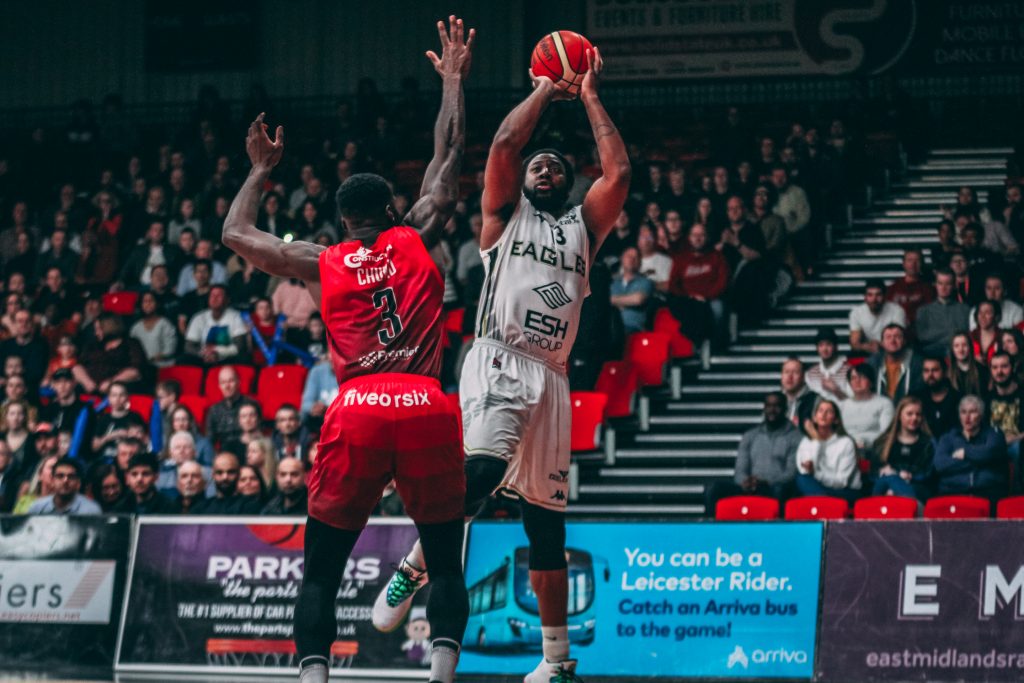 Another 10 – 3 Leicester burst saw them pull away from an Eagles side that simply had no answers and found themselves heading for the locker room already down by double-digits at 49 – 34.
It was going to be a long road back from Coach MacLeod's men in the second twenty minutes and it proved to be a road they couldn't get any traction on in their bid to catch up and overall the runaway Leicester juggernaut.
Any little run that Newcastle seemed to put together was consistently matched and bettered by Riders who simply could not seem to stop scoring whilst Eagles at the other end couldn't seem to buy a bucket.
In previous years Leicester may well have settled on a big lead and take some pace out of the game but with head-to-head results being important in this year's shortened Championship season there was no let-up.
The home side oozed confidence whilst on the opposite side of the ball the confidence merely drained away from a Newcastle side that looked resigned to their fate far too early in the contest and were simply run ragged.
The final nail in the coffin came as time expired when Wright's triple finally and firmly condemned Newcastle to that record defeat against Leicester.