| | | | | | | |
| --- | --- | --- | --- | --- | --- | --- |
| Newcastle Eagles WBBL | 18 | 22 | 13 | 20 | 73 | Loss |
| City Of Sheffield Hatters | 16 | 21 | 17 | 24 | 78 | Win |
A bruising battle between two of the WBBL's northern heavyweights became a stifling war of attrition as Sheffield Hatters squeaked a 78-73 win against Newcastle Eagles.
Great Britain international Steph Gandy led the hosts with 21 points while Kara Bonenberger bagged a colossal double double of 18 points and 16 rebounds.
But it was Ali Gorrell, on her return to Sport Central, who overcame a nervy start to lead all scorers with 24 points.
Tensions were already running high prior to tip off with ex-Hatter Gandy suiting up against her former team and Gorrell back in the North East following two years in a Team Northumbria vest.
But what promised to be a feisty affair initially failed to live up to the pre-match hype during a cagey first quarter.
Neither side hit the court wearing their shooting boots and it was Newcastle's accuracy from the bonus stripe that underpinned a 40-37 half-time lead.
Aussie forward Georgia Ohrdorf went six from six from the free throw line during the first half with team-mate Bonenberger (4/4) equally clinical in response to Sheffield's strongarm tactics in the paint.
Gorrell, watched by boyfriend and Newcastle Eagles playmaker Rahmon Fletcher, wasn't alone in struggling to find her range but the American must have been bitterly disappointed with a first half return of two from seven from the field.
And both sides were under no illusion that their shooting had to improve after the break in order to guarantee two valuable WBBL points.
Newcastle went into the third period shooting 34% from the field with the Hatters managing a paltry 31%.
And there was a feeling that a closely fought clash would be decided in the favour of the team which found its range fastest at the outset of the second half.
The Eagles hit the first six points of the third quarter to open up a nine-point advantage but the Hatters responded with an 11-0 tear to take a 48-46 lead.
The visitors led 54-53 with 10 minutes on the clock but Sheffield found themselves in serious foul trouble heading into the fourth quarter with four players on three fouls or more.
As a consequence, Newcastle coach Chris Bunten ordered his players to push hard in the paint and Gandy fired the hosts back in front on the back of a powerful lay-up under pressure.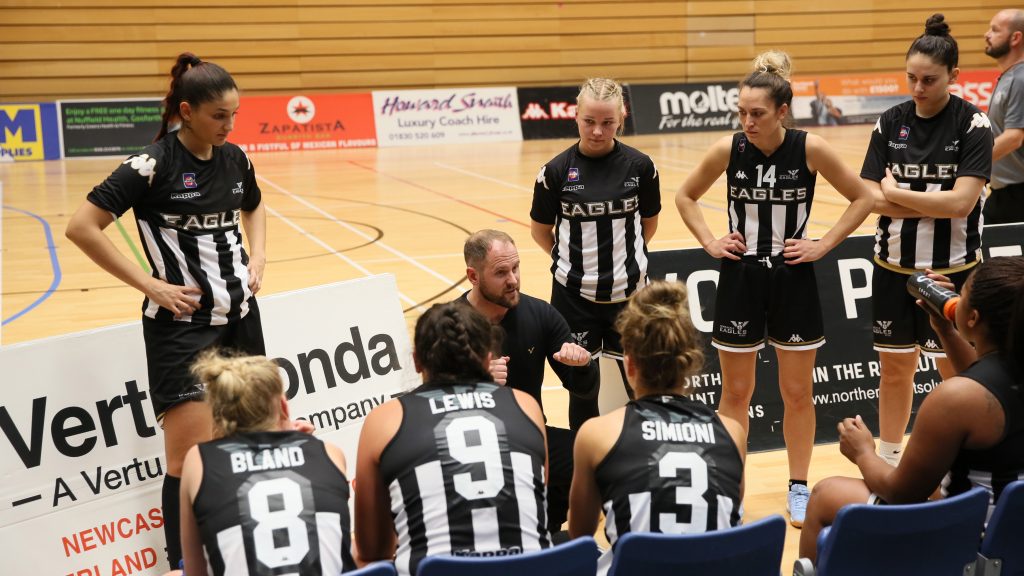 But the Hatters led 68-64 with three-and-a-half minutes remaining on the back of a brace of Gorrell free throws. And the hosts had to rely on brilliant back-to-back triples from Kalina Axentieva to stay in touch.
Bonenberger clashed with Gorrell in the dying stages before the latter dropped an arcing three to fire her team 74-71 ahead with 50 seconds to play. And the visitors survived a late scare to seal a narrow victory.
Newcastle Eagles WBBL are back in action on October 20 when BA London Lions – featuring another former Sport Central star in the shape of Diana Voynova – head to Tyneside in the cup.