| | | | | | | |
| --- | --- | --- | --- | --- | --- | --- |
| Newcastle Eagles Women | 17 | 13 | 19 | 19 | 68 | Win |
| Oaklands Wolves | 14 | 16 | 13 | 8 | 51 | Loss |
Newcastle Eagles got their WBBL campaign back underway this afternoon with a win over Oakland Wolves.
Heading into the contest, Oakland were searching for their first win of the WBBL regular season, having lost their previous five league games with their only win this season coming in the WBBL cup.
Newcastle meanwhile were without the services of stars and leading points scorers Steph Gandy and Kara Bonenberger.
But luckily for the Eagles, their absences gave Georgia Ohrdorf and Kalina Axetievas the stage to shine under the lights of Sport Central, with the two forwards registering 19 and 22 points respectively.
The first quarter got off to a blistering start, with both sides coming flying out of the blocks as they traded early scores.
The contest perhaps wouldn't have been as close had it not been for some brilliant driving runs from Ohrdorf as she helped herself to nine points in the opening quarter.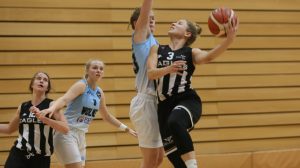 The second quarter was a different story, with Oakland punishing Newcastle with several three pointers as they pulled out in front.
But thankfully for the Eagles, skipper Giuliani Simioni stepped up to deliver some moments of sheer brilliance as she guided her side back into the contest.
The guard who managed to convert a free throw right on the stroke of half time to tie the contest at 30 a piece heading into the second half also finished the game with a double double.
And, while the second quarter was a shaky one for the Eagles, the third was the complete opposite.
Playcaller Chris Bunten's side played some of their best basketball all season – looking dominant in both attack and defence.
The Eagles then went on a rampage through the Oakland defence in the third quarter but only held a lead of four heading into the fourth, with the score sitting at 49-45.
Unfortunately for Oakland however, the Eagles were in a rhythm and showed no signs of slowing down.
Moving the ball well, they managed to put a number of quick scores past a hap-hazard Oakland defence whilst also managing to protect their own net with a dogged defensive display.
While Oakland managed to keep the game competitive thanks to efforts of a double double from Roya Rustamzada they were ultimately no match for the Eagles whose quality shone through as they went on to secure their second win of the WBBL season – with the contest finishing 68-51 in favour of the home team.