| | | | | | | |
| --- | --- | --- | --- | --- | --- | --- |
| Newcastle Eagles Women | 21 | 18 | 14 | 24 | 77 | Win |
| Essex Rebels | 15 | 16 | 17 | 10 | 58 | Loss |
A dominant display under the boards from experienced forward Kara Bonenberger and 24 points in 26 minutes from Georgia Ohrdorf underpinned a vital victory for Newcastle Eagles last night.
The former hauled down an eye-popping 23 rebounds on her way to yet another top flight double double.
And Ohrdorf enjoyed her best night yet in a black and white vest as Chris Bunten's side defeated Essex Rebels 77-58.
Six points from the playoff places and with just two league wins all season it would have been reasonable for Essex to head to Tyneside as Rebels without a cause.
In fact, the visitors made light of their woeful league record – playing with a passion and focus that almost upset the odds.
But Newcastle only had themselves to blame for facing a tense finish after a strong start lay the foundation for what should have been a far more comfortable win.
Keziah Lewis's run of red hot form was reflected in a starting five spot and the feisty Kiwi made her presence felt at both ends of the court early on.
But it was fellow import Ohrdorf – another WBBL rookie who has forced her way into the starting five this season – who stole the first quarter show.
The Met State Denver graduate is still building up her match fitness following an extended layoff with a serious concussion.
And yet Ohrdorf's contribution to Newcastle's 21-15 first period lead suggested the Australian forward is not far off from recapturing her pre-Christmas form.
A coolly taken double from the bonus stripe took the close-season signing's tally to 10 and immediately marked out the Eagles' number 12 as one to watch.
Equally significant was the return to action of Kalina Axentieva as the Bulgarian battles back from a problematic hamstring injury.
Prior to the Rebels clash, coach Bunten had implied Newcastle's Bulgarian sharp shooter could benefit from a phased return against Essex.
And the Axe cut through the opposition defence to hit her first three from the bench – following up with two more triples before the half.
Midway through the second period the hosts appeared to have a must-win clash wrapped up.
But the Rebels weren't finished just yet. And as the Eagles struggled to maintain their consistency – missing too many shots from the field and converting a lowly 50 per cent of their free throws – Essex found a way back into contention.
Mark Lloyd's side managed to reduce the deficit to eight heading into the third period.
And a Newcastle team which had already suffered one defeat at the hands of the WBBL's bottom side this season were under pressure to step things up.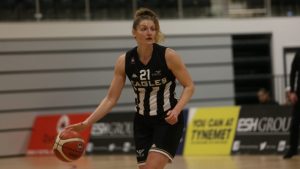 Back-to-back triples from Bonenberger and Rachael Bland stretched the Eagles' lead back out to 15 midway through the third quarter.
But the Rebels, with the inspirational Deangelique Waithe leading her side in every statistic, refused to surrender.
The Essex guard went into the final quarter with 21 points, 10 rebounds, four steals and three assists.
And it was down to Waithe's Herculean contribution that the visitors found themselves within five points of Newcastle with 10 minutes on the clock.
Memories of the Eagles' lightning fast start were fading fast with Bunten's side converting just 19 of their 50 field goal attempts in the opening half hour.
And a strong finish was required if the hosts were to avoid an embarrassing 2-0 series defeat at the hands of the basement Rebels.
Dependable trio Ohrdorf, Bonenberger and skipper Giulia Simioni took control and calmed homecourt nerves as Newcastle finally rediscovered their best form.
And with the Rebellion quashed, a seventh league win of the season kept the Eagles' slim hopes of a top four finish alive.