| | | | | | | |
| --- | --- | --- | --- | --- | --- | --- |
| Newcastle Eagles Women | 32 | 19 | 12 | 17 | 80 | Win |
| Gladiators | 20 | 17 | 21 | 6 | 64 | Loss |
Dead rubber or dead serious? For Newcastle Eagles this was both.
Durham Palatinates might have claimed top spot in North One to qualify for this season's WBBL Trophy semi-finals with room to spare.
But there was still pride to play for – as well as Pride to play – before the resumption of league action next weekend.
And double doubles from dependable duo Kara Bonenberger and Giulia Simioni propelled the Eagles into Sunday's eye-catching clash against Nottingham Wildcats on the back of two impressive wins.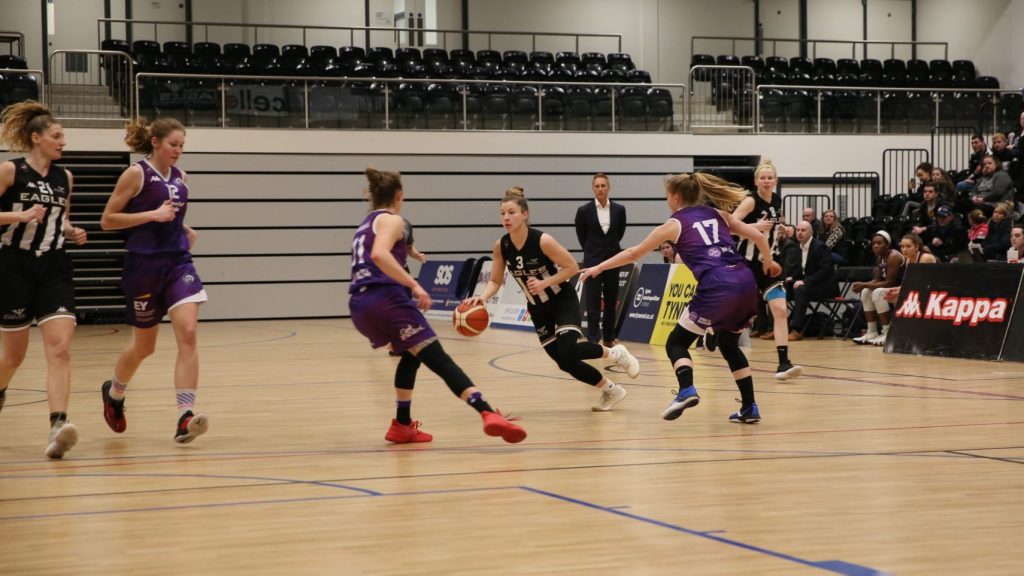 A lightning fast start from the pumped-up hosts proved Chris Bunten's side was determined to put the club's cross-border rivals in their place.
No fewer than eight Newcastle players made their presence felt on the scoreboard before the first quarter buzzer sounded.
And a 32-20 lead was all that the Eagles deserved after back-to-back triples from Kalina Axentieva had broken the game wide open midway through the opening period.
The hosts continued to dominate during the second quarter – a Bonenberger two taking the American forward's tally to 12 and extending Newcastle's advantage to 17.
The Eagles led 51-37 heading into the half and looked odds-on to follow up the previous weekend's overtime win against Durham with a more comfortable victory against Pride.
But the Scots had raced away with the reverse fixture three weeks earlier and Bart Sengers' roster mounted a determined rearguard action after the break.
The Edinburgh-based side suddenly found its shooting range during a scrappy third quarter and moved to within five points of an increasingly nervy Newcastle heading into the final period.
Coach Bunten went for an experienced five at the outset of the fourth quarter with Steph Gandy, Bonenberger, Rachael Bland and skipper Simioni lining up alongside fit again WBBL rookie Georgia Ohrdorf.
And a five boasting an abundance of top-flight experience set about locking down the Pride's offence and closing out the win.
But the visitors' defence was also holding firm and it wasn't until a powerful Bonenberger drive to the basket with less than six minutes on the clock that the Eagles could breathe easier.
That three-point play opened up an eight-point lead and an invaluable Axentieva two restored Newcastle's double-digit advantage heading down the stretch.
The Eagles never looked back but consistency across all four quarters will be required if Bunten's side is to tame the Wildcats next weekend with a 1pm tip.