| | | | | | | |
| --- | --- | --- | --- | --- | --- | --- |
| Newcastle Eagles WBBL | 26 | 20 | 19 | 21 | 86 | Win |
| Caledonia Pride | 21 | 23 | 9 | 5 | 58 | Loss |
Newcastle Eagles WBBL celebrated their first fixture at the newly-named Vertu Motors Arena in style after accelerating to a third big win on the bounce.
Chris Bunten's side raced clear of Caledonia Pride in the final 15 minutes to move joint-fifth in the Championship table.
Watch highlights of Eagles WBBL vs Caledonia Pride
And a team transformed heads to old foes Sevenoaks Suns on Saturday looking every inch the playoff contender.
Newcastle tossed away two points in the corresponding clash north of the border last month after losing focus down the stretch.
And that missed chance had been preying on the minds of Bunten's side prior to a hotly anticipated rematch on Tyneside.
From tip-off the homecourt Eagles looked like a team hungry for revenge and determined to maintain March's winning run.
But Pride's unerring accuracy from beyond the arc ensured a fast-paced clash quickly developed into an engrossing contest.
Six unanswered points from Ali Gorrell, who went on to cap another MVP display with 30 points and nine assists, opened up an 18-6 Newcastle lead.
And in-form Abby Lowe swiftly found her range from inside and outside to support her free-scoring skipper.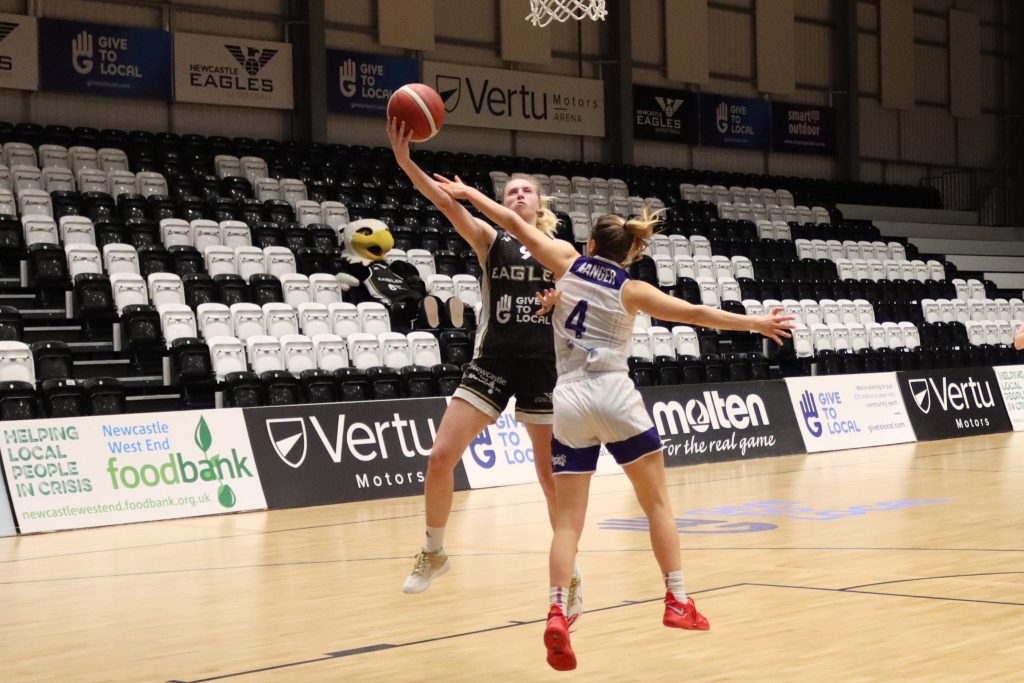 But Pride's threat from three-point range was there for all to see — even if the Eagles' backtracking players were far too slow to close down space on the perimeter.
A 12-4 tear from the Scots closed out a hugely entertaining opening quarter.
But without the outside shooting of Maud Ranger and Rose Harvey it would have been a different story for Donnie MacDonald's side.
Pride's phenomenal shooting from downtown continued throughout the first half as Newcastle failed to plug an alarming leak.
And as Ranger and Harvey rained down threes it was left to Gorrell and Lowe to maintain the hosts' ever decreasing advantage.
A 10-3 Pride tear reduced the deficit to three points with two minutes of the first half remaining but worse was to come.
When Ranger hit her sixth triple seconds before the half-time buzzer it was the 10th time in 20 minutes that the visitors had converted from beyond the arc.
Without another eye-catching all-round display from Gorrell the Eagles could well have been trailing heading into the locker room.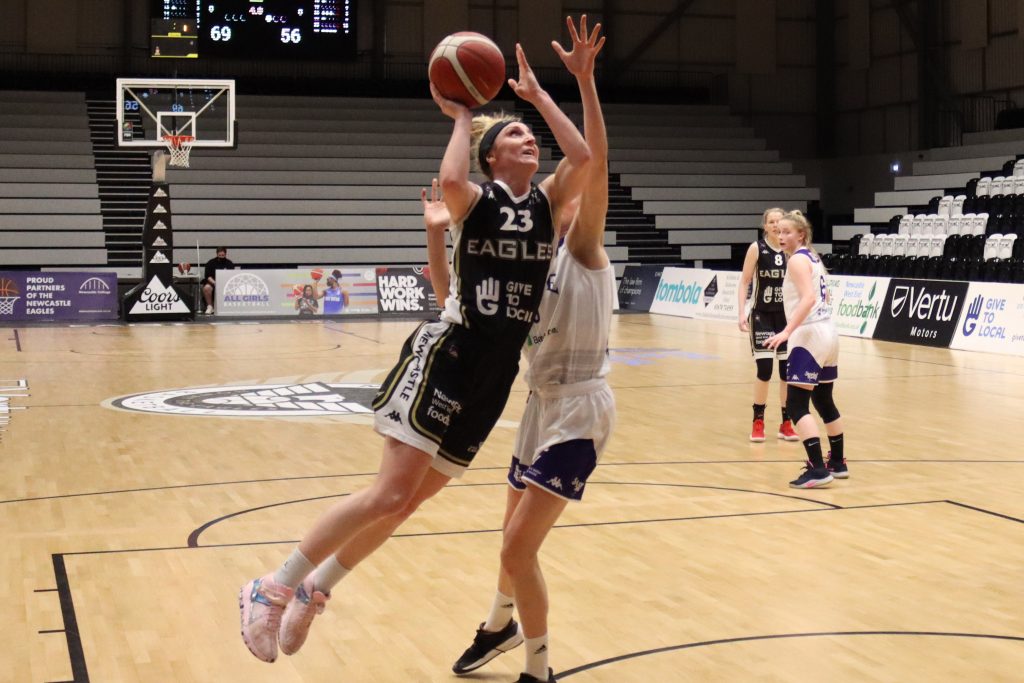 But Newcastle's captain fantastic looked in the mood for another hefty personal haul as she finished the first half with 16 points, seven assists, four rebounds and three steals.
A strong start to the third period saw Pride draw level at 46-46 and Bunten must have feared a repeat of February's tough loss.
Despite dominating a fast and furious fixture, the hosts had somehow failed to put daylight between themselves and a well-drilled Caledonia roster.
But the Scots came into yesterday's clash on the back of an energy-sapping homecourt loss to Essex Rebels just 24 hours earlier.
And fatigue finally started to kick in towards the end of the third quarter as the Eagles restored their double-digit lead with 10 minutes on the clock.
League MVP contender Gorrell hit her 30th point midway through the final period as Newcastle surged 75-56 ahead.
And with the win in the bag, it was exhibition basketball from the hosts down the stretch — a huge Lowe pass to pick out Rachael Bland for the transition lay-up the standout highlight of a stirring finish.