| | | | | | | |
| --- | --- | --- | --- | --- | --- | --- |
| Newcastle Eagles Women | 21 | 12 | 20 | 10 | 63 | Loss |
| Leicester Riders Women | 27 | 23 | 24 | 17 | 91 | Win |
A disappointing night for Head Coach Noelia Cacheiro and her players as they went down to semi-final defeat at home in the WBBL Trophy. They showed plenty of commitment and spirit throughout the game but ultimately came up short against a very powerful Leicester side.
Leicester advance to the final where London Lions await for their second national showdown occasion which will be held at The Emirates Arena in Glasgow on Sunday March 26th. A repeat of the WBBL Cup final where Lions prevailed in some style.
Eagles were naturally hoping to be the side to take on London in the final but it was not to be after Leicester moved ahead late in the first quarter and gradually increased their lead throughout the game taking all four quarters in the final analysis.
Newcastle had to battle through adversity. A brutal BUCS game in midweek for Newcastle University against Loughborough had seen them lose two vital components in their WBBL side.
Katie Nolan has broken her hand in that clash and Zoe Willis had aggravated an ankle injury and neither were available for Cacheiro to help stem the tide of Leicester's tide. When Nette Lewis and the returning Abby Lowe both got into foul trouble it further restricted Newcastle's chances.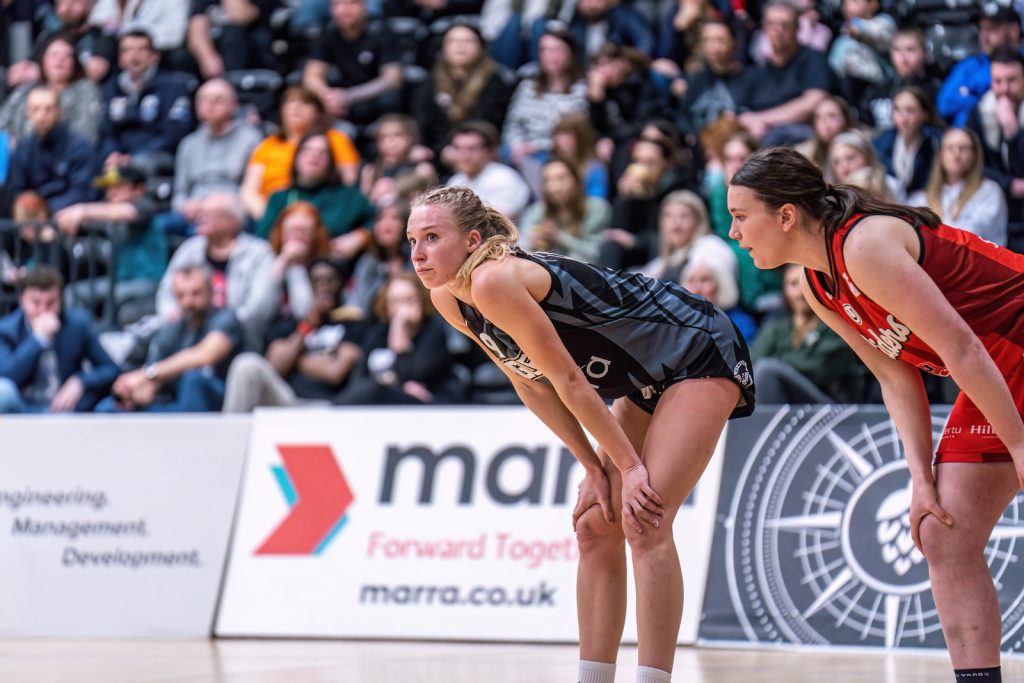 Captain Marina Fernandez took the fight to Riders all night and finished with a very creditable 19 points whilst Lewis was also in double figures with 12 points. But it was clear to see that Lewis in particular was affected by Nolan's absence.
Without her partner-in-crime, in the front court, she couldn't play as aggressive as she normally would as her side needed her on the court. It meant that she wasn't able to make the sort of impression the Eagles have come to expect from her this season.
Courtney Clasen hit a triple early to give Newcastle hope that she may be able to step into the breach but she along with Maggie Justinak at the guard positions were in the end well restricted by excellent guard play from Leicester's trio of Mackenzie Johnston, Oliana Squires and Hannah Robb.
Chloe Gaynor was another that never let her head go down but Leicester's greater depth across the court, better ball and player movement and more accurate shooting told the story by the end of the forty minutes.
Add in two powerhouse performances from their 'bigs' Ashley Arlen and the super impressive GB International Kirsty Brown and in the end it was too much for Newcastle to contend with.
The Eagles did keep it tight in a keenly contested first period. They matched their higher-ranked opponents and even led at times in that opening ten minutes but with the teams tied at 14 – 14, Robb hit a triple to push Leicester into the lead with 4:04 left in the quarter and they were never pegged back again.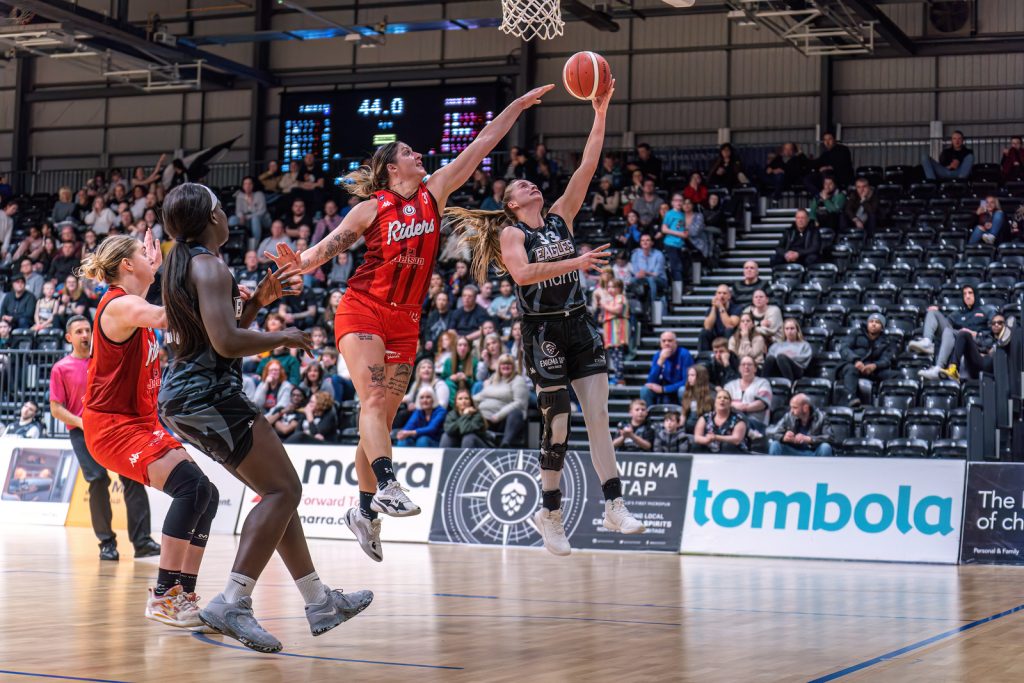 By the end of the first quarter, they led by six at 27 – 21 and then Leicester really turned the screw in the second period, particularly on defence. They restricted Newcastle to a mere twelve points in the period whilst netting 23 of their own and a 17-point gap looked ominous for Cacheiro's side at the half-time break.
So it proved with Riders managing to get their lead up to 28 points at one stage in the second half as they continued their domination at both ends of the floor. It meant they saw out the game in fine and in truth comfortable style.
For Newcastle, it's the re-set button they need to find. Their form and effort since Christmas when their roster was finally extended has seen them move into the play-off positions and that's a place they deserve to be.
The injury to Katie Nolan is a worrying one and it's hoped she can be back sooner rather than later to help Newcastle get a decent seeding for those end-of-season play-offs and allow them some satisfaction from a season of promise and progression.