| | | | | | | |
| --- | --- | --- | --- | --- | --- | --- |
| Newcastle Eagles WBBL | 21 | 9 | 19 | 12 | 61 | Loss |
| London Lions WBBL | 20 | 12 | 17 | 23 | 72 | Win |
Another day and another desperately disappointing defeat for Newcastle Eagles WBBL.
Chris Bunten's short-handed side simply can't buy a win as an increasingly tough season goes from bad to worse.
Watch highlights of Eagles WBBL vs BA London Lions
But Thursday's Trophy clash against Manchester Mystics offers what could be a final shot at redemption for a roster with desire and determination to burn.
Newcastle are, by no means, a poor team. This was yet another case of what might have been and another example of how fine margins can make all the difference.
Talented and tight-knit, the attitude and aptitude at the heart of this Eagles team is without question.
But nothing compensates for extra bodies.
And if Bunten headed to the locker room bursting with pride on the final buzzer then he'd much rather have returned to find some reinforcements ready to suit up and pitch in.
London Lions arrived on Tyneside with a 3-0 league record and very much in the mix as a serious title contender.
But Mark Clark's scouting report must have got lost in the post as the visitors allowed the hosts to settle into a comfortable early rhythm.
Newcastle had struggled to break free from Caledonia Pride's punishing full court press 24 hours earlier.
And the Scots' primary tactic worked a treat against a team lacking its fair share of natural ball carriers.
But London must have missed the memo. Or, at the very least, yesterday's live stream.
Back at the Eagles Community Arena and Chris Bunten's side was allowed the time and space to move the ball forward and build their plays.
In-form Ali Gorrell took full advantage on her way to 10 first period points before fellow guard Maddy McVicar nailed the two-pointer that sealed a 21-20 lead after the opening 10 minutes.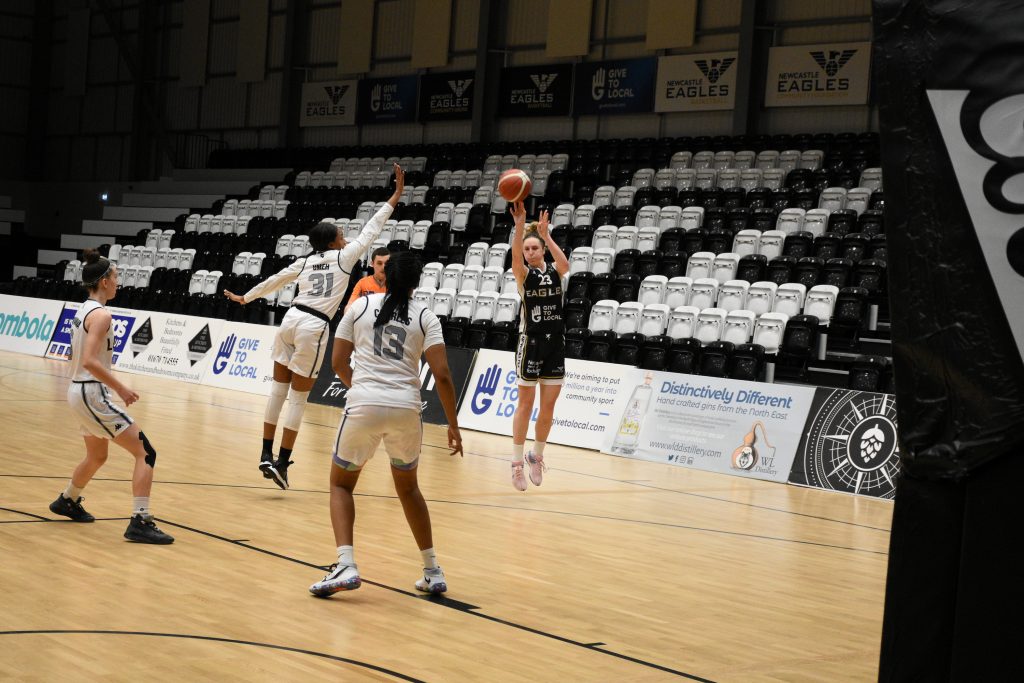 Ori Chukwu-Etu, who finished the game with an Eagles-high 10 rebounds, had forced her way back into Bunten's starting five and the Academy product emerged as un unlikely power in the paint.
The Newcastle University student bagged board after board during a sparkling start to the game.
And Chukwu-Etu's refusal to give an inch set the tone for a strong showing from a team in serious need of a mid-season pick-me-up.
A free-scoring first quarter gave way to a more tentative second period as both teams employed a defence-first approach to gaining control.
A McVicar three-pointer six minutes before the half threatened to break the game open as the Eagles took a 30-26 lead.
But, under increasing pressure, Newcastle's offence suddenly stalled and the Lions led 32-30 heading into the third period.
Bunten needed more from January signing Deborah Rodríguez Pérez and the Spaniard responded with a neatly taken two-pointer to score the first points of the second half.
The former Sheffield Hatter is still searching for full match fitness following her move to the ECA but the forward has a big part to play if the Eagles are to realise their playoff dream.
Rodríguez Pérez and Gorrell struck up an effective partnership in South Yorkshire and the latter clearly benefits from her former team-mate's presence on court.
Newcastle's relentless co-captain added a flurry of second period points to take her total to 23 — including a coolly taken free throw after London's lively Kennedy Leonard picked up a technical despite firing her side into a 41-40 lead.
And Gorrell's reliable touch accounted for almost half of her team's tally as a terrific clash headed into the final quarter with the two teams tied at 49-49.
But fatigue was always going to be a factor for the hosts following a tough loss north of the border the previous day.
And London had plenty in reserve down the stretch as the visitors — sparked by Shanice Bekford-Norton — made their extra energy count.
Gorrell and McVicar hit early threes before the Lions embarked on the 21-6 run that sentenced the Eagles to an eighth league defeat.
And with the club's playoff hopes fading fast, a Trophy run has taken on added significance ahead of this week's Mystics clash.