| | | | | | | |
| --- | --- | --- | --- | --- | --- | --- |
| Newcastle Eagles Women | 9 | 11 | 15 | 24 | 59 | Loss |
| Sevenoaks Suns | 17 | 13 | 20 | 17 | 67 | Win |
Dynamic double doubles from Georgia Ohrdorf and Anja Fuchs-Robetin were not enough to save Newcastle Eagles from a 67-59 defeat to the all-conquering Sevenoaks Suns.
But the reigning champions were forced to fight all the way for a 30th successive league win.
And Newcastle will rue a nightmare start after finishing an eye-catching fixture with a flourish.
All-action Aussie Ohrdorf picked up 15 points and 14 rebounds while Austrian rookie Fuchs-Robetin added 10 boards to her 15 points.
And although ex-Team Northumbria star Ta-Yani Clark celebrated victory it was a frustrating return to Tyneside for the veteran guard as she converted just one of 11 shots from the field.
A two-and-a-quarter hour delay to tip-off – heavy traffic holding up Sevenoaks – clearly affected both teams as an initially scrappy fixture remained scoreless for the first three minutes.
And although the visitors finally found the basket through former TN favourite Cat Carr, the hosts failed to find any offensive rhythm during a disjointed first quarter.
A lesson in uncompromising defence from the Suns was a factor but Newcastle were the architects of their own downfall – shooting a paltry 15% from the field and losing the battle of the boards 15-9.
Two fouls inside 23 first quarter seconds for Lisa Koop hardly helped stand-in coach Marc Steutel's cause and the experienced German knows she must adapt fast to the fresh challenge of the WBBL.
The Eagles trailed 17-9 heading into the second period and things went from bad to worse for Newcastle as a Judit Fritz three-pointer opened up a 25-10 Sevenoaks lead.
Steutel – stepping in for Chris Bunten as a result of his fellow coach's work commitments in the US – called a necessary time-out.
And as play resumed a much-needed triple courtesy of local favourite Orieoma Chukwu-Etu breathed new life into the struggling Eagles.
But the fast-emerging product of Newcastle's School of Excellence required support and it arrived in the shape of Mante Kvderaviciute.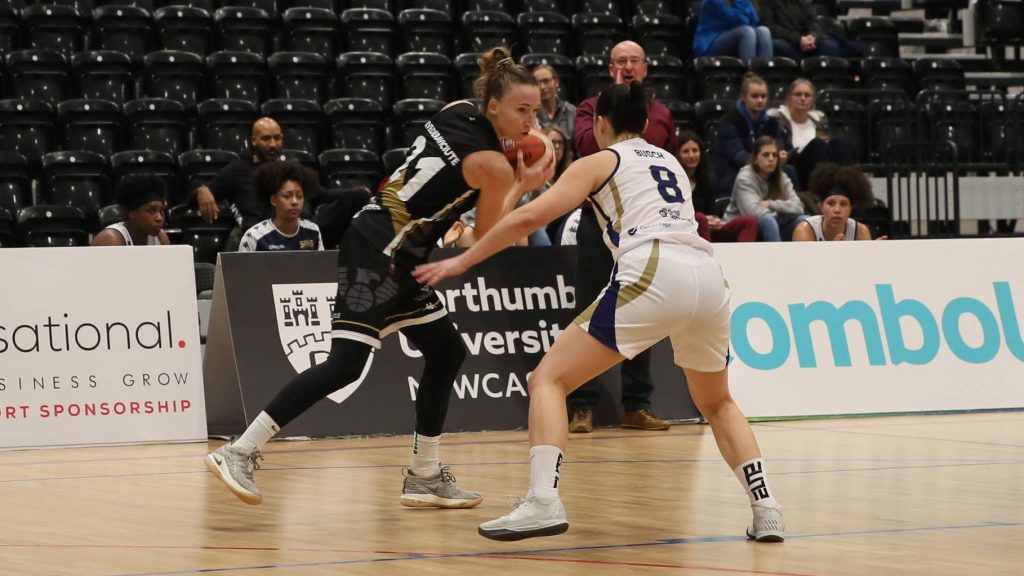 The experienced Lithuanian had been well marshalled by the Suns but six points in the last four minutes of the half suggested a hotly anticipated clash was far from finished.
Steutel required a strong start to the third quarter and Koop was clearly determined to lead the way.
A three-point play from the former Slavia Prague star reduced the deficit to 12 but moments later two missed free throws only served to further frustrate the battling centre.
Kvderaviciute, who went on to bag an Eagles-high 18 points, reduced the deficit to single figures as a thrilling third quarter caught fire.
But reigning champions Sevenoaks hit back – a buzzer-beating Carr two establishing a 50-35 lead with 10 minutes to play.
An Ohrdorf two closed the gap to eight points with 72 seconds remaining and Suns playcaller Len Busch was forced to call a time-out.
But Sevenoaks clung on in the face of a furious full court press to sentence brave Newcastle to a tough loss.
The next game for our WBBL Eagles is this coming Sunday against the Essex Rebels at the ECA with a 4pm tip-off: