The slow start that has plagued the Newcastle Eagles men's team in the BBL seems to have infected the WBBL team as they dropped a home game to Riders they really should have won.
Leading 28 – 16 after a hotly contested first half they fell apart in the second half as Leicester completely turned the game around. In the first twenty minutes they couldn't find a basket as they were stifled by great Eagles defence.
The second half though saw Riders particularly through Hannah Robb and the rebounding power of Oceana Hamilton come back in excellent fashion to take a win that for long periods didn't look possible.
The Eagles had been boosted prior to the game with the return to the roster and starting five of Marina Fernandez and she certainly made a difference with her intelligence and positional play.
Ebony Horton who has been in fine scoring form all season for Newcastle scored 13 of the Eagles 28 first-half points but it was Chloe Gayner who really caught the eye. She was a real presence inside the paint and almost had a double-double at half-time of 9 points and 9 rebounds.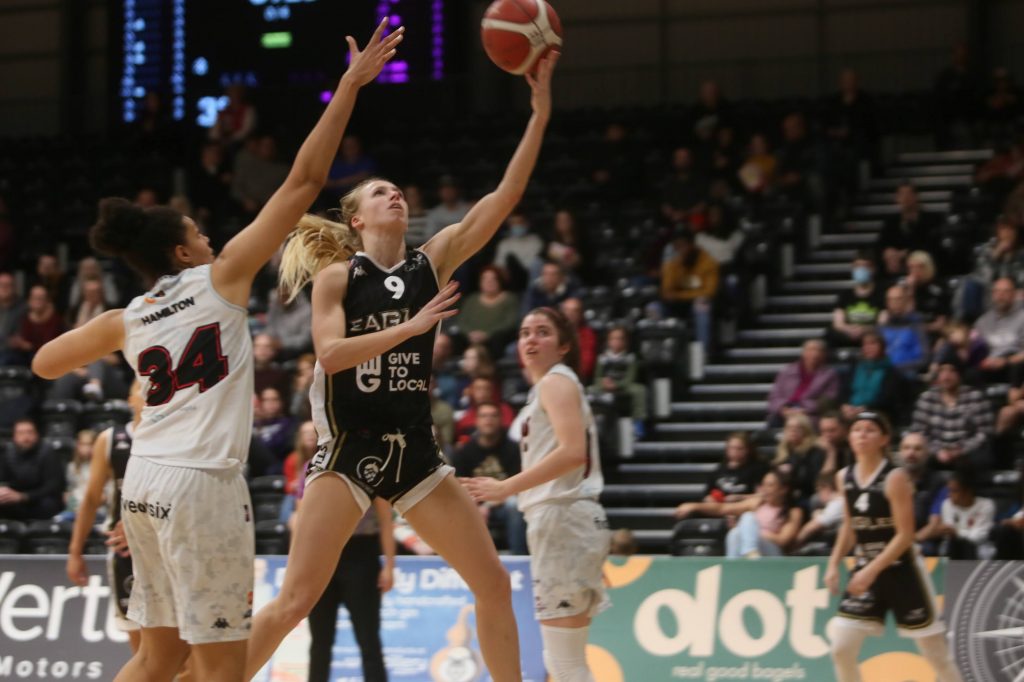 The Eagles even scored the first basket of the second half to give themselves their biggest lead at 30 – 16. Unfortunately that was as good as it got for Chris Bunten's side. Riders from that point unleashed a ten-point unanswered run that got them right back in the game.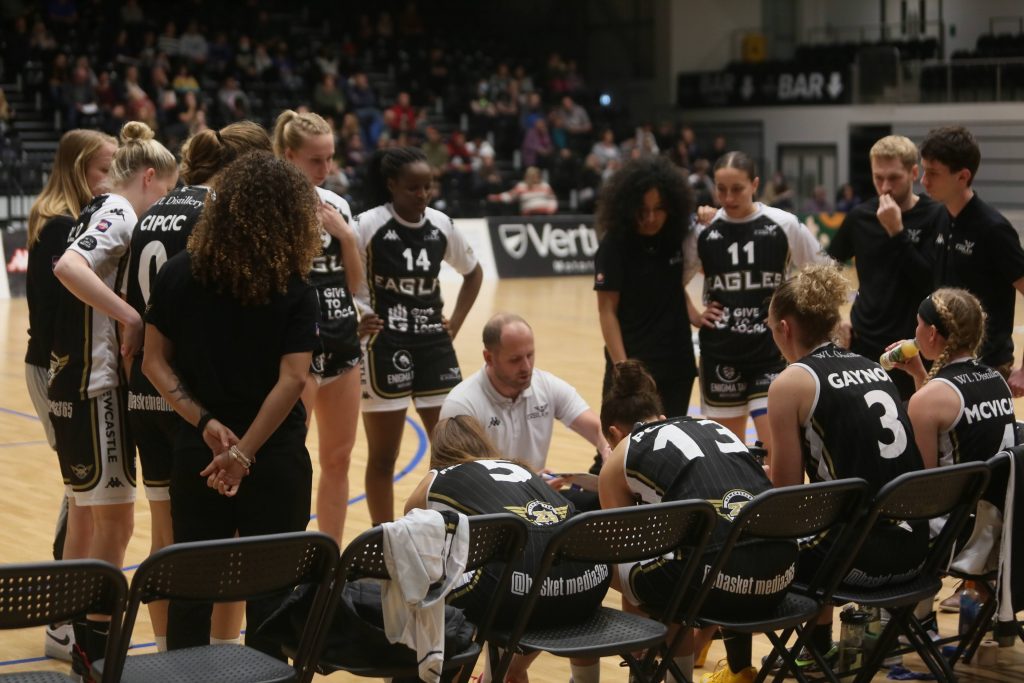 What made the Eagles defeat even more galling was Leicester took the court without two of their most influential players. USA point guard Chelsea Jennings was sat on the bench with her left leg in a moon boot and crutches to help her walk whilst Caotain Brooklyn McAlear-Fanus didn't even make the trip up north.
Credit therefore must go to Riders coach Derrick Washington and his players for managing the short-handed roster and coming through down the stretch. For Bunten though it must have been a really bitter sweet experience.
His side played excellent defence in the first half but just couldn't keep it going in the second to halt the Riders comeback. There's no doubt there's a lot of talent in this Eagles roster but at the moment they are not putting consistent performances as a team together.
Leicester almost scored twice as many points as their hosts in that second twenty minutes taking the third and fourth periods by a collective 43 – 23. It is a statistic that will play heavily on Newcastle's minds when they sit down and analyse the game.
Gaynor was the real bright spark for Newcastle and went on to complete a massive double-double of 15 points and 15 rebounds whilst Horton top scored with 17 points. Significantly though only four of those points coming in the second half.
They were the only Eagles in double figures. For Riders Robb was outstanding and Katie Januszewska and Makana Stone also hit double-figures whilst Hamilton had 13 rebounds to go with 8 points.
So, Newcastle slip to a 0 – 4 start and need to find some answers to the questions that will no doubt have formed in Coach Bunten's always analytical mind.