| | | | | | | |
| --- | --- | --- | --- | --- | --- | --- |
| Newcastle Eagles Women | 6 | 13 | 14 | 10 | 43 | Loss |
| London Lions Women | 38 | 31 | 26 | 28 | 123 | Win |
Perhaps a veil should be drawn over Saturday's WBBL Championship game when the domestically unbeaten and possibly unbeatable London Lions came to town. But that would be churlish as you have to give credit to a Lions side that might well be the best to ever play in the WBBL.
They certainly came, we saw and they conquered in a quite majestic display of professional basketball that saw Eagles well and truly grounded. London's ball and player movement was superb, their finishing clinical and their defence stifling.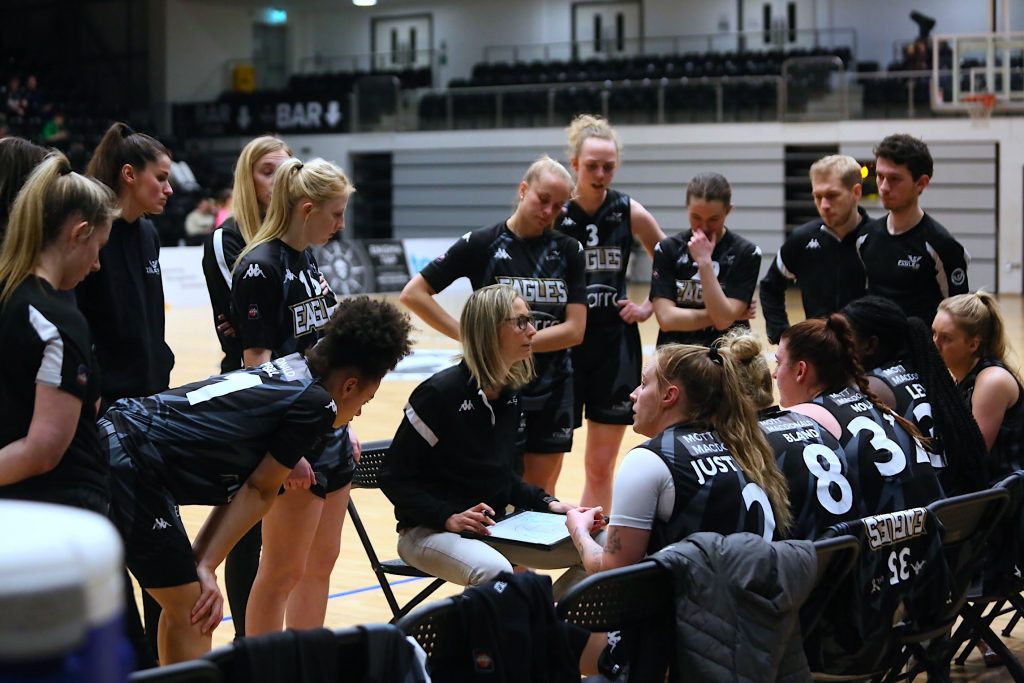 It was an astonishing effort from the away side who at no stage relented in their task and went all the way to the final buzzer. That said there has to be some credit given to the home side as well who despite overwhelming odds against them also kept battling to the end.
A look down the Eagles bench during the game saw a big reason why they couldn't have had any real hope going into the game. Captain Marina Fernandez and guard Zoe Willis out through injury and sitting alongside them Courtney Clasen and Abby Lowe.
Clasen has been out for almost two seasons with injury but is almost back and ready to play whilst Lowe was ready to play on her return to Newcastle but her international clearance didn't arrive in time for her to take a place on the court.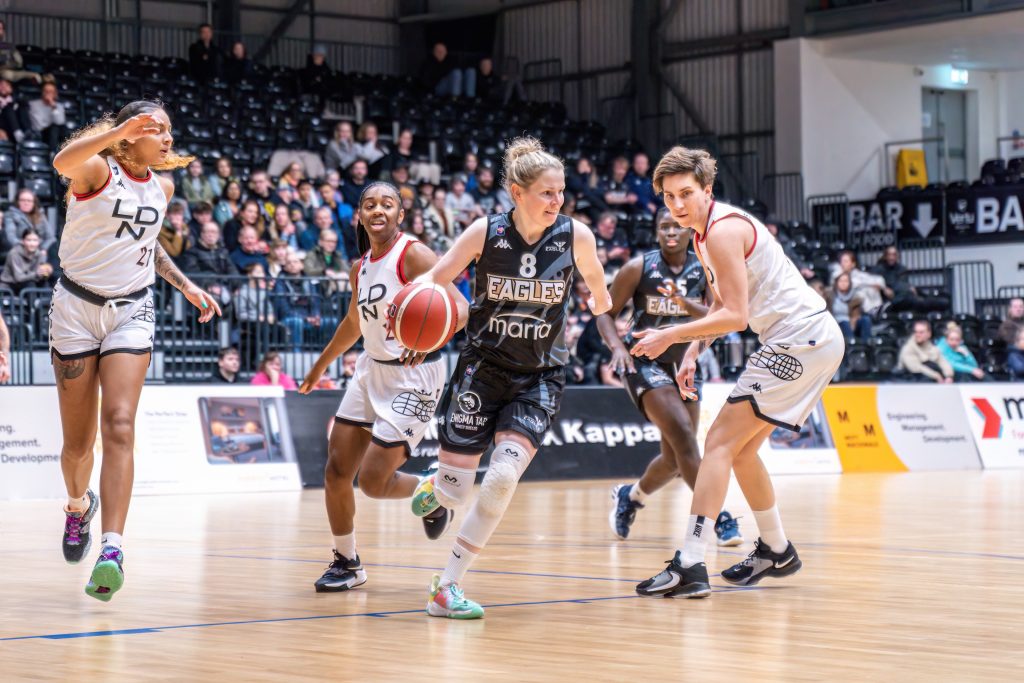 Perhaps it was just as well. There's no doubt that the quartet of talent would have made a difference to Newcastle's cause. Possibly and probably not enough to overturn an eighty point deficit but there's no doubting the final analysis would have been closer.
London themselves were without USA forward Ty Battle but did have new USA point guard Leslie Volphal making a very impressive WBBL debut. A player brought in to replace the departing Kennedy Leonard and one that fitted in seamlessly to this Lions well-oiled machine.
The quarter scores giving a very compelling and honest statistic of the game. Obviously Lions took all four comfortably and especially set their stall out in the first taking that one by 38 points to 6.
An 8 – 0 start before Nette Lewis made two free-throws and then 12 more unanswered points before Lewis stopped the rot again. It merely spurred London on and they finished the period with another huge 18 – 2 run.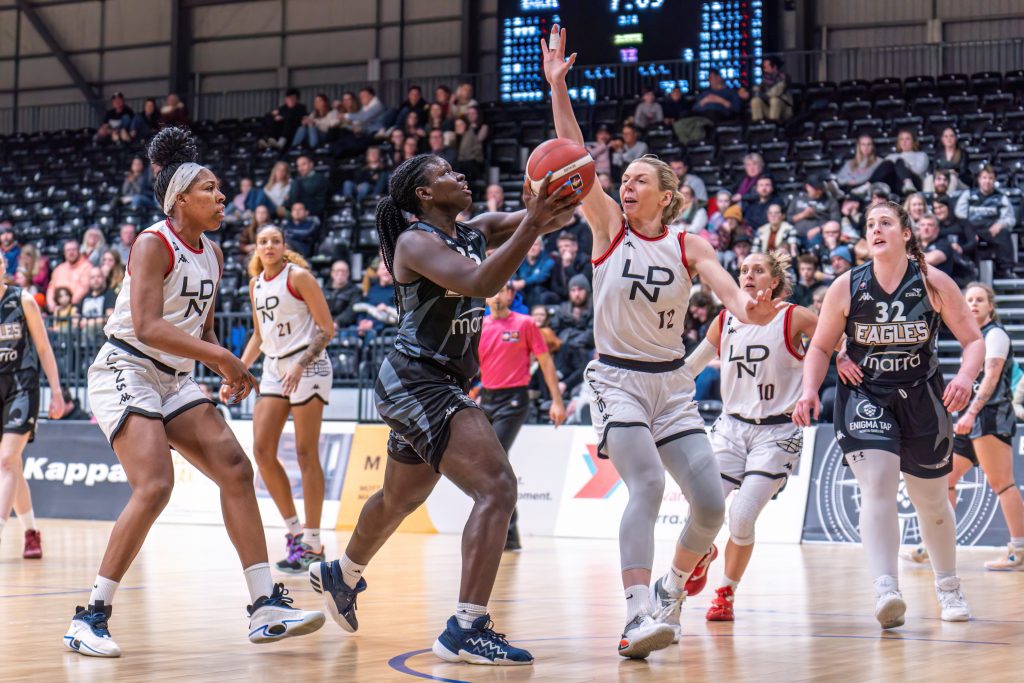 It's not often a game of basketball can be called after one period but this was the game that certainly bucked that trend. Lions took the second 31 – 13, the third 26 – 14 and finished the sweep with a 28 – 10 final ten minutes. It was all too much for the Eagles.
Lewis never gave up and finished with 16 points, her partner in the front-court Katie Nolan put in a heroic performance with 18 points playing all but two seconds of the full forty. They were the two Newcastle players that managed to be effective on a night when others may wish to forget their contributions.
For London Shanice Beckford-Norton with 25 points and 8 rebounds and fellow GB International Holly Winterburn with 19 points and 9 assists led the way but Lions actually had seven players in double-figures and everyone on their roster registered at least one score.
The spread of London's scoring was even more impressive when you look at the minutes played. No-one in their 11 player line-up played more than 21:21 minutes and no-one played less than 10:49 minutes.
In contrast four of the five Eagles starters played in excess of thirty minutes with Chloe Gaynor's just under 29 minutes being the exception and that would also have been over thirty had she not fouled out early.
Eagles may well point to over officious refereeing as another factor as Lewis also had four fouls which despite her haul of points did restrict the way she had to play. But Head Coach Noelia Cacheiro will know even if her charges had a foul-free run it would have still been a difficult night.
Newcastle will of course watch the game back and hopefully learn something to help them move forward with another tough match-up next Saturday night against the Sheffield Hatters in the Vertu Motor Arena on the horizon.