Report: Eagles vs Sheffield Sharks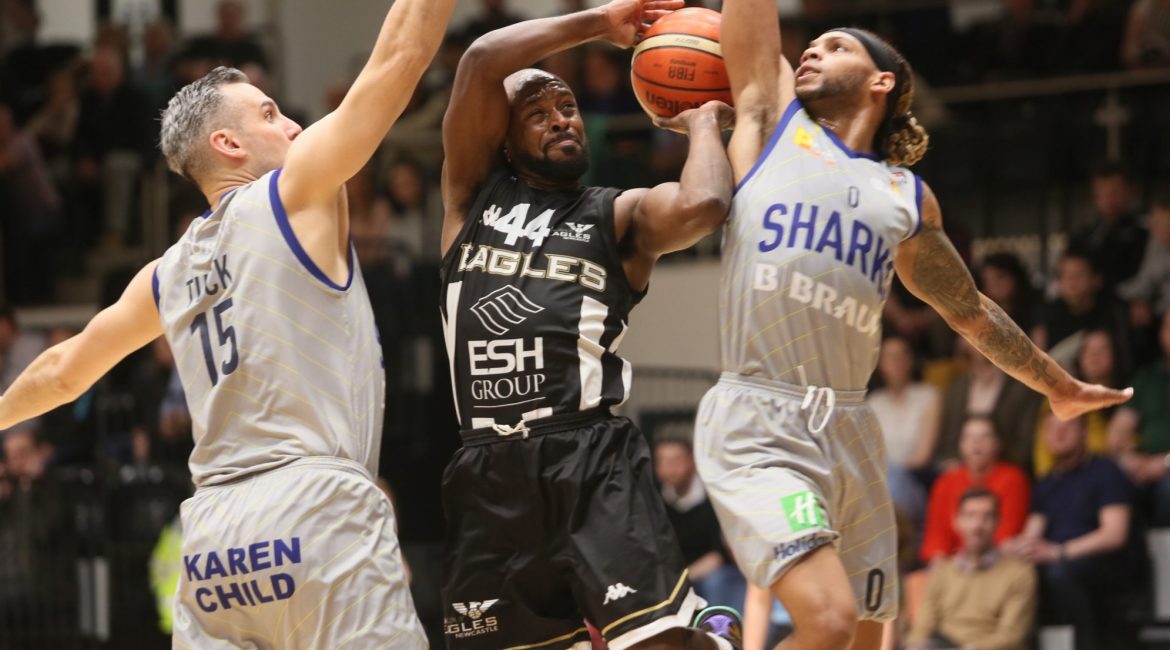 So nobody deserved a Newcastle win more than the man making his first visit to the Eagles Community Arena – a venue that holds a special place in the heart of a North East favourite synonymous with building basketball in the region since the early 80s.
That he witnessed no more than a thrilling late fightback won't unduly upset a player who experienced his fair share of ups and downs during a 19-year career that harvested more than 50 senior caps and 400 appearances. Nottage knows better than most that protecting your key assets in the build-up to the playoffs is paramount.
And with a fully fit Victor Moses and Darius Defoe Newcastle are a very different proposition.
As expected, neither passed late fitness tests as both forwards continue to nurse painful ankle knocks.
And that meant a starting five spot for 45-year-old player-coach Fabulous Flournoy in the week it was reported the evergreen New Yorker could still be playing BBL basketball into his 60s.
And no player had more minutes under his belt at the break – Flournoy played all but 77 seconds of a fiercely contested first half.
The hosts trailed 13-5 before assistant coach Ian Macleod called a necessary time out, sensing the misfiring hosts required an urgent reboot.
It worked. Rested and refocused, the Eagles hit 10 of the next 14 points to restore parity.
And Rahmon Fletcher's coast to coast burst inside the final seconds of the quarter trimmed the Sharks' lead to a point heading into the second period.
Given the absence of Moses and Defoe, a change in approach and tactics was always likely and Newcastle's attempt to triumph in the face of adversity was admirable.
A collective response to coping with two key absentees manifested itself in a spread of scoring – seven players were on the scoreboard inside the opening 20 minutes and six Eagles combined for 17 first half rebounds.
But within three minutes of the restart it looked like Newcastle's lack of big bodies was beginning to take its toll.
On a night when BBL alumnus Andrew Bridge was enjoying a typically unforgiving tussle between his former clubs there was a pressing need for a stronger presence in the paint.
And if not that, then a requirement for greater commitment in transition and improved accuracy from beyond the arc – 24 minutes in and the hosts had converted just three of their 14 three-point attempts.
Back-to-back triples from Fletcher and local favourite Eddie Matthew broke the three-point deadlock but the Sharks were feeding off too many basic errors as the visitors eased into a 61-49 lead with 10 minutes to play.
Suddenly Newcastle's six-match winning run at the Eagles Community Arena looked in danger of shuddering to a halt against a side which could well return to Tyneside for the post-season next month. Poor Nottage must have been thinking he'd cursed the place!
Not so. A Kyle Williams three midway through the final quarter reduced Sheffield's lead to nine and it was the former Norfolk State star, on his way to 13 points, nine rebounds and four assists, who trimmed the deficit to two with 30 seconds to play.
With the ECA crowd on its feet, a stirring fightback was finally halted when Flournoy was stripped of possession inside his own half with two seconds on the clock and Dirk Williams converted a brace from the bonus stripe to seal victory for the visitors.
Nottage wasn't able to savour a win. But he did enjoy the drama.