Report: Eagles vs London Lions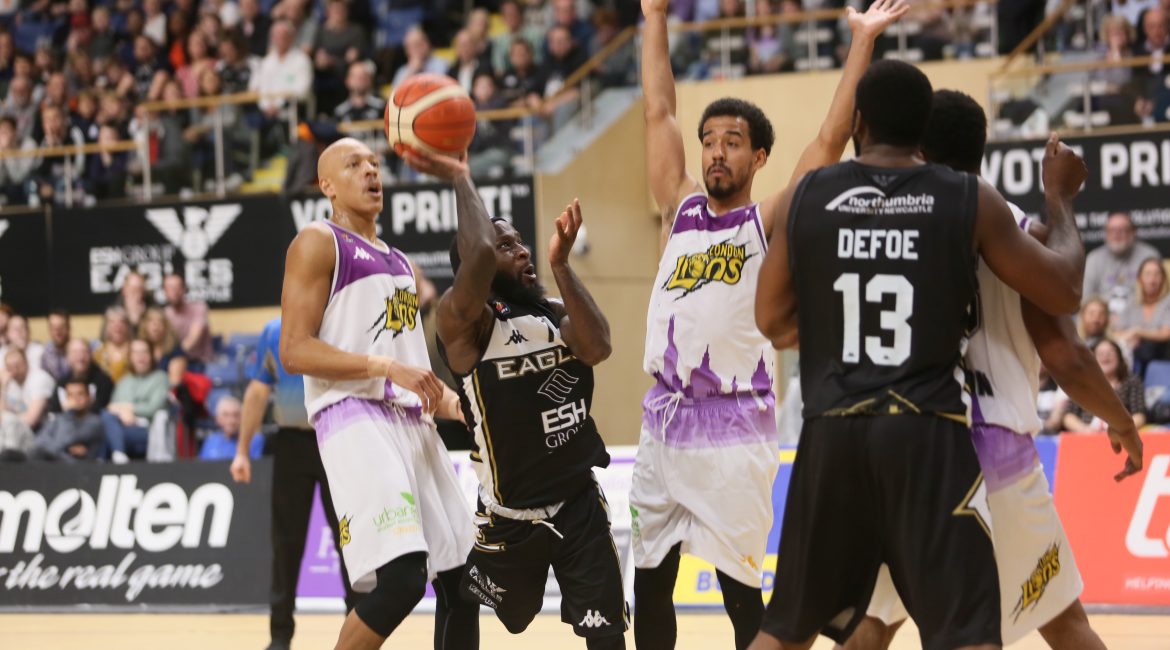 | | | |
| --- | --- | --- |
| Eagles | 85 | Win |
| London Lions | 79 | Loss |
In the weeks and months to come Newcastle Eagles' breathless triumph against London Lions in this riveting top-of-the-table showdown might well mean much more than two valuable points against potential title rivals. It could be the glue that binds together a talented team in transition.
But from tip to buzzer the hosts were under serious, punishing pressure.
The biggest surprise at the end of a nervy first quarter was Saah Nimley's failure to make his presence felt on the scoreboard. For once the 5ft 8in points machine was overshadowed by the irrepressible Jaysean Paige – the West Virginia graduate adding three rebounds, two assists and a steal to his game high 11 points.
If Newcastle's offence had been running oh so smoothly in the opening weeks of the BBL season then defence had been a different matter. Earlier in the week Danish international Zarko Jukic, who once again started ahead of Croat Jure Gunjina, admitted the Eagles had work to do under their own basket. It appeared that work had begun in earnest following Sunday's win against Manchester with the hosts restricting London to just 17 first period points – it could have been fewer had Brandon Peel not leapt off the Lions' bench to hit late back-to-back twos.
Leading by three heading into the second quarter and it was clear this hotly anticipated fixture would be every bit as close as the pre-game statistics promised. The last eight meetings between the two teams had been decided by 10 points or fewer and with neither side hitting their offensive stride it seemed yet another nailbiter was on the cards.
Newcastle mixed things up before the half by introducing AJ Basi and Gunjina to a fluid five but the latter soon felt the full force of a furious Flournoy. The Eagles' playcaller took his close-season signing to task before temporarily benching the former Georgia Southwestern star. Gunjina has the game to take any BBL side apart but finding common ground with his demanding coach must be the feisty forward's number one priority right now.
With Nimley finally on the scoreboard and Paige progressing to 15 the home fans must have been hoping the BBL's most productive backcourt would finally break the game open in the second half. But London refused to lie down: mobile forward Demonte Flannigan constantly asked questions of an Eagles' defence that, albeit improved, still failed to convince under pressure.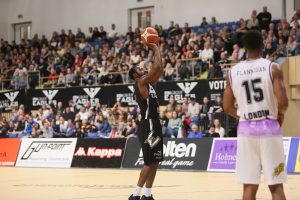 Step forward Darius Defoe. If the Lions were understandably intent on shutting down Nimley then they had foolishly forgotten one of their own. Londoner Defoe sank a flurry of third period points to keep the hosts ahead only for the Lions to strike back in what was fast becoming a BBL classic.
Momcilo Latinovic's arcing three opened up a 61-52 lead and the visitors extended their advantage to 11 heading into the final quarter. A Newcastle team blessed with exceptional talent suddenly had to discover their togetherness. And fast. Reassuringly, they did just that.
Nimley, who else, provided the spark for a thrilling victory as he hit a fantastic fadeaway three and picked up a foul in the process. Tying the game at 68 apiece, the guard watched team-mates Jukic and Defoe, who finished with a game high 30, slam down killer dunks to open up a five-point lead and pave the way for a memorable and magical win. Unlucky, London.