| | | | | | | |
| --- | --- | --- | --- | --- | --- | --- |
| Surrey Scorchers | 26 | 21 | 31 | 15 | 93 | Win |
| Eagles | 19 | 19 | 17 | 24 | 79 | Loss |
A disappointing road loss for Esh Group Eagles Newcastle down in Surrey this afternoon all but extinguished their hopes of landing the BBL Championship for the season, writes Jeff King.
It was at best a long-shot in any event. But failing to stop the Scorchers from racking up their seventh consecutive home win means the Eagles will be looking more towards consolidating second place in the table than thinking about catching champions-elect, Leicester Riders.
The home side had not lost on the own court in 2018 whilst the Eagles away record for the year was also perfect. Something had to give, and, in the end, it was the short-handed Newcastle side shorn of their experienced backbone that gave way.
Against bottom of the table Leeds on Friday the absence of Darius Defoe, Drew Lasker and Player-Coach Fab Flournoy was not an issue as Newcastle cruised to victory. Today was a completely different story as the Eagles veterans were sorely missed on and off the court.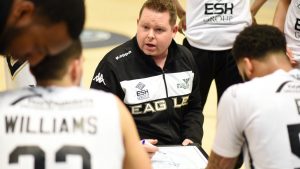 Assistant Coaches Dave Forrester and Ian Macleod did their best on the side-lines to stem the red-hot Surrey side, but they could not come up with any answers to douse the home fire's heat. Their players likewise failed to respond to the pressure and pace of Surrey.
The Eagles opened the game with the first points, Jure Gunjina's lay-up getting the scoring under way. Surrey however stormed back and a 7 – 0 run gave them a lead they would never relinquish.
The visitors looked weak inside and the home side took full advantage with Gerald Robinson starting strong and dominating, something he did all day when on court. The normally deadly Eagles shooting was well off early with leading scorer Jaysean Paige really struggling.
Indeed, Paige struggled throughout the 40 minutes and failed to have any impact on the game. It was left to his back-court partner Saah Nimley to try and rally his team and although the diminutive point guard stood as tall as he could, even his efforts were in vain.
Zarko Jukic got in to early foul trouble which didn't help his short-handed roster and when Robinson stepped outside and drained a 3-point shot on the first quarter buzzer, Surrey led 26 – 19.
It got worse before it got better. Forrester and Macleod switched to a zone defence, something Eagles do not play a lot of, and allowed Scorchers the outside shot.
They failed to take advantage of it and when Jukic and Paige snatched back-to-back baskets, the lead was cut dramatically to 36 – 33 and Coach Creon Rafatopoulos called a hurried time-out. It worked perfectly.
Nimley and Jukic picked up their third fouls and Surrey's shots started dropping as they eased themselves in to a double-digit lead before Kai Williams knocked down a triple to end the half and take it back to single digits at 47 – 38 as the sides headed to the locker rooms.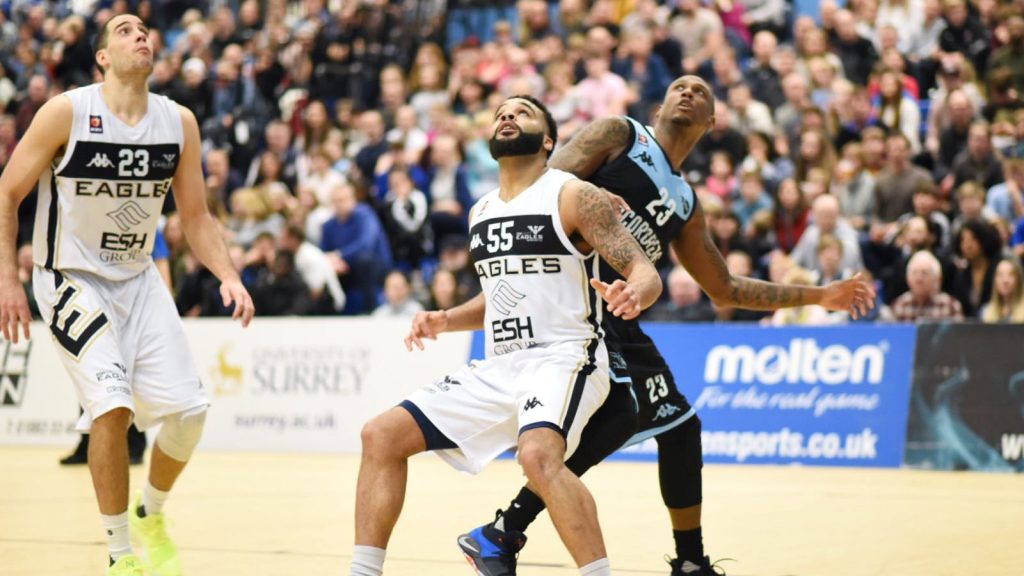 As the third period opened, Newcastle knew their defensive transition had to be better. They also knew if they did that they also had to be set-up better inside and grab some rebounds. Unfortunately, neither happened and a play-off bound Scorchers side took full advantage.
Nimley did his best, Gunjina tried his best and AJ Basi given the opportunity to play extended minutes in the absence of Lasker showed that he can perform at this level. But it wasn't enough as Tayo Ogedengbe and Tony Hicks came to the Surrey party.
Shot after shot reigned on and dropped in to the Eagles basket in a third quarter that all but blew Newcastle away. One drive to the basket by Hicks saw Macleod with head in hands at his side's defensive effort. Surrey were rampant and led 78 – 55.
Perhaps as the final quarter opened Surrey relaxed. Perhaps Newcastle found some rhythm but suddenly from nowhere a 14 – 1 burst from the visitors capped by a Basi triple had cut the gap to 79 – 69 with still 6:50 to play. Was there hope for the Eagles.
No, was the definitive answer as Surrey re-grouped and direct from a time-out, Jukic fouled out on a technical infringement. This gave Hicks four free-throws of which he made three and settled his side down as they saw out the victory comfortably in the end.