| | | | | | | | |
| --- | --- | --- | --- | --- | --- | --- | --- |
| Surrey Scorchers | 25 | 22 | 17 | 21 | 4 | 89 | Loss |
| Eagles | 22 | 25 | 16 | 22 | 8 | 93 | Win |
Sometimes it is not about statistics or quality of performance but how you can show heart, determination and overcome adversity that makes the difference. That was very much in evidence after Esh Group Eagles took an incredible road win at Surrey this afternoon in overtime.
The sides had been tied at 85 – 85 at the end of a regulation 40 minutes that had just about everything. Great defence, explosive offence and huge dollops of controversy and incidents were packed in to the first four quarters of the game.
Eagles were already shorn of top scorer Victor Moses through a hamstring injury and were dealt a further massive blow when midway through the third quarter and with still more than 15 minutes to play, their mercurial on-court general Rahmon Fletcher was ejected from the game.
Fletcher who had picked up a technical foul in the second period was adjudged to have deliberately fouled Scorchers' Quincy Taylor as his opposite number sped towards the Eagles basket and his unsportsmanlike foul was his second technical infringement forcing him to leave the court.
At the time Eagles were still well in the game with the home side holding a 53 – 52 lead but without their leader on court they wobbled dropping seven behind before rallying together to produce a performance against all the odds which eventually led to a superb win.
Eagles were led by a magnificent effort from Jeremy Smith who scored consistently throughout the pulsating contest and although he too fouled out before the end of overtime, his 31-point effort had gone a long way to helping his side to victory.
Not that he was without support. Kai Williams hit 15 of his 17 points in the first-half to help the visitors stay within the game. Darius Defoe fought a superb battle inside almost alone against Surrey's big men to record a double-double of 12 point and 13 rebounds and Kyle Williams in his rookie season continues to come up with important contributions.
The first quarter had been Surrey early on until a Kai Williams triple gave Eagles their first lead. However, despite Smith's 9-points they ended the first down by three at 25 – 22. Scorchers took that gap to eight during the second quarter but a late Newcastle surge brought the teams in level at the break at 47 points all,
The third had been close until Fletcher's ejection allowed Surrey to ease away but Fab Flournoy's men and a determined 8 – 2 run to end the period meant the teams went in to the fourth quarter separated by a single point lead to the home side at 64 – 63.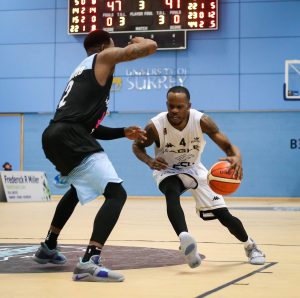 Once again Scorchers held the upper hand early. But back came the visitors once again turning an 80 – 74 deficit in to an 85 – 82 lead with just over 12 seconds to play as Smith sank two free-throws. The final play was chaotic. Surrey missed two three-point shots but somehow still go the ball back and Anthony Elechi's last gasp effort tied the game on the buzzer and sent the teams in to overtime.
The pattern continued. Surrey scored the first four points of the extra five-minute period but that was their last points. Amazingly the Eagles regrouped again, Smith made two baskets in a row, one a huge triple to put his side up by one and with time running out Scorchers were forced to foul.
This gave Kai Williams and Drew Lasker the free-throws to seal an incredible game and a remarkable win as the Eagles picked up a vital road win to keep them at the top end of the BBL table.