| | | | | | | |
| --- | --- | --- | --- | --- | --- | --- |
| Sheffield Sharks | 28 | 23 | 24 | 11 | 86 | Win |
| Eagles | 20 | 18 | 15 | 21 | 74 | Loss |
The woes continue for Esh Group Eagles Newcastle as they were unable to stop the red-hot in-form Sheffield Sharks on the road last night, writes Jeff King. The Eagles now fall further behind in the Championship race as their record slips to 7 – 5 whilst the streaking Sharks now move to 9 – 3.
The Eagles had mixed fortune on the injury front with Kai Williams back in the roster but Jeremy Smith who had a bad late game injury down in London last weekend and who missed training all week not available for Head Coach Fab Flournoy.
With Smith out and Kai Williams only just back to full fitness it was veterans Flournoy and Drew Lasker who took places in Newcastle's starting five alongside Victor Moses, Rahmon Fletcher and Jamal Williams. Sharks were also a player short with Matthew Don sitting out as the ball was tipped for the start.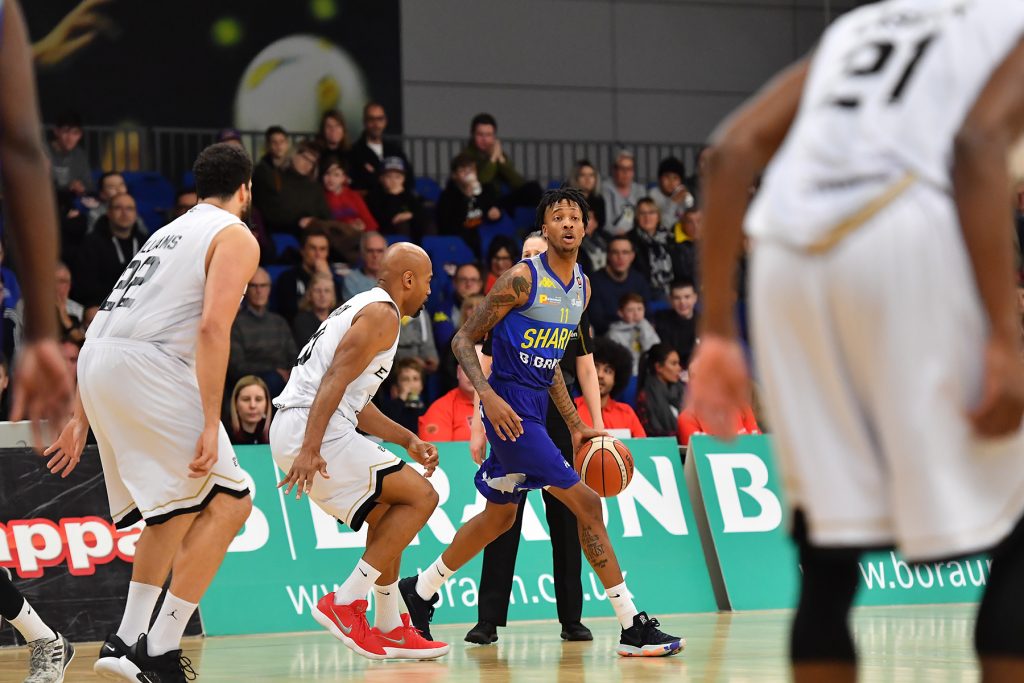 It was the home side who made the quicker start with Rob Marsden off to a quick start, he helped his team to go out to an 8 – 3 start. Fletcher and Moses were the men to reply for Eagles as they got back to within two on a Jamal Williams triple.
Back came Sheffield an a 9 – 0 run gave them a double-digit lead for the first time and then when Chris Alexander tripled Eagles were down 28 – 16 although they responded with the last four points of the quarter to trail by eight.
The start of the second saw Sharks hit six straight from the off and push their lead to 34 – 20. Back came Moses with a couple of buckets but an Alexander and-1 kept the home side in the ascendency. Fletcher then exploded for seven personal in a row to bring his side within six and force Sheffield in to a time-out.
It steadied the home side who were more controlled as they slowed Fletcher and the Eagles down after that mid-quarter surge. Anthony Collins hit a very rare triple for Sharks as they kept the visitors at bay and held their double-digit lead all the way to the half-time buzzer at 51 – 38.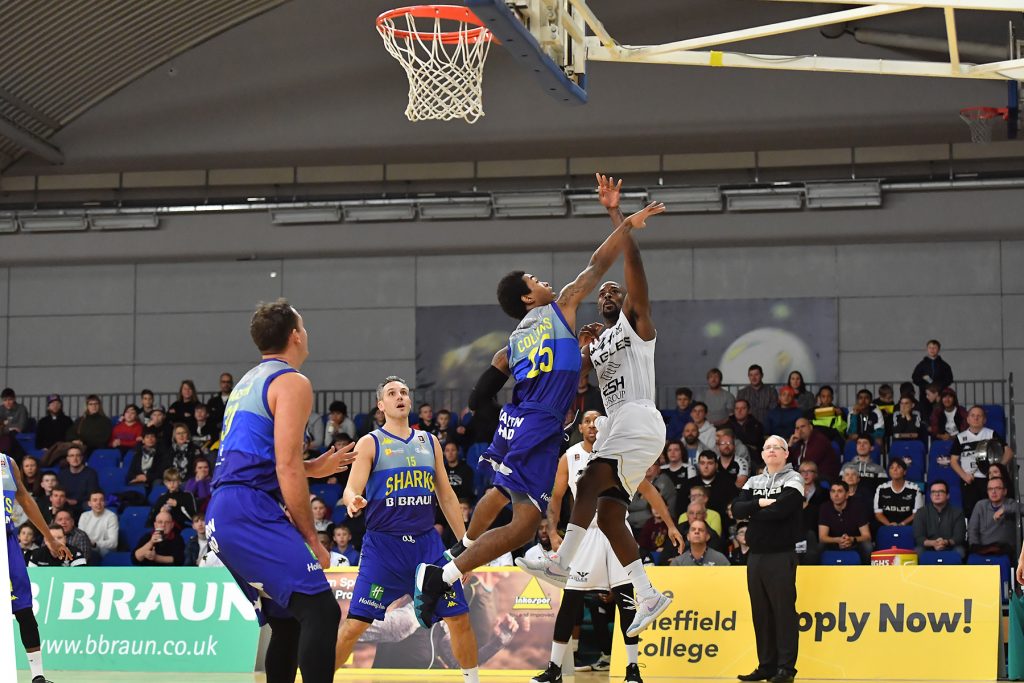 Whatever was said in the locker room by Flournoy and his coaching staff it made little difference as the second half opened. The hungry Sharks were in killer mood and snapped off six points to move to 57 – 38 and despite the half just starting Newcastle had to call a time-out.
Kyle Williams did hit a triple coming out of the time-out but Sheffield were in virtual cruise mode as their point guard Collins completely ran the show hitting open colleagues time and again. In the blink of an eye, Newcastle found themselves down by twenty and seemingly with no way back.
They did actually cut the gap to fourteen at one stage with Lasker scoring four in a row to force a Sheffield time-out but that crucial minute's break and regroup was exactly what the home side as the burst away again to take their biggest lead at 75 – 53 and effectively end the contest.
Eagles did look to claw the lead back but Alexander and Collins nullified a visiting run and with the Sharks up 82 – 58 and due at London Lions on Sunday in a top of the table clash, Coach Atiba Lyons took off the pressure somewhat and allowed his side to coast to the final buzzer.
It allowed Kyle Williams in particular to score points late on but the final 16 – 4 Eagles run was far too little too late and in truth the final margin of defeat flattered the visitors who once again saw themselves completely out rebounded and out thought in another tough 40 minutes of basketball.