| | | |
| --- | --- | --- |
| Plymouth Raiders | 89 | Win |
| Eagles | 73 | Loss |
If you take your plaudits when you win you have to take the brickbats when you lose. Particularly when you get dominated on both ends of the floor, writes Jeff King. Esh Group Eagles Newcastle's massive offensive power, bar Saah Nimley, went missing, defensively the crucial rebounds fell to Plymouth.
It all added up to a tough, tough afternoon for an Eagles side that had gone nine straight league games victoriously. Now, it's 9 – 1 and the rest of The BBL may well have seen a chink in what seemed like in penetrative armour. What is needed now is for reflection and review and re-focus.
The Eagles have a team and personnel that they have brought together for a purpose. One loss does not change that purpose, nor does it mean goals cannot be achieved. What it means is that the hard-work put in so far to achieve a top of the table position just has to be redoubled and Fab Flournoy's team has to go again.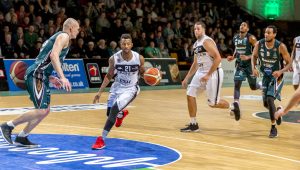 It didn't help not only having Zarko Jukic missing, a player that they covered well on Saturday at Bristol, but to lose another starter Kai Williams in the warm-up meant two changes to the usual opening five and that was probably one too many.
Flournoy himself returned from injury to try and shore up the roster and bring his normal defensive intensity but his spark, understandably, was not there after being out for nearly three weeks and in truth, there were not enough players that stepped up when needed.
On the opposite end, The Raiders seemed like men on a mission and spurred on by a loud and partisan crowd responded to the calls of their home pack to gain a win that they fully deserved and one that they will no doubt savour.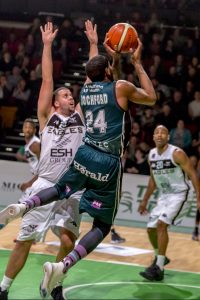 Newcastle had started well, especially Nimley who was in real rhythm and led 14 – 7. They had chances to take that lead out further but missed several of them and that was part of the story as their normally reliable offensive finishing was not there for the remainder of the game.
The Eagles still took the first quarter 23 – 19 and scored the first two of the second before Plymouth got going and reeled off 16 unanswered points to take a lead they never relinquished. Eagles were struggling to put their game together under the pressure created by Kinu Rochford and Brandon Penn in particular.
Jonas Jarvelainen also looked smooth coming off the bench and with debutant Jawad Adekoya chipping in with 18 points they out-teamed and out-balanced a normally fluid Eagles line-up.
The half-time score of 42 – 40 to the home side almost felt like a victory for Newcastle who had under performed but the second half comeback that Flournoy asked for in the second half never materialised and to be fair to Plymouth they continued to pull away from a surprisingly disjointed Eagles side.
However, Fab Flournoy and his coaching staff have been around a long time and this is not the first time they've travelled to Plymouth and come away disappointed. It would make for a long trip home with plenty of thinking to do but not about what had happened, more about what can still be achieved moving forward.