| | | | | | | |
| --- | --- | --- | --- | --- | --- | --- |
| Leicester Riders | 18 | 12 | 16 | 23 | 69 | Loss |
| Eagles | 19 | 15 | 16 | 26 | 76 | Win |
A superb performance on the road catapulted Esh Group Eagles Newcastle back in to the BBL title race last night in Leicester. It included an explosive final quarter burst where the Eagles under severe foul pressure shrugged that off to power home to a vital win.
The Eagles had gone in to the game having lost five of their first twelve league games for the first time since 2006/07. They were not about to make that a sixth loss as they showed great discipline throughout and showed up with their trademark Eagles defence that forced 19 home turnovers on the night.
The first quarter belonged early to the home side as with the scored tied at 2 – 2, Riders produced nine unanswered points to worryingly put the Eagles on the back foot. Indeed, when Jeremy Smith eventually tripled to cut the gap it had taken the visitors almost five and a half minutes to register that first field goal.
But it was the spark his side needed and when Rahmon Fletcher scored seven points of his own, Newcastle were back within two points. Pierre Hampton pushed it back to four but Eagles finished the quarter strongly with a 7 – 2 run capped by a Kyle Williams triple to lead 19 – 18 after one.
The second saw Newcastle continue that run as they completely stifled the Riders offence for long periods. Leicester were forced in to shooting shots that they didn't want to take but Eagles didn't fully capitalise at the other end.
They did however move ten in front with Darius Defoe netting six personal in a 13 – 4 run where Leicester's only points came from the free-throw line. It was over eight minutes before the home supporters saw their team net a field goal but two triples in the last couple of plays did cut in to Newcastle's lead.
The Eagles in a defensive battle did edge the second period but may well have been disappointed to head to the locker rooms at the half only 34 – 30 in front.
The third quarter was a real war of attrition as both sides dominated defensively similar to the first half and neither side could force a real run where they could get themselves free. Leicester did however get themselves back in front for the first time since the early stages of the game.
They netted eight free-throws in a row which included one for a technical foul on Defoe to move 44 – 43 ahead but back came Newcastle inevitably led by the mercurial Fletcher who scored six of a 7 – 2 run that gave his side a four-point lead to take in to the final period.
Back came the home side again to close within one point as time ticked down. But it was then the Eagles played their trump card. Smith who had not scored since the first period and had suffered from foul trouble came back on to net ten huge final quarter points to push the visitors ahead once again.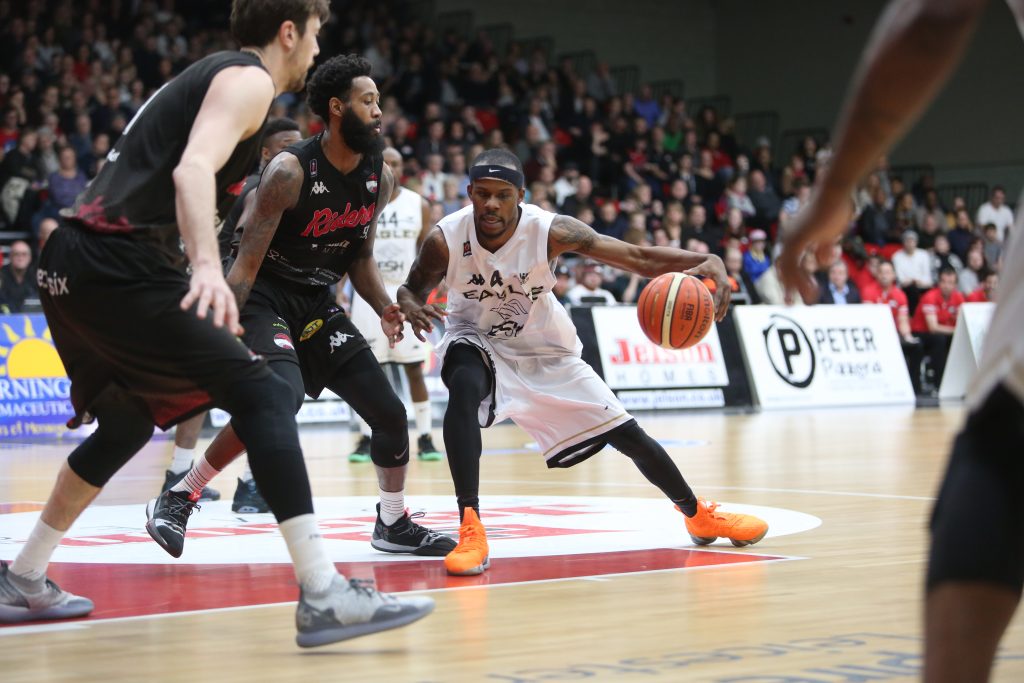 Then, that man Fletcher sealed the deal with a triple from way down town that gave his side a ten-point advantage at 72 – 62. It was game over as Leicester were left with no time to force any sort of comeback and Newcastle celebrated at the end of what was a vital game for both sides and a crucial win for Newcastle.