| | | | | | | |
| --- | --- | --- | --- | --- | --- | --- |
| Caledonia Gladiators | 21 | 22 | 20 | 22 | 85 | Loss |
| Eagles | 27 | 23 | 32 | 18 | 100 | Win |
Despite being a man down, the Esh Group Eagles Newcastle dominated last night's BBL Championship clash at Glasgow Rocks and came away with a superb road victory. The Eagles' win was their second from as many games this season meaning they are yet to taste defeat in the League.
They also netted a century of points for the first time which was some effort from a side that makes defence their priority. However, it was defence, especially in a superb third quarter finish that sparked the offence that ultimately paved the way for Head Coach Fab Flournoy's team to maintain a 100% record.
Newcastle were led superbly by point guard Rahmon Fletcher who dished assists out all game long finishing with 13 to add to his 24 points and two of his main targets, forwards Victor Moses and Captain Darius Defoe were often the recipients of his penetrating passing ability.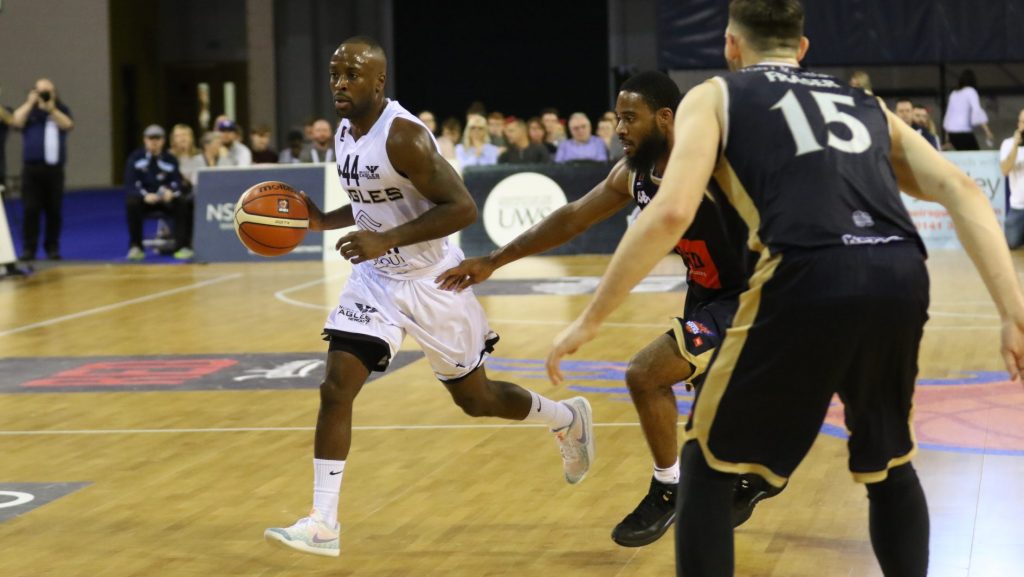 Moses had 24 points, Defoe from the bench had one more and both were dominant inside pulling down rebound after rebound. They totally demoralised a Rocks outfit who tried to keep going throughout but ultimately had no answer to the swooping Eagles power.
Eagles had parted company with Ahmad Thomas early in the week and it was veteran Drew Lasker who stepped in to his place in the starting line-up and his usual energy and spark was there from the start. It meant that his team-mates fed off that and after the teams traded baskets early, the visitors made their move led by Moses who had a superb first-half to lead all scorers.
Down by a single point they produced an excellent 12 – 2 burst that forced Glasgow to call the first time-out of the game but coming out of the tactical talk Fletcher hit the home side with a 3-point basket that gave his side a double-digit lead and they were never headed again.
Rocks did close out the first ten minutes with the momentum but were down by six at 27 – 21. The second period was a war of attrition as both sides battled it out and slugged for position. Neither side could really force home an advantage with the Eagles just edging it to lead 50 – 43 at the break.
The third quarter was where the game was turned on it's head and where Newcastle made the move that put them out of reach of the home side. But, first of all coming out of the locker rooms they had to weather a Rocks storm.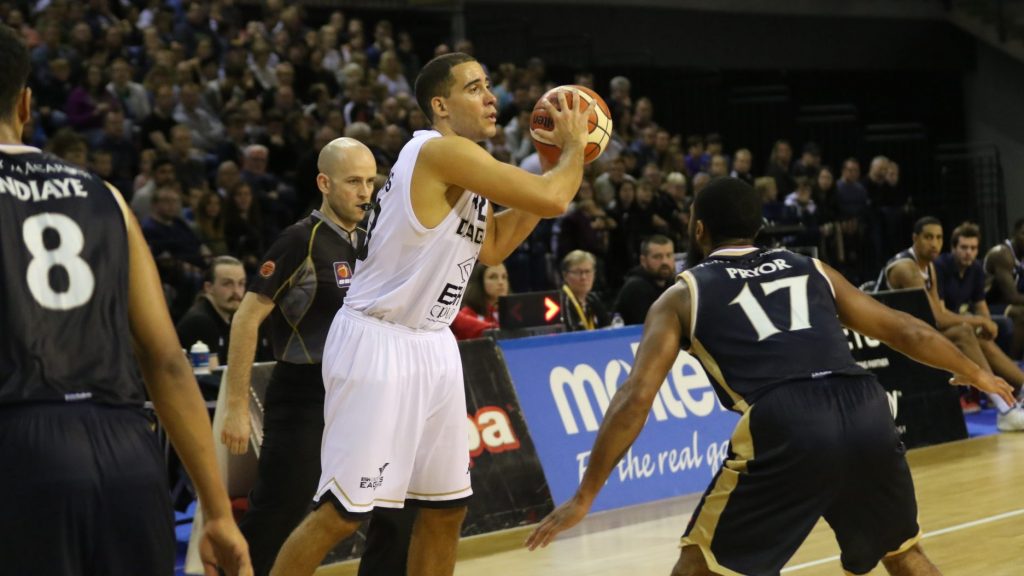 The home side fought back to within two points at 63 – 61 forcing the Eagles in to a time-out. Whatever was said by Flournoy and his coaching staff it had the galvanising effect. Newcastle simply blew Glasgow away netting an incredible 17 unanswered points with Defoe in particular in dominating mode.
It meant Newcastle widened the gap to 82 – 63 with just the final quarter to play and although points-wise they dropped that period, they were never in danger of allowing Glasgow to comeback as Fletcher controlled the game and Eagles played at the pace they needed to close out a superb victory.
Our Eagles are at home looking for three wins in three games this Friday night against London City Royals and tickets are on sale now.
NEXT BBL HOME GAME