| | | |
| --- | --- | --- |
| Cheshire Phoenix | 76 | Loss |
| Eagles | 87 | Win |
Esh Group Eagles Newcastle maintained their 100% BBL Championship record with a tough, hared earned road win at Cheshire last night writes Jeff King. Whilst it was a modicum of revenge for the cup defeat in Newcastle just over a week ago, more importantly it was another step forward for Fab Flournoy's team.
The undoubted talent and offensive firepower in the side is there for all to see and with Jaysean Paige, Saah Nimley and Darius Defoe continuing to lead the scoring for their side, that continued in this latest win with once again good supporting contributions from the likes of Terry Martin, Kai Williams, Zarko Jukic and Jure Gunjina.
Just as importantly as this side continues to carve out an identity this second victory of the weekend after Friday night's home win over Surrey Scorchers was achieved without Eagles' veterans Drew Lasker and Flournoy himself. Lasker's injury condemning him to a watching berth whilst Flournoy guided his troops from the side-lines once again.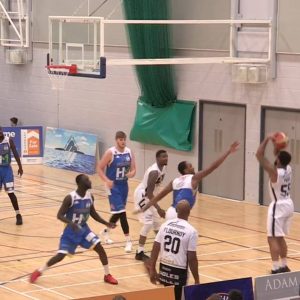 To go 7 – 0 with a brand-new team still gelling is a great achievement but there's bigger and tougher obstacles still to be scaled and a couple of the improvements this side seems to need is to finish their offensive plays more frequently and learn to play defence as a unit.
That said in the fourth quarter The Eagles did crank up their defence allowing only 13 points for the home side in that final ten minutes which was ultimately the difference between the two sides as this time Newcastle didn't allow Cheshire back in and closed out the game well.
It was certainly an exciting first three quarters with the result in doubt for those first thirty minutes as neither side could really establish a combination of flowing offence and tight defence which would have broken the stranglehold on the game.
Time and time again one side went up only for the other to haul back and then sneak in front and there were fifteen lead changes in a rollercoaster of scoring which gave the watching fans a thrilling spectacle to savour.
The home side shaded the first quarter 27 – 25 and managed to hold on to that two-point lead after the second as the period was tied 16 – 16 making the half-time score 43 – 41 in favour of a Robert Sandoval inspired home side. The Phoenix's on-court general was a menace for The Eagles all night and led his team well.
Where Newcastle did a great job was on 7' 0" Centre C J Gettys who was restricted both in scoring and in rebounding and enable the likes of Defoe, Jukic, Gunjina and Williams to play tough inside.
When the teams came out for the third, Eagles twice got themselves in front but with ten minutes to play Cheshire still led by one at 63 – 62 and then that was when Newcastle played money-ball in the final quarter.
Down 69 – 64, Eagles produced their best scoring run of the night to edge out to a crucial 74 – 69 with a ten-point burst which gave them the crucial break-through and from their Paige and Nimley were perfect from the free throw line to close out the game.