Results
| | | | | | | |
| --- | --- | --- | --- | --- | --- | --- |
| Bristol Flyers | 14 | 18 | 15 | 10 | 57 | Loss |
| Eagles | 30 | 19 | 25 | 12 | 86 | Win |
Esh Group Eagles Newcastle flew in to Bristol and shot down the home-town Flyers with perhaps their best defensive display of the season so far, writes Jeff King. The Eagles were in the main disciplined in their intent and carried out their game plan well to take their ninth consecutive win.
In doing so they maintained that 100% league record and will march on to the Raiders this afternoon looking to make it ten-in-a-row. It's a quick turnaround for the team who travelled direct to Plymouth after the game to prepare for the second game of this tough road trip.
Bristol actually led early as they netted the first triple of the game and led 7 – 2 until a 7 – 0 Eagles run took them in to their first lead, but it was still scrappy in the early game as both sides struggled to find any rhythm on offence.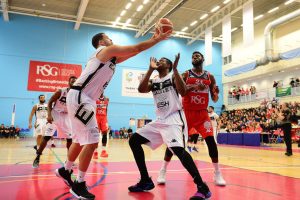 It was Newcastle who broke the drought. With the scores tied at 11 points each, Saah Nimley and Darius Defoe sparked an eleven-point run that broke the game open and put the visitors in to a double-digit lead that they would not relinquish for the rest of the game.
Indeed, with excellent court spacing and lovely use of the ball they opened up the Bristol defence at will and soared to a 30 – 14 opening period. They continued that form in to the second period pushing the lead out to 27 at 45 – 18.
At times they made it look too easy against a Bristol side that many thought would cause them trouble. The home side did rally as the half closed and their 16 – 7 run cut the gap to 49 – 32 but the Eagles had still took the quarter by a single point.
Head Coach Fab Flournoy warned his side in the locker room to expect more energy and urgency from their hosts but in truth that energy didn't come as Newcastle turned the screws particularly defensively as no matter what line-up they called to the floor, the pressure was kept right on a beleaguered Bristol side.
By the end of the third another fine ten minute period saw Eagles increase their advantage by another ten points to take 74 – 47 lead in to the final ten minutes. That final ten minutes was about the visitors conserving energy and legs for this afternoon's match-up, but they still increased the gap to finish the game a comfortable 86 – 57 in front.
Eagles scoring was shared with five players in double figures and all that stepped on court troubling the scoreboard in a controlled and cohesive team display. Captain Defoe and Nimley leading the scorers with Nimley adding ten assists for an excellent double-double.
Flournoy and his team now head in to the Plymouth Pavilions looking for more of the same this afternoon and raising that league record to 10 – 0 before the long ride back to Tyneside.