| | | | | | | |
| --- | --- | --- | --- | --- | --- | --- |
| Manchester Giants | 22 | 23 | 28 | 26 | 99 | Win |
| Eagles | 26 | 29 | 21 | 20 | 96 | Loss |
Somewhere, somehow, someway the Newcastle Eagles keep coming up with ways to lose a basketball game in what may well go down as one of their most frustrating seasons ever.
On Friday night on their own court in the Vertu Motors Arena, they led Champions-elect London Lions by thirteen points with 11 minutes and 55 seconds to go and lost by three. Last night in Manchester it got even worse for Head Coach Marc Steutel's Eagles.
This time they led once again by thirteen points but with only 4 minutes and 47 seconds to go. Surely lightning couldn't strike twice? Guess again, it did! An unbelievable 18 – 2 run to end the game by the home town Giants got them a truly unexpected win.
Even sceptical Eagles fans knowing and seeing their side losing game after game from a winning position couldn't have seen this one coming. Newcastle had jumped out early in the first quarter to lead Manchester and they held that lead until deep in the third period.
The home side had been chipping away in that third period and eventually levelled the game at 68 points all. That after Newcastle had established a fourteen-point lead at one stage in the previous period and taken a double-digit advantage at 55 – 45 at the half.
With David Cohn playing sweetly, dishing assists and making big shots and Justin Gordon having a big all-around game Newcastle did seem in control of their destiny.
But Giants led superbly by ex-Eagle legend Rahmon Fletcher took their first lead of the game at 71 – 69 with an Anthony Roberson bucket off a Fletcher assist. That was with 1 minute 22 seconds left in the third quarter.
Cohn though had the last say of the period hitting his third triple of the period and combining with Javion Hamlet to wrestle the lead back at 76 – 73 with ten minutes to play.
The Eagles seemed to have weathered the storm as they opened that final period in confident style. A triple by Cohn and another by Gordon sandwiched by a deuce from Kyle Johnson meant eight unanswered points and a thirteen-point lead.
Even when Giants responded Hamlet replied with an And-1 play and Newcastle reached that point with 4:47 to go when the wheels well and truly came off. Giants fed off Fletcher. Roberson became unplayable, Dirk Williams made a couple of big plays.
It was all too much a the fired up home crowd got involved and Newcastle just could not find an answer nor a basket to stem the tide. The result and game almost inevitable once again slipped from their grasp.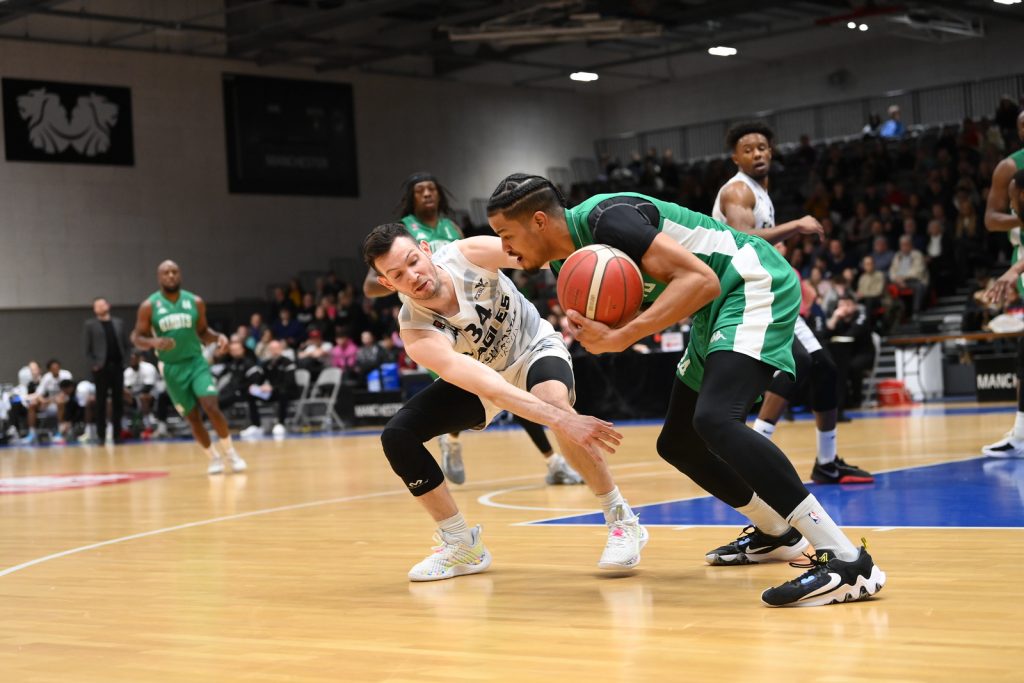 It has to be said that this Manchester side have some real talent and one thing they are used to this season is winning and quite often winning tight games. They now have 16 wins and sit 4th in The BBL standings.
For the Eagles it was a 20th loss of the season and with only seven wins to counterbalance that and remain outside of the playoff picture in 9th position. Games are beginning to run out for the Eagles and with that hopes diminish too.
There was no Hasahn French for Newcastle after he was injured on Friday and couldn't suit up. Ben Mockford also continues to recover from an ankle injury. But then again Giants were without William Lee a massive part of their arsenal and Nate Robinson.
It all means that once again Steutel has to somehow and someway pick his side up from disappointment and go again. Next up is a trip to the Capital to take on the league leading Lions on Wednesday in what is going to be another very tough game.
Can they dust themselves down and recuperate? It's going to be a big ask.