| | | | | | | |
| --- | --- | --- | --- | --- | --- | --- |
| Eagles | 27 | 21 | 16 | 28 | 92 | Loss |
| Manchester Giants | 15 | 35 | 27 | 20 | 97 | Win |
Marc Steutel wants more from one of the BBL's most dynamic all-rounders after a Herculean effort from in-form Hasahn French almost cut Rahmon Fletcher's Manchester Giants down to size.
The muscular 24-year-old added three monster blocks to his 19 points and 18 boards during a breakout display for the men in black.
Watch highlights of Eagles vs Giants:
But French cut a frustrated figure on the final buzzer as Newcastle fell agonisingly short of a much-needed win ahead of tomorrow's trip to title challenging Bristol Flyers.
"That's the Hasahn French that we know is in there and we've been trying to get that consistent level of performance out of him every week," said Steutel.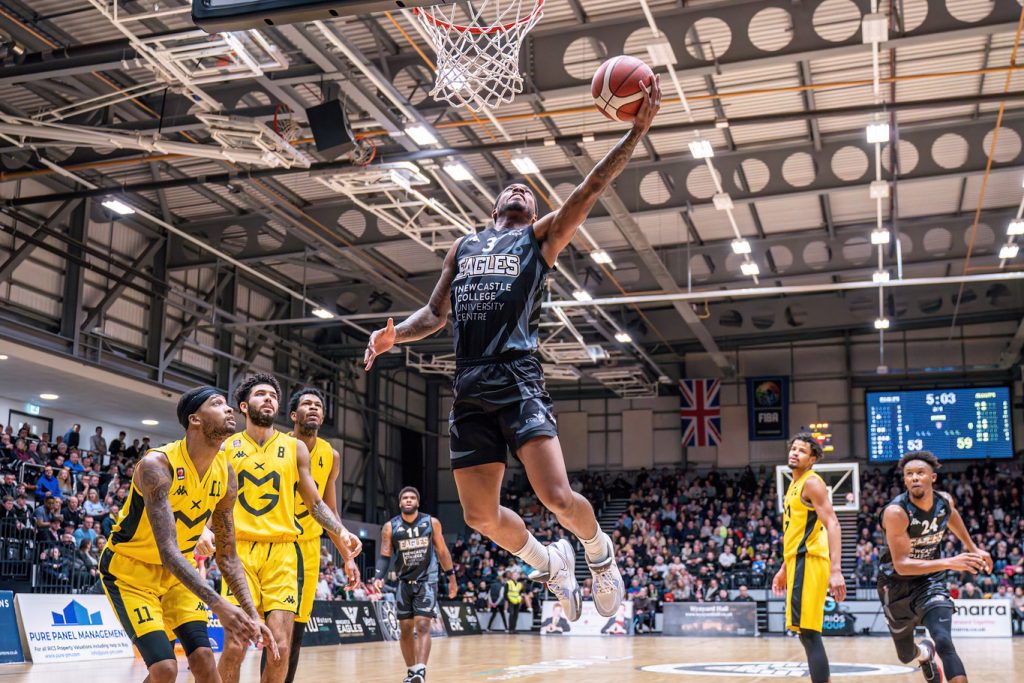 "Disruptive, rebounding, finishing inside, guarding the pick and roll well — that's Hasahn at his best and that's what we want.
"He could have tidied up a few possessions when we might have got our noses in front a bit more but Hasahn is a guy I love working with every day.
"He comes in, works hard and you know what you're going to get with him. He's very coachable and he cares about this team."
French lined up in a new-look starting five featuring the returning Justin Gordon alongside guards Javion Hamlet, David Cohn and Kyle Johnson.
And that all-action group underpinned a free-flowing first quarter — a combination of fast-break offence and steely defence opening up a 19-7 lead with seven minutes on the clock.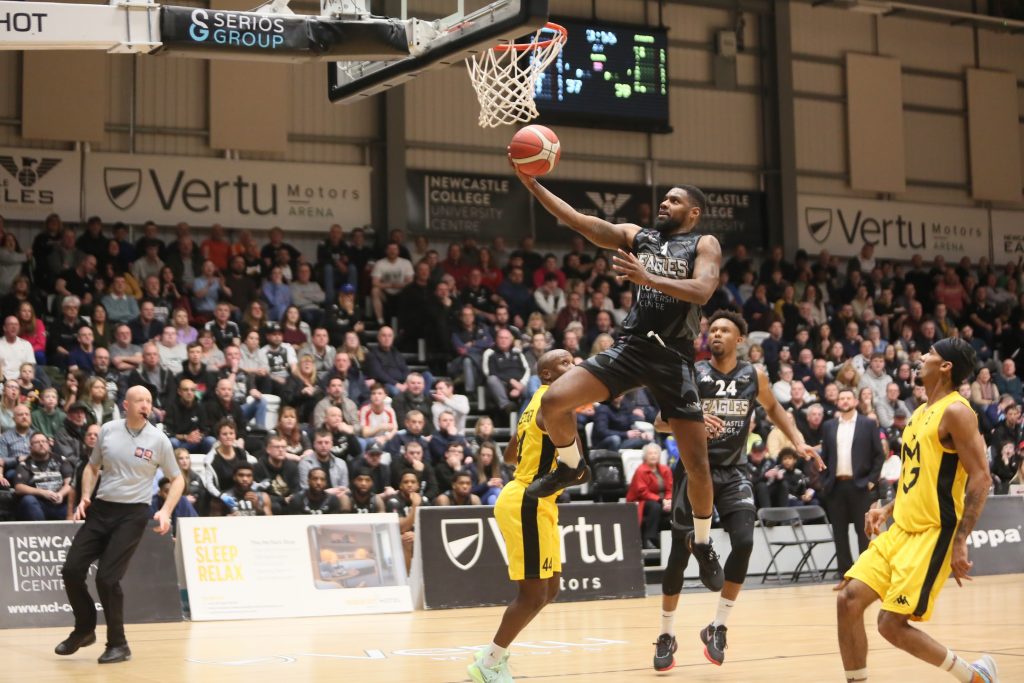 Such was the home side's dominance that Manchester playcaller Vince Macaulay took the unusual step of benching ex-Eagle and two-time league MVP Rahmon Fletcher.
And although the visitors rallied towards the end of the quarter, Steutel's men still held a commanding 12-point lead heading into the second period.
What followed was the type of inexplicable collapse that has become all too familiar to the Eagles faithful this season.
"We gave Manchester a 35-point second quarter after a really solid first period," added Steutel. "Defensively we just stopped doing the things that made us successful at the start.
"The first quarter was all about trying to guard their personnel really well, trying to be in stance, trying to make sure that we do the right things at the right time and trying to ensure that we finish plays.
"Those were the most important things and we did all of them early on. But our intensity dipped as the game went on."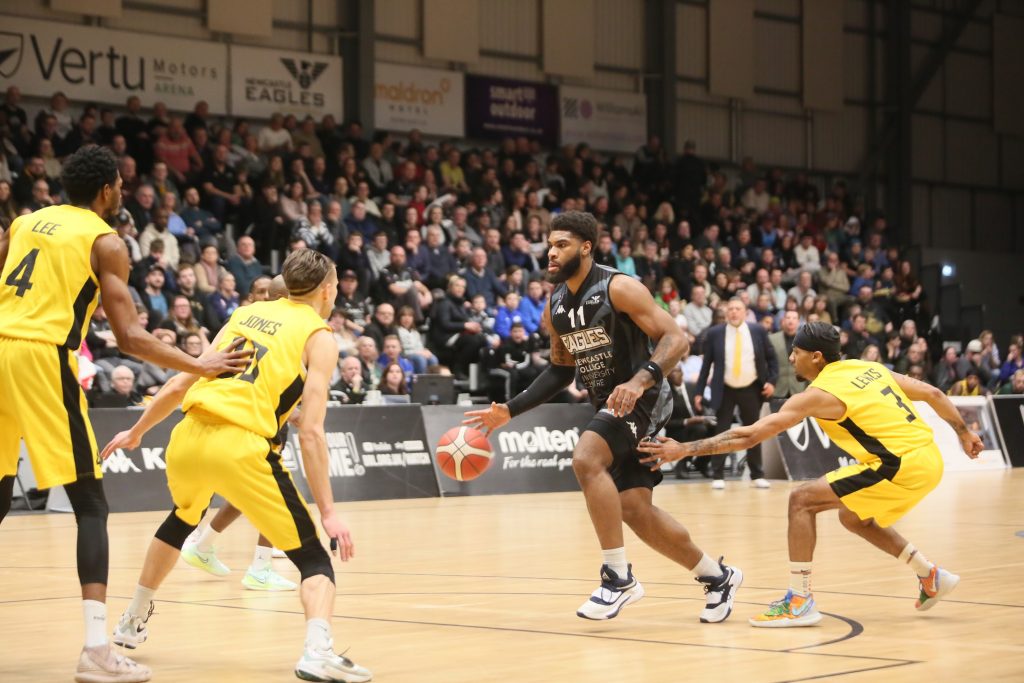 Manchester — with William Lee and Dirk Williams a constant threat — dominated a free-scoring ball game either side of half time to take a 77-64 lead into the fourth quarter.
Newcastle's bench simply couldn't get a foothold in the contest as they contributed a paltry six points on a night paced by four of the Eagles' five starters.
And Steutel will be looking for a big response from league veterans Darius Defoe, Donovan Johnson, Jermel Kennedy and Ben Mockford in Bristol tomorrow.
That Newcastle outscored the Giants 28-20 in the final period was scant consolation to Steutel.
But another late burst from Kyle Johnson — combined with Javion Hamlet's constant harrying of the Manchester defence — ensured the Eagles take a degree of momentum into one of the toughest trips of the season.
And Steutel is confident French, Gordon and co. are more than capable of dominating the glass against the Flyers' fabled rebounders.
"We had 24 offensive rebounds against the Giants and we outrebounded them 49-41," he pointed out.
"We know Bristol is a team that rebounds the ball very well but if we can play with the same level of intensity rebounding-wise we'll have a chance.
"We have to get home, we have to finish plays and we have to have that defensive trust.
"But Bristol is a tough place to go. We need to flush the Giants' loss out of our system and get ready for Sunday."