| | | | | | | |
| --- | --- | --- | --- | --- | --- | --- |
| Eagles | 16 | 19 | 34 | 23 | 92 | Win |
| Leicester Riders | 23 | 29 | 20 | 13 | 85 | Loss |
Newcastle Eagles overturned a 20-point deficit to pull off the most famous win of the Vertu Motors Arena era and keep their playoff hopes alive.
A delayed tip-off, damaged basket and Leicester's lack of discipline added to the drama as the most unpredictable of BBL clashes reached its dizzying denouement.
Go courtside at Eagles vs Riders to relive the huge win:
And as the clock ticked beyond 10pm, second-bottom Newcastle somehow found a way to close out a stunning come-from-behind victory against the backdrop of a roaring crowd.
Newcastle's sensational seven-point win against the club's fiercest rivals halted a four-game skid and breathed new life into a faltering campaign.
But the Eagles must do it all again tomorrow when they face a Riders' roster bidding for revenge on the back of a barely believable second-half capitulation.
"We showed in 20 minutes after halftime that when we defend with some physicality, try to guard the right way, rebound well and play at pace we're a tough team," said head coach Marc Steutel.
"We delivered a 57-point second half but that offence was based on our defence."
Not even the much-missed Mystic Meg could have predicted the remarkable turnaround that saw the hosts claw victory from the jaws of defeat.
A 40-minute delay to tip-off — after the visitors got stuck on the A1 — could have knocked both teams out of their stride.
But a competitive opening seven minutes saw Leicester open up a 15-14 lead before Riders' Aaron Menzies forced a lengthy stoppage.
The GB centre rammed down a dunk in front of a packed south stand before hanging on the rim and pulling the basket out of position.
When the game finally restarted Newcastle came out cold as they allowed the Riders to launch 25-9 tear either side of the quarter break.
And despite a buzzer-beating David Cohn three-pointer, the Eagles trailed by 17 points at the half.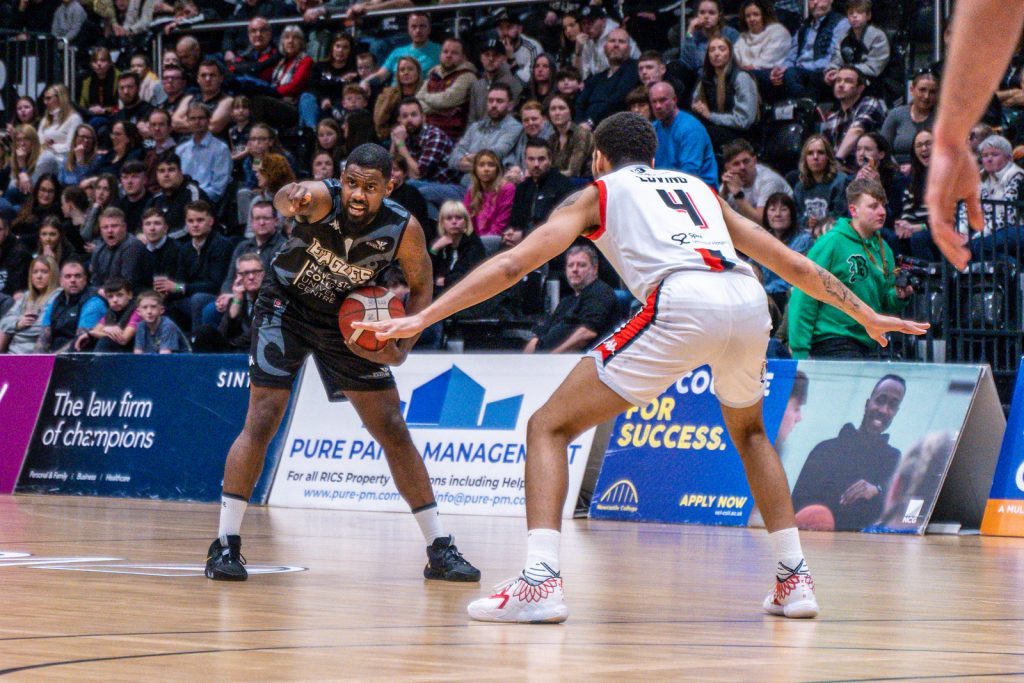 "The players looked at themselves after 20 minutes and admitted that they weren't pleased with that first half," added Steutel.
"I felt that could have been our most disjointed 20 minutes of the season and there's no rhyme or reason to it.
"Leicester are a good team and they played well but I felt we hurt ourselves with a lack of execution and our failure to deal with some of the different situations going on.
"We have to make sure that we play our brand of basketball and I believe in that. That's what we did after half-time."
Steutel's assertion that Newcastle's first half was one of their worst of the season was backed up by a seriously sobering stat line.
The hosts shot just eight from 26 two-pointers during the first 20 minutes against a Riders side that scored 34 points in the paint.
Full highlights of Eagles vs Riders
Leicester's bench chipped in with 23 of the visitors' 52 first-half points compared to just three from Steutel's second string.
But it was one of Newcastle's benchmen who finally lit the fuse that sparked an eye-catching comeback.
Jermel Kennedy enjoyed his most productive night since New Year's Day after the Canadian forward bagged 14 second-half points.
Two brilliant back-to-back triples brought the crowd to its feet and the 33-year-old continued to pace a superb run down the stretch.
"Jermel is a pro who works hard every day," added Steutel. "I think everyone saw the reaction of his teammates when he got going.
"That's because we all know that Jermel's an important piece for us and when he's in rhythm and playing that way he can make the difference.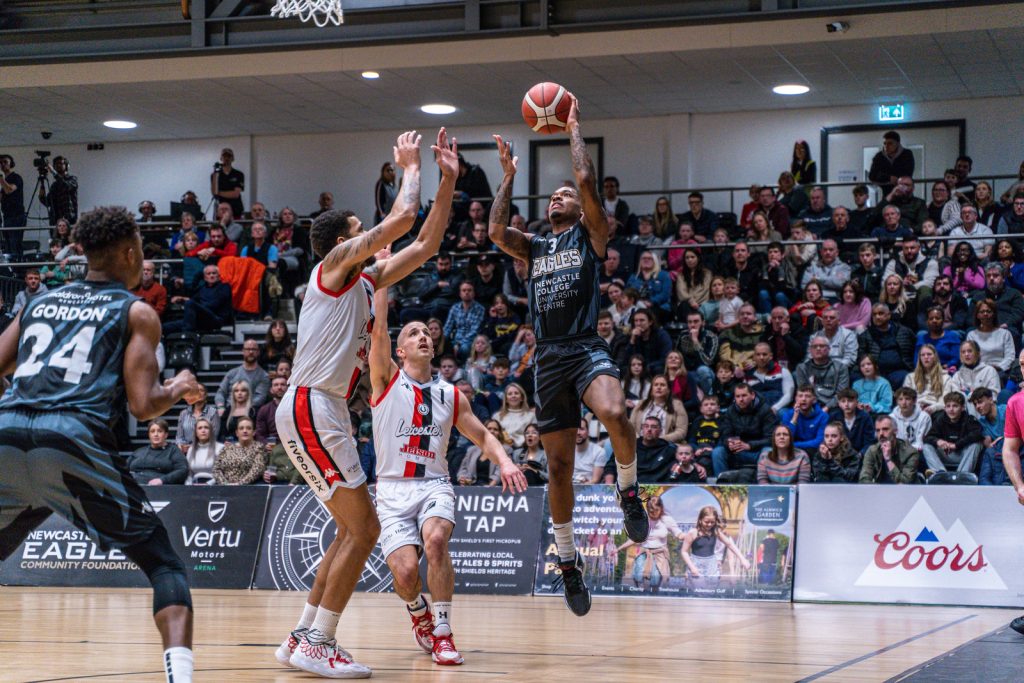 "He's a guy who I love to work with. I know there are ups and downs in basketball but he's stayed the course and made sure that he's been ready when called upon.
"He took his opportunity against Leicester and look at what a difference it made."
A Hasahn French put-back fired Newcastle 73-72 in front seconds into the fourth quarter — the Eagles' first lead since the seventh minute.
And Javion Hamlet opened up a 10-point advantage inside the final two minutes before Kimbal Mackenzie joined Menzies as the second Riders player to foul out on the night.
Leicester closed the gap to four points on the back of a Patrick Whelan three-pointer and there were gasps of disbelief as the hosts failed to advance the ball over the halfway line to gift their rivals possession.
But after a series of agonising near misses in recent weeks Steutel's men found a way to close out the win — all-action French packing the stat sheet with 19 points, 12 rebounds, five assists, four rebounds and three steals.