| | | | | | | |
| --- | --- | --- | --- | --- | --- | --- |
| Eagles | 17 | 15 | 24 | 32 | 88 | Win |
| Caledonia Gladiators | 20 | 20 | 24 | 14 | 78 | Loss |
Newcastle Eagles live to fight another day after a monster fourth quarter saw off border rivals Caledonia Gladiators at a rocking Vertu Motors Arena.
The hosts outscored the 2023 BBL Trophy winners 32-14 during a punishing final period as Ben Mockford lit up from beyond the arc.
Watch Justin Gordon's high 32-point highlights reel:
But it was red-hot Justin Gordon who grabbed the headlines as the North Carolina native enjoyed the best night of his third spell on Tyneside by claiming a game-high 32 points.
Newcastle's 88-78 win — coupled with Plymouth's capitulation at Leicester — made it a perfect night for Marc Steutel's men.
Full Eagles vs Gladiators game highlights from Sky Sports:
And a vital result means the Eagles can still muscle their way into the top eight in time to stamp their post-season ticket.
"From my standpoint, it keeps us alive over the next three games," said a relieved Steutel. "We've spoken about urgency, desperation — whatever you want to call it — and you saw that in spells during the Gladiators game.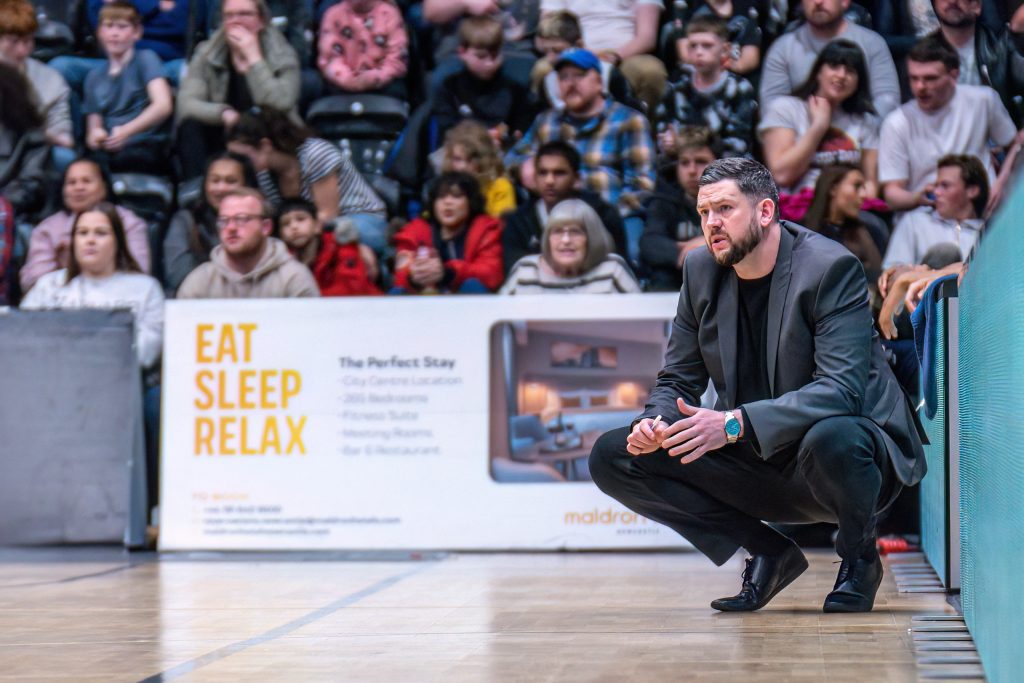 "I was most pleased about holding them to 14 points in the fourth quarter.
"Restricting Caledonia to 76 overall was our target. We gave them around 13 points in transition defence in the first half but held them to three points in transition defence during the second half so that's probably where that extra two creeps in.
"In this league if you can stick to that defensive target it gives you a big chance. Teams have been scoring more than 85 points against us during the course of the season and that's not good enough. We have to set a marker.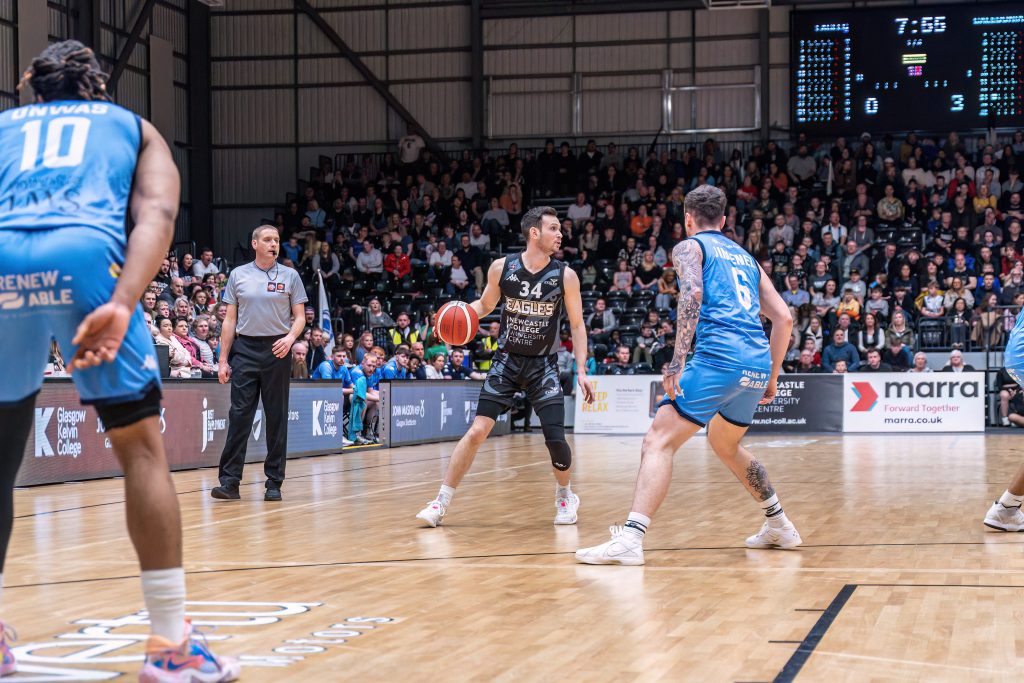 "I'd like it to be a bit more balanced over four quarters as opposed to having to hold a team of Caledonia's calibre to 14 in one period. But overall I was really proud of the team defensively."
An evenly matched first period saw two physical teams battle for superiority with gung-ho Gordon immediately in the groove.
The feisty forward netted 11 points in the opening 10 minutes, shooting five from seven from the field.
But it was the visitors who took a 20-17 lead into the second period and a 15-point tear either side of the quarter break had Newcastle reeling.
Down 34-19 after 15 minutes, the situation suddenly looked bleak for the men in black and it required a 9-2 Eagles run to the half to keep Steutel's men in the mix.
"I thought Javion Hamlet's read on the last possession of the first half — where he hit Gordon for the three — was a big play for us," added Newcastle's play-caller.
"We've talked to Jay about his decision making and I thought he drew two players at the perfect time and made the right pass.
"And what a game for Justin Gordon! I know it's easy to say that when a player scores 32 points but I thought defensively he was really, really important for us in terms of setting the tone."
Gordon had 20 points and three boards at the half and the former Feyenoord star continued to plunder buckets from all corners of the Vertu Motors Arena court.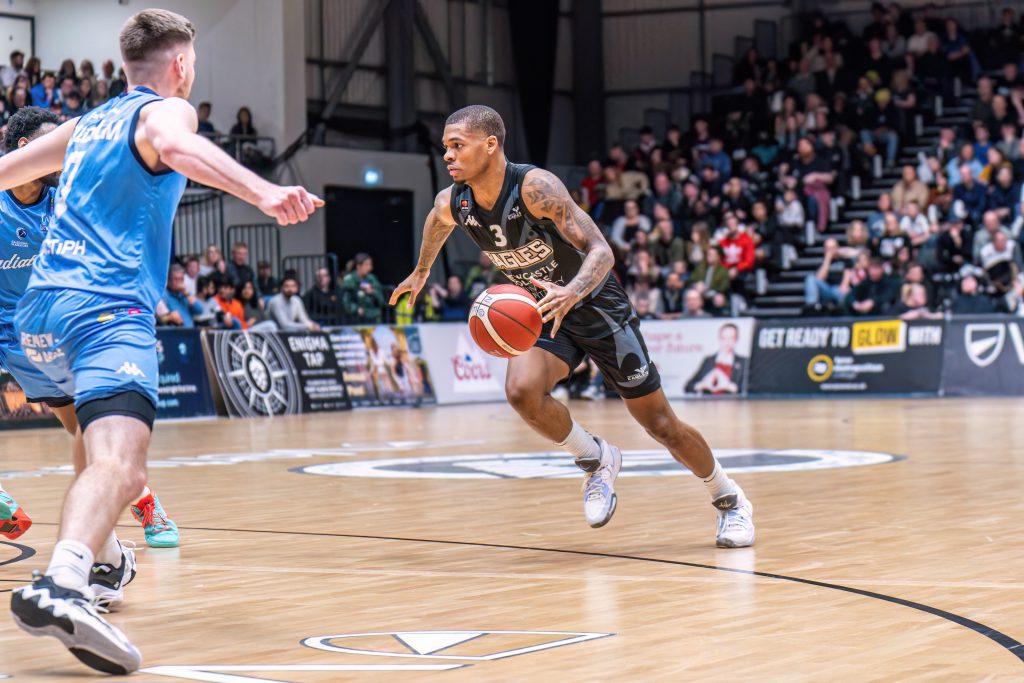 Newcastle matched the fourth-placed Gladiators point for point during a frantic third period before the hosts set about overturning an eight-point deficit down the stretch.
"Every game has its own story," added Steutel. "In the third I thought [David] Sloan controlled the game for the Gladiators and he caused us some problems.
"But we found a way with some different match-ups and credit to the guys for being exceptionally disruptive defensively.
"That's the Eagles brand of basketball that I absolutely believe in. We talk about defence and run — we want to be able to play at pace, get stops and then get out in the open floor.
"Hopefully the fans left the arena with a smile on their faces."
Gordon added four rebounds and three assists to his 32 points, shooting a perfect three from beyond the arc.
And on a night when Newcastle looked locked in offensively, the unstoppable forward found welcome support in the shape of BBL points leader Javion Hamlet (25) and fit-again former GB international Ben Mockford (15).