| | | | | | | |
| --- | --- | --- | --- | --- | --- | --- |
| Eagles | 26 | 22 | 22 | 17 | 87 | Win |
| Surrey Scorchers | 19 | 22 | 16 | 25 | 82 | Loss |
Call it revenge. Call it redemption. Or call it a critical, momentum-building win with a week to go until the playoffs.
After another inexplicable dip in form Newcastle needed this homecourt victory.
Watch highlights of Eagles vs Surrey Scorchers
That it came against bogey side Surrey — who imploded in the final minute — made a nailbiting triumph taste all the sweeter.
The Scorchers bagged back-to-back wins against the Eagles last month to play themselves into top eight contention.
And a season sweep on Tyneside would have all but secured their invitation to the post-season party.
But another assured display from Cortez Edwards — the former Worcester man bagging 19 points, nine rebounds, eight assists and four steals — frustrated battling Surrey from tip to buzzer.
And Newcastle skipper Rahmon Fletcher's game high 34 points was another merciless nail in the coffin of the Scorchers' fast-fading playoff hopes.
Prior to tip, the focus had been on the Eagles' big men and their ability to repel Surrey's powerful forwards.
Darius Defoe's return to the starting five, following a two-match absence, should have provided the hosts with a much-needed defensive boost against their BBL nemesis.
But the popular veteran was restricted to fewer than five first half minutes during a frustrating comeback.
Coach Ian MacLeod had always intended to limit Defoe's court time as the club continues to monitor a minor hamstring strain picked up earlier this month.
But it was a flurry of fouls, rather than any fitness worry, that forced the BBL's most decorated player to sit down early before the break.
When Evan Maxwell picked up two quick personal fouls of his own, all eyes turned to Shore Adenekan.
And in 11 first half minutes, the British-born forward proved why he can still emerge as a key player heading into the post-season.
Adenekan, who joined Newcastle in January, has been feeling his way back to full match fitness following a 15-month injury layoff.
But the Londoner looked in great shape as he stepped in and stood firm with his team-mates in need of some serious muscle inside.
And Adenekan enjoyed the best first half of his fledgling Eagles career as he took care of business at both ends of the court.
Better finishing would have capped an even more impressive return for the 29-year-old but MacLeod must have seen enough to know his mid-season pick-up can play a more prominent role if called upon come May Madness.
Of course, finishing has rarely been a problem for Fletcher and Edwards this season and the prolific backcourt duo paced Newcastle's 48-41 half-time lead.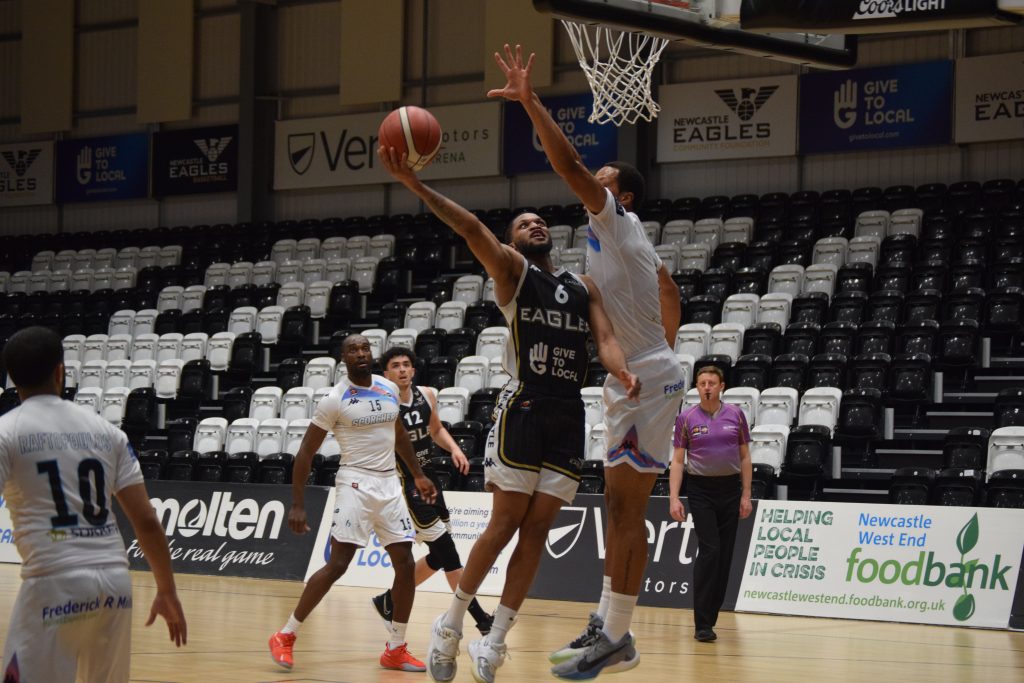 'Fledwards' combined for 27 points, 11 assists and six rebounds to keep Scorchers at bay.
But Surrey were still within touching distance of another upset win — largely thanks to some nerveless perimeter shooting from Caylin Raftopoulos.
Coach Creon's son hit three first half triples to keep the Eagles keen, including a buzzer-beating three-pointer from halfway to close the first quarter.
And it was another last-gasp score on the stroke of half-time, this time from livewire guard Tony Hicks, that reduced Newcastle's lead to just seven points with 20 minutes to play.
MacLeod must have been fuming at his team's inability to defend until the final second twice in successive quarters.
But elsewhere there was much to admire about the Eagles' first half performance as the hosts went in search of another confidence-boosting bounceback win.
Defoe and Maxwell returned after the break but a cagey third period yielded just eight points in the first five minutes.
Both teams looked cold coming out of the locker rooms before back-to-back threes from Fletcher and Edwards got the scoreboard ticking and restored Newcastle's double-digit lead.
And when Raftopoulos senior and junior were called for concurrent technical fouls it was advantage Eagles.
Now it was all about Newcastle's ability to protect a fourth period lead — something that's proved easier said than done in 2021.
Last month Surrey's bottom-three rivals Manchester stunned the men in black by overturning a double-figure final quarter deficit to take the two points on Tyneside.
But this time the Eagles' survived another late wobble to claim an 18th championship win ahead of Thursday's regular season finale at Bristol.