| | | | | | | |
| --- | --- | --- | --- | --- | --- | --- |
| Eagles | 22 | 10 | 21 | 27 | 80 | Win |
| Cheshire Phoenix | 15 | 19 | 19 | 20 | 73 | Loss |
The defining image of Newcastle's hugely disappointing defeat in London on Monday night was of three proud professionals coolly dissecting the painful post-match detail.
With the final buzzer still ringing in their ears, Rahmon Fletcher, Cortez Edwards and Darius Defoe pulled up three chairs and calmly talked it over.
Watch highlights of Eagles vs Cheshire Phoenix
It had the look of a serious summit. A much-needed debate following a fourth defeat in five.
And as the trio wrapped things up and followed their team-mates into the locker room the intention was clear: end this losing run now — with or without Justin Gordon.
Newcastle were missing their BBL Cup final MVP for a fifth straight game as in-form Cheshire Phoenix arrived on Tyneside last night.
And it's surely no coincidence that the Eagles' losing streak has coincided with the absence of the all-action American.
But Newcastle has never been a one-man team and the time had come to deliver in spite of Gordon's prolonged lay-off.
Whatever Fletcher, Edwards and Defoe had discussed at the denouement of the Eagles' tough Trophy exit earlier in the week, it impacted positively on an impressive first period from the hosts.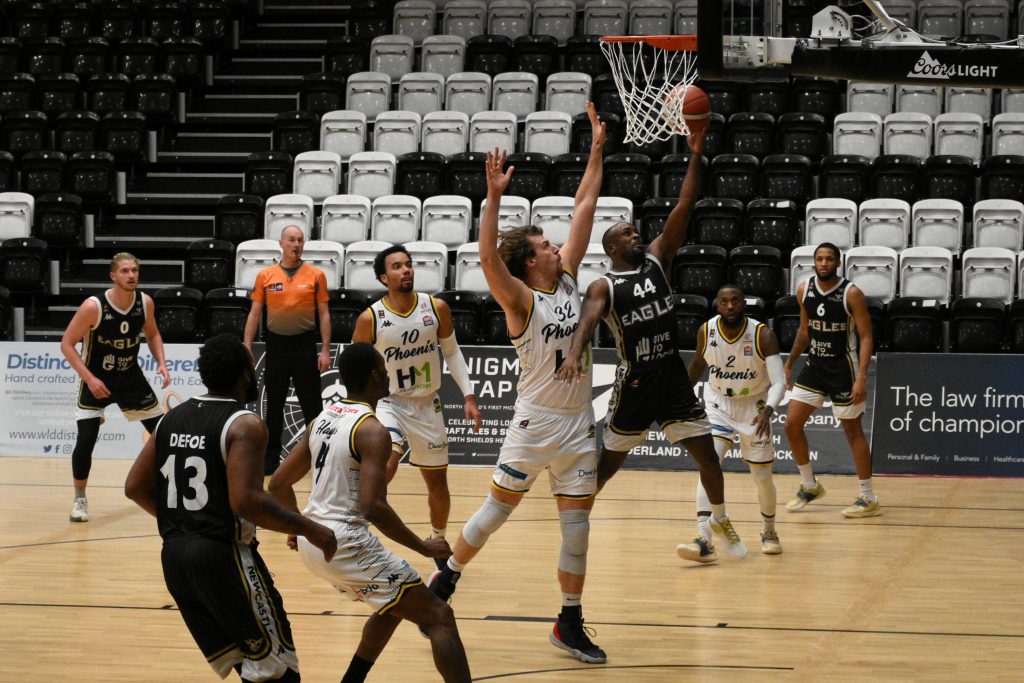 Stifling defence and productive offence put Phoenix on the back foot and a 7-0 tear from the tip allowed Newcastle to open up a healthy early lead.
Towering Cheshire centre Jimbo Lull was struggling to make an impact in the paint as Defoe and Evan Maxwell stood firm.
And neither Kahron Ross nor Jalen Hayes could find their range as the free scoring Phoenix pair ran into an aggressive Eagles' five.
Matthew Bryan-Amaning replaced Lull midway through the period as playcaller Ben Thomas sought to mix things up.
Make no mistake, this is a Cheshire team with options aplenty and that strength in depth had underpinned an eye-catching five-game winning streak prior to last night's trip to the Eagles Community Arena.
But Bryan-Amaning appeared keener to bury his left elbow into Defoe's midriff than bag an early basket and how the experienced forward avoided an offensive foul is anyone's guess.
Newcastle were in complete control heading into the second quarter but an all-too familiar collective lapse allowed the visitors back into the game.
Back-to-back triples from former Cheshire favourite Louis Sayers and the busy Edwards opened up a 10-point advantage as the game got back underway.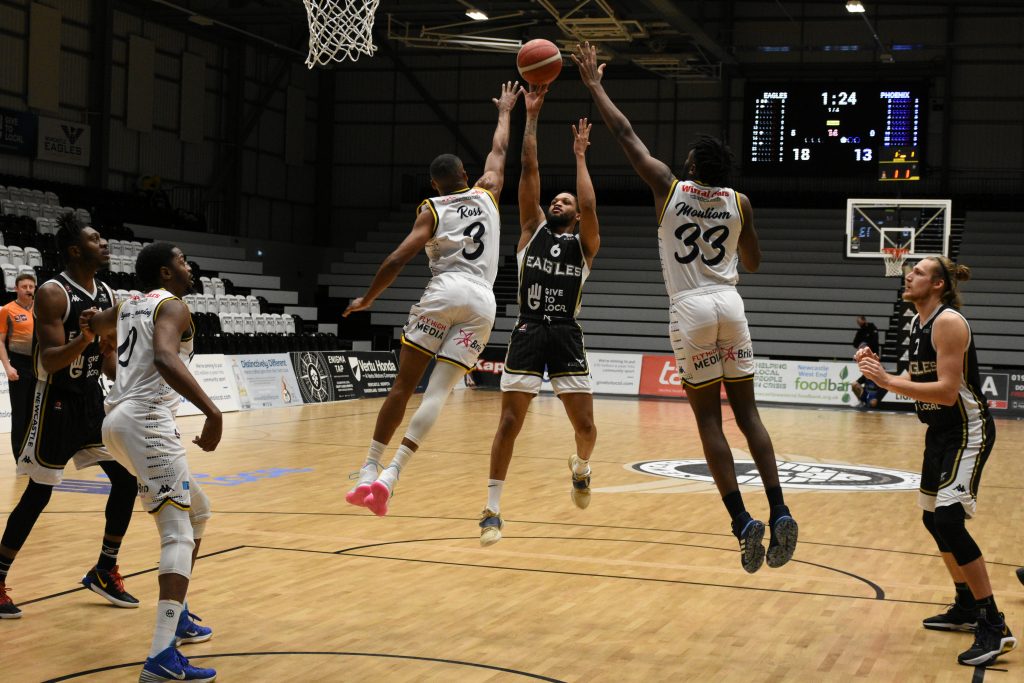 But the Phoenix finally found their wings and a 12-0 burst secured Thomas's men an unlikely 34-32 lead at the half.
Maybe it was time for the Eagles' three wise men to get their heads together again during the break.
Unusually neither Fletcher, the BBL's joint-leading scorer, nor Edwards had been able to make a major impact offensively during a hard fought first half.
And Defoe had become increasingly frustrated with obtuse officiating and his own off-radar offence.
But the locker room message would have been clear: it was time to knuckle down and regroup ahead of what already looked like a potentially season-defining third period.
Newcastle simply couldn't afford to let another league game slip through their grasp and a much-improved performance provided a vital platform for a fourth quarter push.
If a combative third quarter wasn't easy on the eye then it was both hugely compelling and brutally competitive.
Neither team was prepared to cede the advantage as two committed rosters went toe to toe in the quest for a Championship win.
And it was no surprise that the northern rivals were locked on 53 points apiece heading into the final period.
Two early Sayers' threes kept Newcastle's noses in front but a fourth foul on Maxwell made things a touch trickier for the men in black.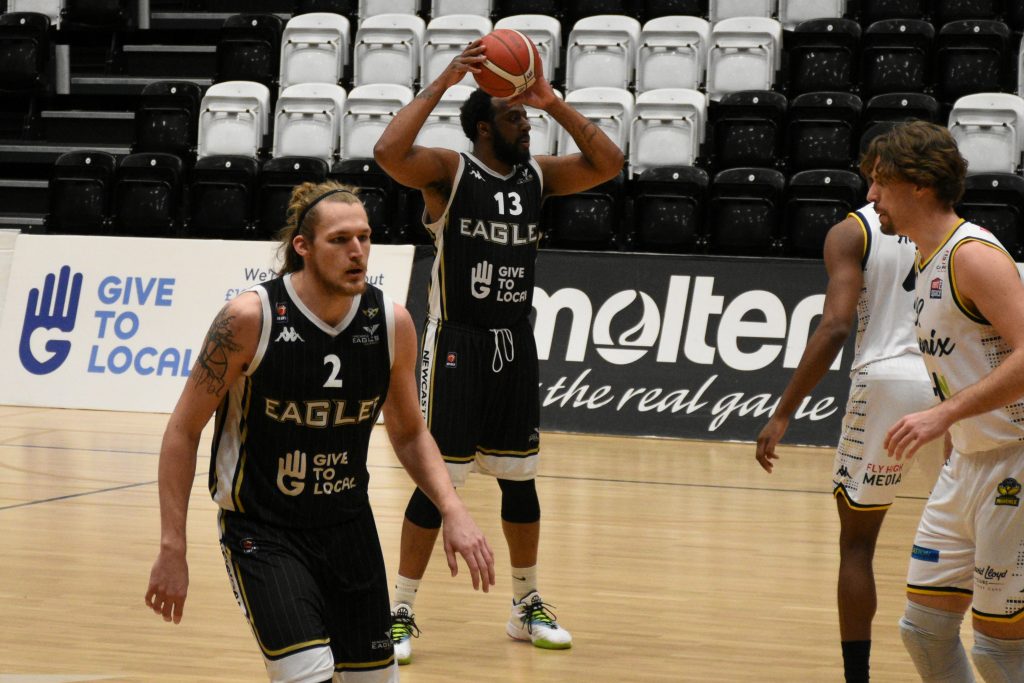 To his credit, the Eagles centre stayed cool under pressure and moved to 24 points on the back of five free throws on the bounce.
But fittingly it was committee man Fletcher who closed out a vital win with four points from the bonus stripe and a double double of 14 points and 10 assists.
Newcastle have finally stopped the rot. And there's a rumour Gordon could be back to face Bristol Flyers on Tuesday. Justin time.