| | | | | | | |
| --- | --- | --- | --- | --- | --- | --- |
| Eagles | 22 | 18 | 28 | 11 | 79 | Win |
| Surrey Scorchers | 15 | 17 | 17 | 23 | 72 | Loss |
Marc Steutel marvelled at David Cohn's matchwinning display against Surrey Scorchers before hailing his side's most complete defensive display of the season.
An explosive performance from Newcastle's pocket rocket playmaker scorched bottom club Surrey and kept the Eagles' playoff hopes alive.
Watch full highlights of Eagles vs Scorchers:
But if the headline stat was Cohn's 31 points in 31 minutes then head coach Steutel pointed to the US star's determination to point the way defensively.
Bar a brief lapse inside the final five minutes, the hosts proved a tough nut to crack on their way to a 79-72 victory against Lloyd Gardner's men.
And Steutel lauded Cohn's attitude and application as the guard complemented an offensive masterclass with four huge steals and three crucial defensive boards.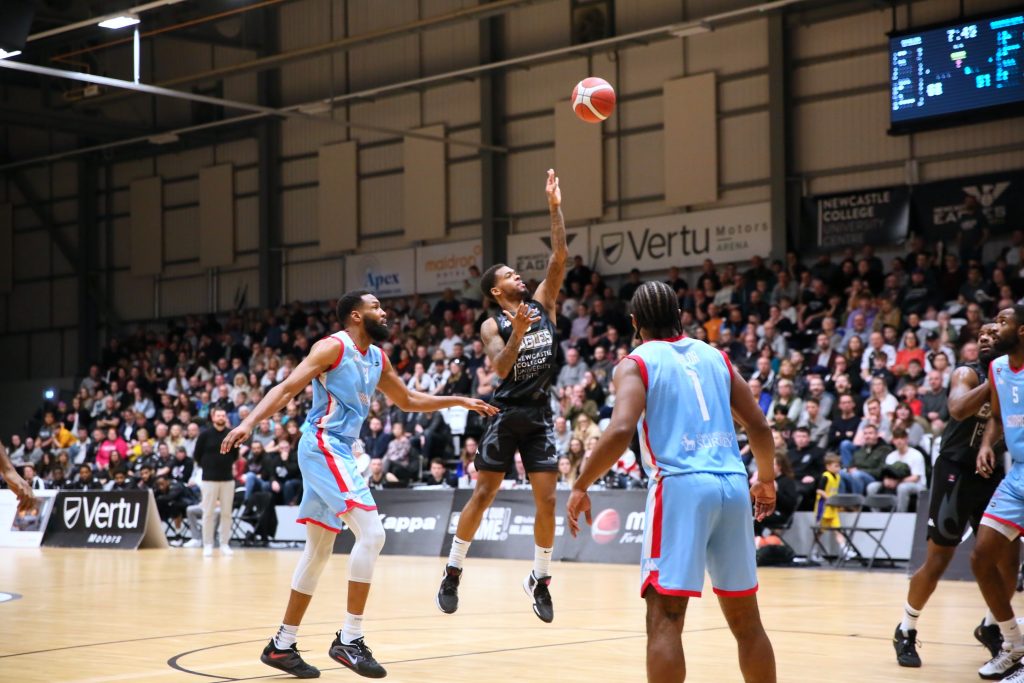 "When David makes the read against the pick and roll on a really big possession that could be the game right there," said Newcastle's playcaller.
Watch David Cohn's game highlights:
"He makes that play, gets the steal and helps to win us the game.
"People will look at his stat line and see his scoring but it's important to highlight his management of the game and I think he did a great job with that."
Surrey scored 23 points in the final period as the Eagles — who led by as many as 25 — took their foot off the pedal down the stretch.
But for the majority of the match the men in black were locked in defensively with Cohn's tactical nous and Hasahn French's muscle showcasing a new-look Newcastle.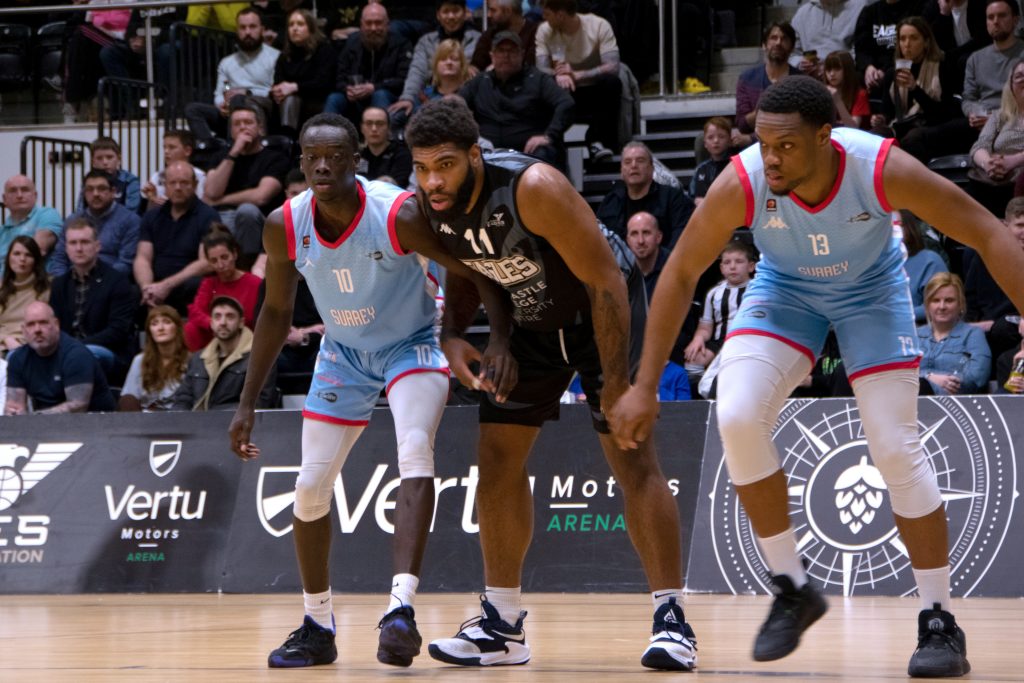 "The performances have been getting there but the most pleasing thing for me as far as the Scorchers performance is concerned was the defensive side of our game," added Steutel.
"That's where the consistency has come in during the last few weeks.
"That's what I ask for as a coach — we try to double down on who the opposition are, what their strengths are and how we can counteract that.
"If we'd played with that level of defensive application against Manchester then I feel we'd have got over the line against the Giants.
"It's good to see that we've got that in us but we have to go up to Glasgow next week in the Trophy — a place where we felt we left the win out there — and play with that same level of defensive intent.
"If we do that we'll be in a good position next week and for the remainder of the season."
Two early fouls for Javion Hamlet meant Newcastle would need key points from a different source if they were to take control against Surrey.
Step forward Cohn.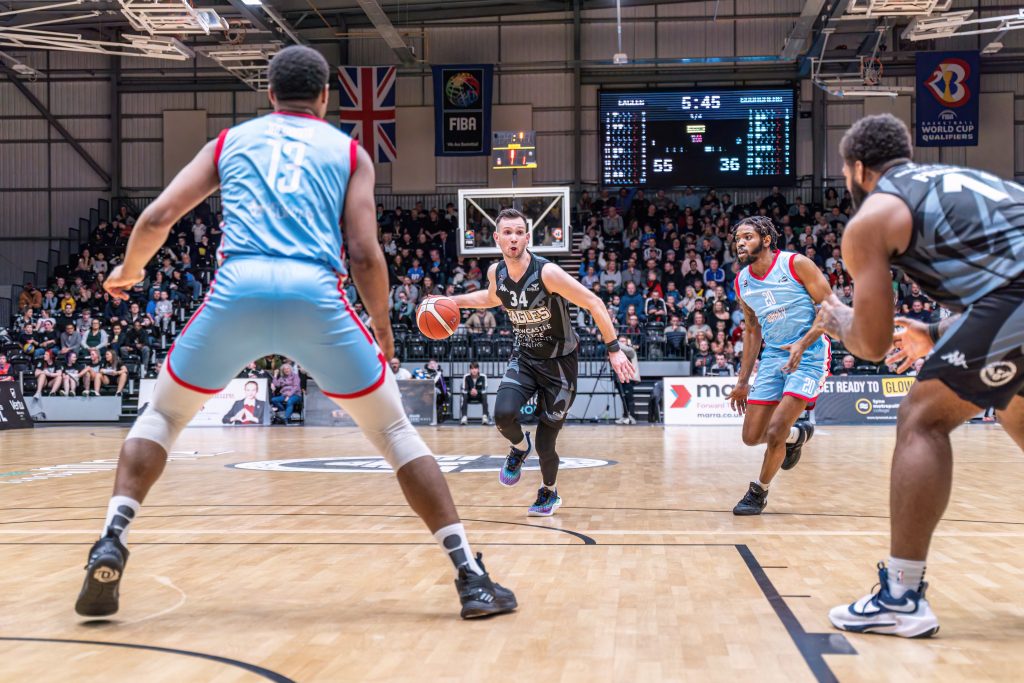 Growing into the game as an offensive threat, the committed crowd favourite had fans on their feet during a phenomenal third quarter.
And Cohn's dead-eye accuracy from the bonus stripe — shooting seven from seven free throws — calmed any nerves down the stretch.
Shooting 76 per cent from the field, the 27-year-old sank four of his seven three-point shots and still found time to dish up seven assists.
Newcastle's third win in four ensured the Eagles remain within touching distance of the playoff picture.
But another early exit for Donovan Johnson took the shine off what was an otherwise perfect day at the office for Steutel's fast-improving roster.
The experienced US forward was called for an unsportsmanlike foul in the first half and was adjudged to have flopped in the paint down the stretch.
The resulting technical triggered an automatic ejection and Johnson looked crestfallen as he was escorted from the court by assistant coach Gary Stronach.
Not for the first time this season enigmatic forward Justin Everett failed to find his touch during another frustrating three-minute cameo.
And there was no court time for benchman Denzel Ubiaro as the ex-Plymouth man continues to feel his way back from injury.
But Cohn's huge haul and French's 10 boards and three blocks ensured the highlights came thick and fast at a rocking Vertu Motors Arena.