When does a concerning dip in form become a full-blown crisis? If your name is Newcastle Eagles then it's normally after one defeat.
Such is the storied history and stellar tradition of British basketball's most successful franchise that any loss, at any time, is serious stuff.
So much so that the prospect of a third reverse in four — and a second successive homecourt defeat against Sheffield — was simply unthinkable.
And yet without BBL Cup MVP Justin Gordon for a third match on the bounce, Newcastle's Sharks revenge mission always appeared doubly difficult.
In fairness, the visitors were missing BBL veteran Nick Lewis and Johde Campbell.
But just 48 hours after a tough loss in Leicester this was probably the last match the Eagles wanted to play. So it proved.
Sheffield headed north with a remarkable recent record on Tyneside, having won five of the seven games between the fiercest of rivals since the opening of the Eagles Community Arena.
The Sharks snapped this season's three-game losing streak against Newcastle with a dominant 90-70 win last Friday.
And even without Lewis and Campbell, the South Yorkshiremen must have fancied their chances of further denting the Eagles' title tilt.
Key to the previous week's eye-catching win was keeping Newcastle backcourt duo Rahmon Fletcher and Cortez Edwards quiet for long periods of a one-sided clash.
Fledwards were restricted to a combined 14 points as Sheffield successfully locked down the Eagles' previously destructive transition offence.
But Newcastle's classy guards have been in fine form all season and the pair combined for 12 first period points as the assured hosts opened up an early 23-18 lead.
So far, so good. But it wouldn't last.
Initially Evan Maxwell kept Mike Tuck keen in the paint and after plundering 17 points and nine rebounds eight days earlier, the US centre looked in the mood to repeat the trick.
The BBL rookie had nine points and two boards heading into the second quarter and finished the game with an Eagles-high 22 points. In the final analysis it simply wasn't enough.
Maxwell did make more gains immediately after the restart as Ian MacLeod's men looked to build on a useful advantage.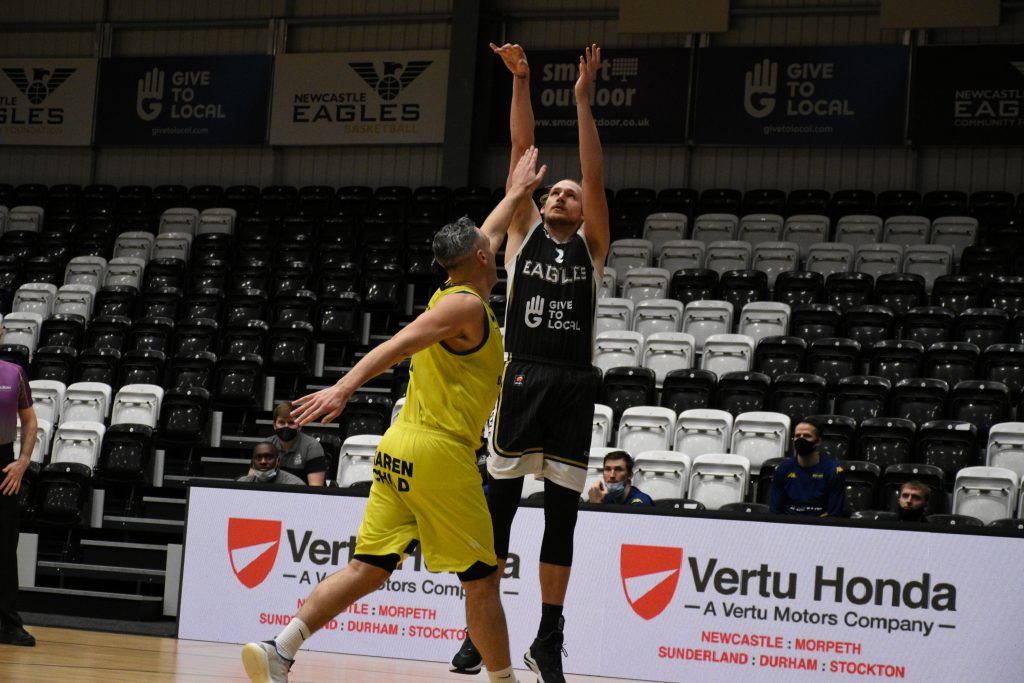 But it was fellow big man Shore Adenekan who began to emerge from his team-mate's considerable shadow to produce his best basketball yet in a Newcastle vest.
Six points and six rebounds — five at the offensive end — only told part of the story as the forward's energy, power and positioning inspired a strong finish to the half.
The Eagles took a 44-35 lead into the third quarter after out-rebounding their rivals 23-10 and rediscovering some of the focus and commitment that had bagged MacLeod back-to-back BBL Coach of the Month awards.
But an 8-0 Sharks tear served as a timely reminder that Sheffield still carried a significant threat.
Newcastle were held scoreless for the first four minutes of the second half and, after being restricted to just nine third period points the previous week, this was another worrying mid-game wobble for the men in black.
In another made-for-TV thriller, two of the BBL's biggest names couldn't be separated heading into the final quarter.
But within five-and-a-half minutes of the restart it was all change as the Sharks surged into a 10-point lead and laid the foundations for another famous win.
Suddenly, shockingly, Newcastle had lost all of their first half momentum. Multiple mistakes and hesitancy on offence had handed Sheffield the initiative and Atiba Lyons' men needed no encouragement to make their advantage count.
The Eagles head to London Lions on Monday for a BBL Trophy tie that looks more difficult by the day. It seems lightning does strike twice. And for Newcastle fans it's particularly painful the second time around.