On March 6, 2020 thousands of dejected Newcastle supporters trooped out of the Eagles Community Arena in downcast mood.
Worcester Wolves had just inflicted a 95-79 defeat on Ian MacLeod's men and attention was already turning towards the next homecourt clash and an early opportunity to bounce back.
Watch highlights of Eagles vs Glasgow Rocks
Few of those present could ever have imagined it would be another 18 months before top-flight hoops with fans returned to Tyneside.
And yet finally the full BBL package was back as this season's cup competition tipped off with a hotly anticipated cross border showdown between the fired-up hosts and Glasgow Rocks.
That the visitors flatly refused to play their part in what was supposed to be the ultimate homecoming party was a source of serious frustration for the returning hordes.
And the Eagles must go back to the drawing board following a distinctly unconvincing start to the new campaign.
Back-to-back homecourt losses always hurt but few expected Glasgow to inflict an 82-72 defeat on the reigning playoff champions.
And Sheffield Sharks will head north next Friday full of confidence in the face of a result likely to send early season shockwaves through the BBL community.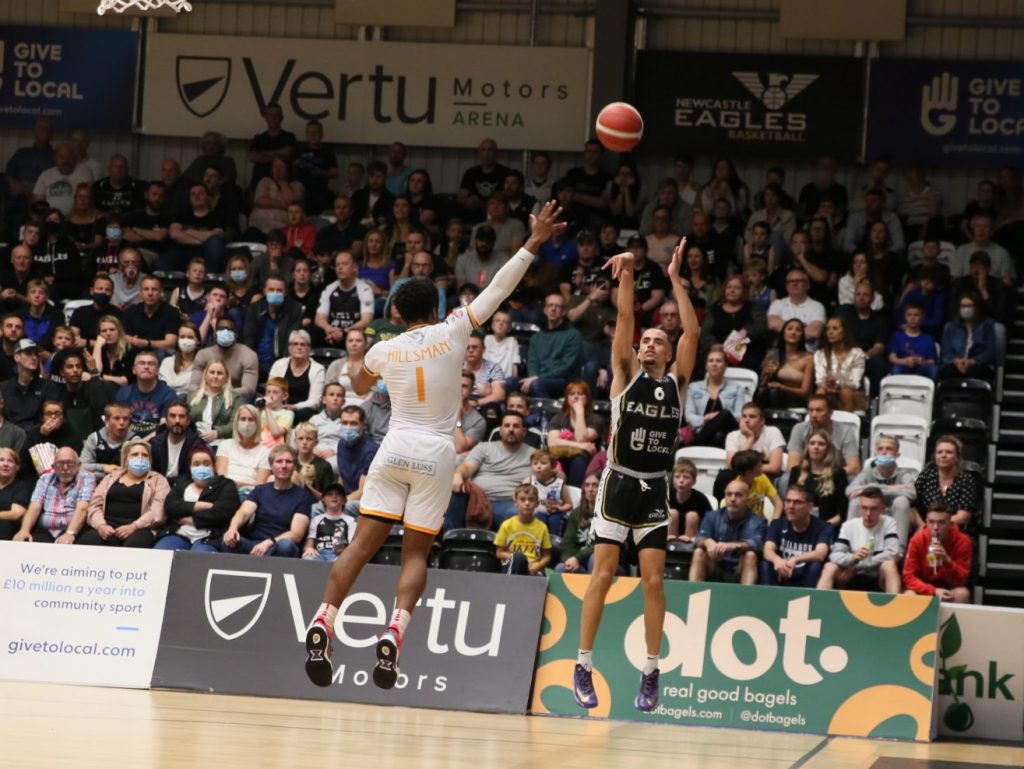 Of course, much has changed since Newcastle last suited up in front of a partisan home crowd. And the positives have far outweighed any temporary setbacks.
MacLeod has coolly steered his team towards three more trophies, making the potentially fraught transition from longstanding assistant to head coach appear easy.
The Eagles' nest boasts a brand new name with the Vertu Motors Arena taking centre stage as Tyneside's most versatile entertainment venue.
And a whole host of players have come and gone — several never getting the chance to experience a noisy night in Newcastle.
How Cortez Edwards and co. would have loved the red-hot atmosphere ahead of tip-off, the constant support of a vocal crowd and the chance to showcase their skills on a truly special stage.
In their stead MacLeod has recruited a new breed of homegrown heroes and overseas stars determined to build on the legacy of British basketball's most decorated franchise.
Watch head coach Ian MacLeod talking to Jeff King post-game:
And all five new signings — alongside returning favourite Kyle Williams — saw first half court time as a typically feisty Anglo-Scottish derby burst into life.
Last season's Rocks proved to be a pale imitation of previous Glasgow teams as the Scots propped up the rest of the BBL.
But Gareth Murray's men still managed to make life uncomfortable for Newcastle in the closing stages of an otherwise forgettable campaign.
And the remodelled visitors appeared determined to spoil a special night as they took a deserved 39-36 lead into the half.
Perhaps unsurprisingly, given the nature of their stop-start pre-season, MacLeod's Eagles looked like a team finding its feet and searching for form.
But the busy Duke Shelton burst off the bench to bag seven rebounds in just eight first half minutes.
And the second of two first half scores was met with a hollering, chest-beating response much to the delight of the homecourt faithful.
Former Leicester Rider Corey Johnson — surely one of the best pick-ups of the summer — made the most of his starting five spot to take five points and seven rebounds into the third quarter.
And Terrell Vinson's seven points and five boards before the break hinted at a key role for the rookie American moving forward.
But MacLeod will have demanded more from his transitional team during the half-time interval.
And in skipper Rahmon Fletcher, Newcastle's playcaller boasts the perfect candidate to haul his team back into contention on any night, anywhere.
The two-time BBL MVP started the second half on fire — scoring five quick points and serving up a delicious no-look dish to Darius Defoe.
Suddenly the Eagles were back on level terms but it didn't last.
Any hopes of a Rocks collapse faded fast as the visitors opened up a quickfire double-digit lead.
And Newcastle were faced with a daunting 13-point deficit heading into the decisive final quarter. It was a lead Rocks never looked like relinquishing.
The Eagles' fans are back but their mojo certainly isn't. Not yet, anyway.